5 Creative Ways to Utilize Social Media Live Video
Live video streaming hasn't been around very long, but it's already hard to imagine social media without it. Gamers stream their video game sessions on Twitch, celebrities make announcements on Instagram Live, and your friend takes to Facebook Live to pitch their latest multi-level-marketing discovery. Social media live video provides a way for you to connect directly to your target audience, establish your brand's unique personality, and ultimately expand your visibility and reach. Here's how you can creatively use social media live video to the benefit of your brand.
Why Use Social Media Live Video?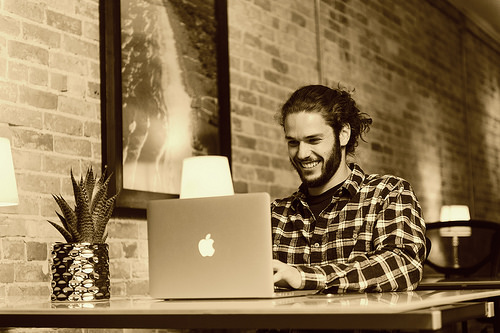 Image via Flickr by ThoroughlyReviewed
Social media was already one of a brand's most powerful tools before live video came along. This relatively new feature only enhances what made social media such a beneficial tool for marketing: connection. First and foremost, social media live video offers a unique way to connect on a more personal level with your target audience. When you broadcast on Facebook, Instagram, or YouTube, you directly interact with your audience, offering them the chance to ask questions, learn, and get to know your brand.
By interacting directly with your audience, your brand can build a transparent, authentic, and personal experience, which is crucial for building a relationship of loyalty and trust with your audience. Selling great products isn't enough anymore. You stand out from your competition by displaying that you truly care about Jennifer and Carlos — and their needs.
In addition to the most important quality of building connections, live video also allows you to generate more content. While some content can cost valuable time and resources, live video generally demands far less. After you've finished broadcasting, you can make the live video stream a permanent video on Facebook, and on Instagram, the live video goes to your Camera Roll, from which you can then post on other platforms.
But how exactly can you build these connections and generate this content? Let's look at a few ways.
1. Collaborate With Users and Influencers
Facebook Live offers a unique live video opportunity that other platforms have yet to adopt (though Instagram is currently testing the feature). At any time while broadcasting on Facebook Live, you can invite anyone to join your video, which will transform the broadcast into a split-screen video. This allows you to interview guests, hold discussions, and more.
Take advantage of this collaboration feature by inviting users onto a broadcast. For example, if you invite one of your customers to discuss his or her experience with a certain product or service, you're giving viewers a face and experience to which they can relate, which may, in turn, make them more likely to invest in your brand.
In addition to hosting members of your target audience, you can also invite social media influencers, other members of your business, and experts in your field for an interview. Thanks to your friends, you'll bolster your credibility and expand your reach.
2. Promote Promotions
Why pay for a commercial every time your business has a sale when you can broadcast the promotion for free? If you have a brick-and-mortar business, you can start a live video and walk viewers through your store, pointing them to products that are on promotion. If your store only exists online, you can broadcast a weekly explanation of the promotions and sales of the period. In both cases, you can also demonstrate the product or include other persuasive measures to market the product or service.
3. Broadcast How-to Videos
Something that may be clear as crystal to you may be clear as mud to your target audience. You can use social media live video to remedy confusion and resolve concerns. Let's say you run an HVAC maintenance and repair business and you feel like your audience doesn't understand what your services entail. You can broadcast a demonstration of one of your technicians performing routine air conditioning maintenance. By breaking down and walking your audience through services, you'll give them a thorough idea of what they're investing in.
In addition to displaying products and services, you can also provide how-to videos that become valuable resources to individuals in your audience. Maybe your website provides a tool that measures ketones for those on a ketogenic diet, so you broadcast a live video demonstrating how to cook a meal that conforms to the diet. You may not be directly promoting your product, but you're providing a service and resource that will strengthen your relationship with your audience and build brand loyalty, both of which can lead to sales.
To pick a focus for your demonstrative video, look through questions that have popped up often in your emails, on your social media posts, or in the support section of your website. Advertise your upcoming how-to video on your social media channels to get your followers prepared and excited.
4. Bring Viewers to Events
Your target audience may not be able to physically participate in the same trade shows, conferences, award ceremonies, and other events that you attend, but you can virtually bring them along with social media live videos. Including your audience in such events can make them feel like a part of your brand, like you care enough about them to involve them in otherwise closed-door circumstances. During these events, consider giving your audience unique views into the industry, interviewing other attendees, and answering questions that you request before the event.
5. Conduct Live Q&As
The best content answers your audience's questions and resolves their concerns. It makes you a resource on which your audience can rely. Social media live video expands the possibilities of meeting your audience's needs as you make yourself available to them.
You may have already seen celebrities you follow on Instagram hosting sessions where they answer questions that fans ask during the broadcast. You can do the same. Host a weekly live Q&A session where your audience can expect answers to questions about your business, your products and services, and more. Use these sessions to create a productive dialogue with your audience.
Your followers' feeds are inundated with frustrated political views and vacations they wish they could be on, so give them something to get excited about. Make your brand more than a logo and a website. Give your audience a face to trust and a resource they can rely on. With these creative ways to utilize social media live video, you'll have your audience looking forward to your broadcasts like they look forward to their favorite TV shows.
More from the author: