Modern business owners know that social media is too lucrative of a territory to pass up, but most who try to promote and market on social networks get lost in the crowd. The key to visibility is having things that actually catch passing eyes, and that means professional, high-quality graphics. Below, we'll cover five tips for using graphics, which range from graphic design and aesthetic concepts to what sorts of graphics are most effective.
Know the Ideal Size and Ratio
Each social media site is programmed differently, and it's critical that you use graphics that are properly sized. For example, Instagram profile pictures should be 110×110 pixels, but the images you post should be 1080×1080 for optimal appearance on all devices, and you should also consider how the image looks when shrunken down as a 161×161 thumbnail. However, instead of looking up this information for every site and writing it down one time, find an easy, constantly updated reference for social media graphic size requirements. Otherwise, you never know when one of the sites will quietly change its rules.
Once you have your sites chosen, you can create templates that your graphic artist team members must use, fitting each image into them as appropriately as possible with minimal cropping or stretching. With these templates set as the standard, life will be easier for those who choose your graphics or come up with ideas, because they'll be able to envision what would look best on every site.
Use 
Infographics
Most people expect graphics online that make them laugh, look cute, impress them, or incite other emotions of the moment. An infographic, however, is a long, detailed, attractive, and educational graphic, illustrating important and complicated ideas. Their breezy form of information delivery gets them shared like gangbusters, and the extra time and cost to turn the information in your most popular article into an infographic will help it reach countless more people.
Infographics are sequential art, and they can help tell the story of your business, making a much stronger impression than just a single image. They're especially strong for businesses that have lots of statistics to explain their purpose to customers, such as charitable or political organizations, and especially B2B companies. Best of all, infographic creation unlocks new doors for content, as well. For instance, with a little extra work, you can create a video version of the infographic, or use assets from it for future graphics.
Maintain a Social-Specific Identity
The visual language of your images — such as the color schemes, types of lines, common symbols, and perhaps most important of all: font and typeface — say a lot about your business. For example, a hunting and wilderness sports equipment business might focus on camouflage colors, smooth shapes mixed with hard ones, and aggressive fonts. Work out a specific design philosophy behind your social media graphics, and take note that while it should be inspired by your general brand identity, it should not be exactly the same.
For example, maybe an ice cream business only rarely uses real photos in print advertising. This makes sense, as the printed paper has no ability to zoom, and fewer popping colors. With social media, however, the goal is to entice people to visit, so the business lifts the rule of real photos and includes decadent, magazine-worthy shots of some awesome ice cream scoops and cones, with graphic art borders, text, characters, etc. This not only uses the nature of social media and the internet more appropriately, but invites sharing and other engagement.
Study and Test Color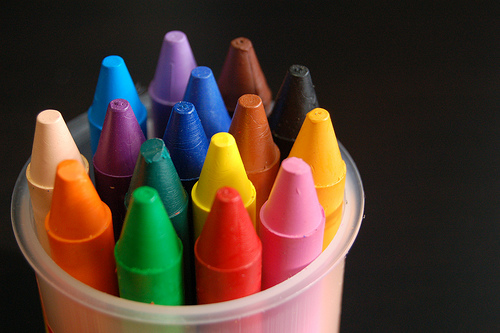 Image via Flickr by xumet
This is one of those ideas that seems far less vital than it actually is, but it has the potential to kick an underperforming social media graphic campaign into high gear. Purple, the color of the SyFy Channel logo, is associated with creativity, imagination, and new things. Red is vital and passionate, orange is energetic and in your face, blue is dependable, green is well-meaning and set around growth or health, and yellow or gold is associated with prosperity, warmth, and optimism. Even a lack of color, like with Wikipedia's logo, can signify balance, intelligence, academia, and a full viewpoint.
Consider the goals you have for your social media campaign, and then make decisions about what sort of colors and combinations would best achieve that. Even if it breaks out of your established brand color scheme, using red to highlight something new or exciting, or green to highlight a consumer-friendly update, may help deliver the message better. If you're not convinced, try split-testing on two different websites with fairly even participation, with two clearly different dominant colors.
Apply Contrast Whenever Possible
All the fundamentals of graphic design, such as lines and balance, will help you create excellent social media graphics. However, if you only want one in particular to put in front of your mind, make it contrast. Contrast automatically pleases the eye and draws attention, and it can be done in many ways. Contrasting colors are one thing, but you can also have smaller text leading to the bigger, more important text. You can mix organic and inorganic shapes, smooth and thin lines with thick or broken ones, bright areas with dark ones, and much more.
Make it a point to have at least one contrasting aspect of each social media graphic you use, as long as they still fit together as a cohesive whole. Just remember that contrast is meant to draw attention to something. Pinpoint the most important aspect of your graphic and find ways to make that the point of contrast.
These five tips will all give you a head start in your social media marketing, and all are tied to fundamental truths of what people like to see. If social media graphics really interest you, and you have some ideas brewing on how to use them, be sure to consider all possibilities, including things like interactive content, animations, videos, and infographics. It'll take a skilled team and some forethought, but these tips will soon turn into special insights related to your audience and business, and you'll know exactly where to go with any new ideas or opportunities.