6 Creative Email Personalization Strategies
Much more than a friendly way to get your subscribers' attention, email personalization is a strategy that can drive results. Incorporating this technique into your email campaigns can boost click-through rates by 14 percent and increase conversion rates by 10 percent.
But if your only email personalization method includes starting your messages with "Hey, FirstName," then it's time to add a few new techniques to the mix. Check out six creative email personalization strategies that will take your email campaigns to the next level.
Ask Subscribers for More Than Their Addresses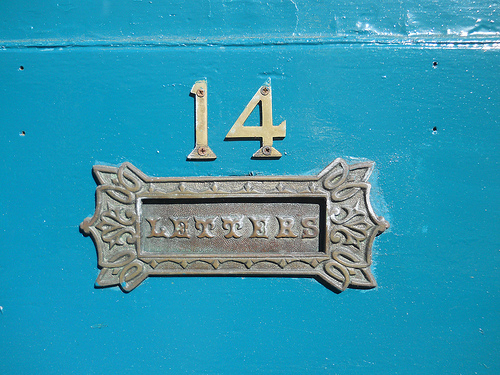 Image via Flickr by shrinkin'violet
Subscribers can't sign up for your list without providing their email addresses, but that doesn't mean you can't ask them for more information when they subscribe. For example, you can request subscribers' names, locations, phone numbers, and much more on your email list signup form. Instead of requiring subscribers to provide every piece of information you can think of, however, consider what type of data would be most useful for your business and most helpful for email personalization.
If your company has multiple branches, ask for customers' locations so you can email them about relevant specials. If you offer a wide range of services, ask subscribers to select the options that pertain to them. If you run a business-to-business (B2B) company, ask for subscribers' titles and company names so you can send emails targeted to their positions and role in the decision-making process.
Put Subscriber Location Data to Work
While your email signup form might be the most convenient place to ask potential customers about their locations, it isn't the only opportunity you'll have to collect this information. Many email service providers (ESPs) track the locations and time zones where subscribers typically open your emails, making it easy to gather location data after the initial signup. If you've integrated your online store or your customer relationship management (CRM) system with your ESP, you'll have even more opportunities to track and use customer location data.
No matter which method you use to source location-related data, you can use it to personalize your messages. Group subscribers into segments based on their locations, and email each segment during the optimal time for each time zone or personalize the emails for each segment with location-based news and deals.
Call Out Subscribers by Action Rather Than by Name
Including subscribers' names in subject lines or in the body of your emails can certainly grab their attention, but this tactic is far from original. If you do it in every email you send, this strategy is likely to lose its effect and might even drive potential customers away, especially if you pepper your emails with numerous personal callouts.
Rather than using your subscribers' names, make your brand's emails stand out by referencing subscribers' actions, especially if they're worthy of accolades. Instead of simply emailing your entire list about a new update to your app, for example, try segmenting subscribers based on their usage level. Then send the most prolific group a personalized message thanking them for being top users and inviting them to be the first to access your soon-to-launch app update.
Segment Subscribers With Buyer Personas
When it comes to buyer personas, you don't have to let your content marketing team have all the fun. Buyer personas can also help you craft your email marketing campaigns, and they can even affect when you send your emails.
To determine which persona each subscriber fits, assess the information they provided at signup, and then assign them to a segment. Take the time to personalize your email campaigns to ensure that you're connecting with each segment about the problems, questions, and desires each buyer persona has. When you email subscribers with messages that fit their needs rather than one-size-fits-all messages, your customers will be more likely to feel like you're speaking directly to them and respond accordingly with higher engagement and conversion rates.
Trigger Automations Using Subscriber Behaviors
In many cases, your subscribers' actions can tell you much more about their needs and their position in the buyer's journey than the information they provide on a signup form can. You or your ESP should track the links that subscribers click and the purchases they make, tag subscribers automatically based on their behaviors, and use those tags to trigger personalized emails.
For example, new subscribers might receive a multi-message welcome email campaign upon signup, while those who recently made a purchase might receive a request to leave a review. Subscribers who haven't opened your app or updated their subscription in an extended period of time might receive a friendly message inviting them to reconnect. No matter which behaviors you choose to trigger automated emails, make sure the messages are personalized based on how subscribers have interacted with your brand.
Send Subscribers to Customized Landing Pages
With a little extra effort, you can easily expand the personalized experience you've created in your email campaigns and apply it to your subscribers' experience on your brand's website. Rather than sending all subscribers to the same page on your website, segment customers based on information they've provided, their buyer personas, or actions they've performed. Then send each segment to a landing page that's designed to address specific questions, use language that appeals to certain buyer personas, or drive conversions relevant to each group.
When you take this extra step, you'll ensure that subscribers can access the customized content you've created just for them while also guiding them along to the next step of the buyer's journey. You'll make the path clearer and easier to navigate for your subscribers, which ultimately has the potential to boost engagement, drive conversions, and enhance relationships with your customers.
Whether you're just starting to build a group of engaged subscribers or you need a next-level strategy to maximize a long-established list, email personalization can drive results. Use these six creative personalization techniques to increase campaign click-through and conversion rates while obtaining optimal value from one of your brand's simplest, yet most effective, marketing assets.
More from the author: