6 Effective Types of Video Content to Add to Your Marketing Strategy
Video content is all over the internet. You can't help but see videos as you scroll through Facebook, and many instantly pop up when you land on particular websites. According to WordStream, 85 percent of the U.S. internet audience watches videos online. Needless to say, video content is a must if you're a business owner.
When creating videos, consider implementing the following as part of your marketing strategy:
Determine your ideal audience before you create video content.
Share authentic content that engages with your viewers.
Give free and valuable content meant to inspire others toward action.
Test a variety of videos to determine which ones relate the best with your audience.
Although there are several types of video content of which you can take advantage, below are six examples of effective and persuasive video types you can add to your overall marketing strategy.
Introduction Videos
Introduction videos tell the story of your company's brand. They are a visual way of introducing your business to your viewers. The purpose of these videos is to show why your company is different from every other company out there. Not only do they need to be engaging, they also need to keep your audience interested. A short one- to two-minute video will suffice. The home page of your website is a perfect location for displaying this type of visual broadcast. You can also pin one to the top of your social media feed.
Tutorials
In tutorial videos, you are essentially explaining how to do something. The best tutorial videos include clear, step-by-step instructions, such as how to cook a particular recipe, how to set up a new computer, or how to fix a leaky kitchen pipe. Many people are visual learners, meaning they learn better by watching a specific activity, rather than reading about it or listening to someone lecture on it.
Offering free video tutorials allows you to build your online reputation. You are giving away value and helping someone solve a problem without expectation of anything in return. Although you can use your own products in these how-to videos, it is best to offer information simply for the sake of being helpful.
Consider sending a free video tutorial every week to your email list. If it's something that is extremely valuable to them, they will be looking forward to your weekly emails.
Live Videos
Live videos are a fairly new visual learning platform. Facebook took the lead with this when it introduced Facebook Live to the entire online community in April 2016. This platform allows you to actively engage with your audience in real time. Not only has Facebook embraced this technology, but so have Instagram and Snapchat. When you use the live technology of these platforms, you are already engaging with people who have taken that initial step to like your page, follow your profile, or join your group.
Now that you have the ability to bring real-time information to your audience, you can share anything that will help increase your credibility and expertise:
Be relatable by sharing a struggle you overcame early in your business.
Share practical advice they can take action on that same day.
Create urgency by sharing your latest limited-time special.
Another great benefit of using live videos is that you are consistently creating new content. Re-purpose any of your live videos into new content such as blog posts, Facebook ads, or social media posts.
Testimonials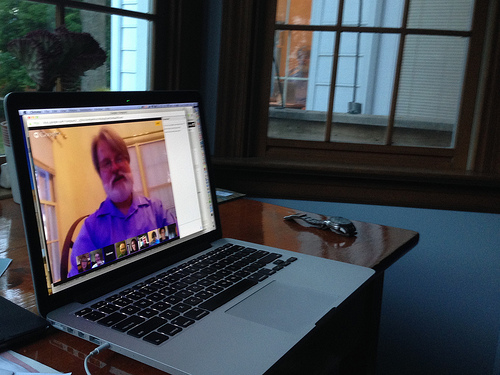 Image via Flickr by cogdogblog
Testimonials help build trust and credibility among future clients and customers. They can warm up a cold audience or help a warm audience make that final decision to purchase a product. When a former customer talks positively about his or her experience with your company, people are more likely to listen.
How do you go about gathering these testimonials? Thankfully, there are always people out there who are willing to give their opinion. There are a few ways you can make this happen. Simply ask people if they are willing to help you by shooting a short video of themselves reviewing your product. Make it easy for them by giving them two or three questions they can quickly answer in a short video. When hosting an event, be prepared with a film crew that can take short videos of those who have already tried your product or let them try your product in front of the camera and gather their initial opinion. Talk about authenticity.
The perfect location for testimonial videos is on your website, specifically on a landing or sales page. It's also helpful to post these on social media, directly on your profile feed.
Product Reviews
Product reviews are a superb way to grow a following. By providing recommendations and insight based on your personal experience, you are building credibility and authenticity within your community. Most people prefer other people's suggestions over spending a ton of time researching a particular product. When filming product reviews, be sure to include products that complement your own or would be useful to your audience.
Product review videos are an effective addition to your blog, on your social media feed, or in an email newsletter. To target particular products, create a video for those products and include those videos on their specific product pages.
Interviews
Think of a video interview as a visual podcast. When filming an interview, you are essentially capturing someone's business story. Interviews should be conversational, yet intriguing. They are not a commercial or advertisement for you or for your guest. The purpose of these videos is to position yourself as an authority, alongside other experts, in your industry.
Interviews are a great way to offer free, valuable information to your audience. They also help build relationships with potential business collaborators. Your video guest will most likely share the interview with his or her audience, as well, basically providing you with free advertising.
Interview videos not only provide relevant information for both your audience and your guest's audience, they are also a powerful addition to your social media strategy.
Whether you choose to create step-by-step tutorials or gather short, yet effective video testimonials, you can be sure that adding video to your content strategy will be an effective way to build and grow your business. Not only will you see engagement with your brand increase, you will also build your credibility as well as your reputation as an expert in your field.
Now that you have a multitude of video content from which to choose, which one will you be adding to your marketing strategy?