Every day, millions of people tweet their thoughts, Instagram their vacations, pin their projects, and Snapchat their friends. When the use of various social media networks become so ubiquitous that the names of the platforms become verbs, it's time to take notice. With the top social media networks boasting billions of active user accounts, it's easier than ever to connect and engage with your audience in a more personal and memorable way.
Regardless, if you're looking to generate leads, provide customer support, release updates, or increase your brand awareness, with the right strategy your company can use social media to stand apart from the competition and achieve any goal. Here are six more reasons why your company needs social media.
1. Your Audience is Already There
While the popularity of specific social media networks changes over time, you won't have trouble finding someone active on at least one platform. Facebook is the most popular service with a reported 2.23 billion monthly active users while YouTube's users watch 1 billion hours of video each day. Every month, you will find 800 million users sharing photos on Instagram, 500 million users connecting on LinkedIn, and 336 million Twitter users generating 350,000 tweets per minute. With the number of platforms and their users growing each day, it's more important than ever to establish a following on at least one social media network.
Your company could capitalize on the nearly two hours that the average person spends on social media every day. Capturing even a few minutes of attention from consumers can have a substantial impact on your following, and ultimately your bottom line. There has never been a better time to build a strong relationship with your audience.
2. Develop a Deeper Understanding of Your Audience
Just as your audience is getting to know your company, you can gain a deeper understanding of your audience through the valuable business insights offered by many of the most popular platforms. While you may not be able to obtain the personal information about specific users, you will be able to find the market demographics of your most engaged users. Some platforms may even provide information about the time and days that your audience connects with your content.
These insights help you to tailor your content and determine posting schedules so that you can reach the most substantial portion of your audience. The more that you learn about how to market content to meet their needs, you'll find that your customer relationship and brand loyalty deepen as well.
3. Build a Strong Relationship with Your Audience
Despite the billions of active users on social media networks, you can still develop personal connections with your customers and establish a loyal following. Just like with interactions outside of social media, providing individual attention and supporting interests are the key to developing a healthy relationship. Even though your company may establish a massive following, you can still customize your content to be relevant to your most engaged customers by analyzing the customer insights that the platform provides and listening to customers when they connect with your company.
While quickly replying to comments and proactively engaging with posts can help deepen your relationship with customers, making sure that the content you're producing matches their interests is the first step to establishing a strong connection.
4. Quickly Connect to Your Customers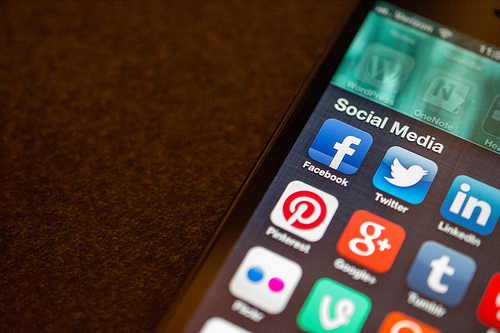 Image via Flickr by Jason Howie
Social media networks are becoming the go-to place to look for recommendations and vent frustrations. Many of the platforms provide the ability to be notified when your company is mentioned or to run searches for topics relevant to your business.
When a customer posts that they had a poor experience, within minutes you can reply with an apology or offer to retain that customer. If you do an industry-related search and find someone requesting a recommendation, you can quickly provide the relevant information to turn that user into a lead. Even though it may seem tedious to review every customer post, each time you publicly comment or reply to a customer, that doubles as a piece of content reflecting your customer service and ability to engage with your audience on a personal level.
5. Maintain Control of Your Brand Image
Gossip, misinformation, and bad press can have a significant impact on your brand's image and potential revenue. By developing a large audience, loyal following, and strong customer relationship on social media, you can maintain control of your brand's image and the conversations about your company.
Social media is the fastest way to deliver press releases, announce important changes or updates, and reply to public questions or concerns. Just as positive content can go viral, negative attention can spread rapidly. It can spread even quicker if your company is not on the platform to counter any negativity. While social media networks are important outlets for positive content about your company, it can be even more critical when the opposite appears.
6. Increase Your Brand Awareness
With the various options to share, retweet, pin, and email, social media provides an unmatched opportunity for your content and brand to gain viral traction. While effective advertising can help your content gain traction, the key is to develop a piece that truly resonates with your audience.
When you create content that's relevant to the interests of your niche audience, the platforms work to get users to engage with that content. As users like, share, or otherwise engage with what you're producing, platforms will present it to even more users, resulting in virality. Not every piece that you create will go viral; however, by consistently providing high quality, resonant material, you'll develop a loyal following that passionately seeks out your brand.
Even though many of the top social media networks have been around for years, it's never too late to get on board. Implementing a robust social media marketing strategy is one of the most important decisions your company can make. The only wrong choice would be to avoid it all together.