Business-to-business (B2B) companies often use content to generate new clients by enticing other companies in their industry to partner for services. If the created content isn't engaging, it can make their campaigns more challenging. Last week, Katy French published an article on Business 2 Community that mentioned five tips to create engaging B2B content marketing. French's tips are helpful for businesses to practice good marketing strategies, but we thought of a few more that are important to mention.
7 Tips to Create Engaging B2B Content Marketing
Here are seven tips to help you create strong B2B content marketing:
1. Address the Problem
Most businesses, and the services they offer, solve a problem. Whether clients need help publishing books en masse or they need inexpensive materials for manufacturing, each target has a dilemma and your business has the solution. Mention that dilemma in your content. Show other businesses that you understand their issues and you also know exactly how to help them. This can help you gain their trust and show an understanding of the industry.
2. Tell a Story
Another way to look at addressing your customers' problems is through storytelling. Storytelling is a great way for customers to connect with your content and see themselves using your products and services. For example, if you sell inexpensive manufacturing materials, write a blog that talks about a fictional customer's problems with overpriced materials and how those affect their business overall. Then, mention how your products improve their business and revenue.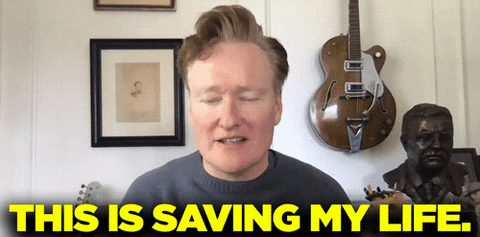 Image via Giphy by @teamcoco
Make the readers feel for the fictional customer and imagine themselves in the customer's shoes. This can help them see the benefits of your products more easily and entice them to make a purchase.
3. Use the Right Format
Each person has a preferred method of how they consume content. Some might enjoy watching videos, while others might prefer reading blogs or newsletters. Choosing the right format for your content can help make sure that you're reaching the widest audience possible and capturing their attention. In 2021, the Content Marketing Institute released a study about B2B marketing. This study highlighted some of the most popular content marketing methods used in the last twelve months. Look at some of the most popular options: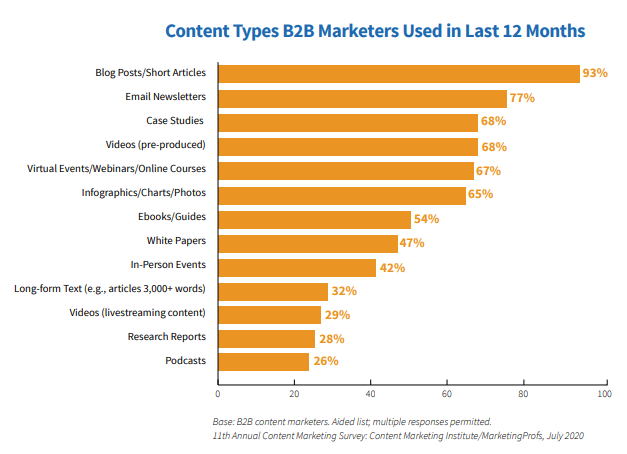 Image via Content Marketing Institute
4. Determine the Next Steps
Not only is it important to develop content that entices other businesses, but it's also important to convince them to make a purchase. This starts with a call to action. In your content, invite readers or viewers to download your eBook or view your online store. Maybe try giving them a promotional discount if they sign up for your email newsletter. Help readers engage with your content but also entice them to interact with the company further.
5. Show Your Personality
Adding some personality to your content is a great way to show readers you're an actual human. When you show you're human, you help separate your business from the competition. Many companies send out advertisement after advertisement, hoping to get their audience's attention with repetitive marketing. But creating newsletters, blogs, and other content that actually sounds like a person wrote it is a great way to connect with your customers immediately.
6. Try Custom Designs
Custom designs can help improve your overall marketing campaign. When you pair custom designs and images with your content, it can help keep readers engaged. If you use custom infographics, it can also help them better understand the material. Lastly, using similar custom designs for all of your content can help increase brand awareness. That means when people see your custom design, they'll immediately know the content is from your company.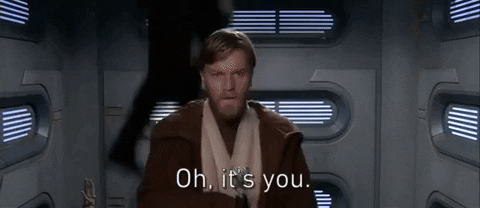 Image via Giphy by @starwars
7. Ask an Expert
Do you still need help to create engaging content for your business? Talk with a content marketing company, like CopyPress. We can help with any stage of the content marketing process. From content planning and creation to syndication, we have the experts to help your company market to other businesses. Whether you need engaging blog articles or custom illustrations, we have a team of creatives who can help. Schedule a free call with us today!