Smiley faces, heart eyes, cute animals, and even your favorite foods and drinks: You use emoji every day in your emails, texts, and social media posts to friends and family. These simple icons can say so much, but do they really have a place in your brand's marketing strategy? Discover seven ways to make emoji marketing work for your brand and find out how these icons can take your campaign goals to the next level.
Create a Sense of Community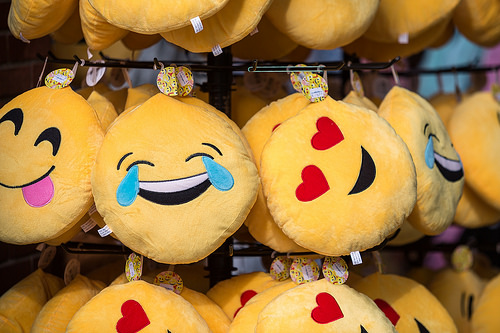 Image via Flickr by frank-hl
If you're already used to exchanging emoji with friends and loved ones, then you won't be surprised to learn that brands can also inspire a sense of familiarity when using these eye-catching icons. In fact, studies have shown that customers tend to view businesses as friendlier when their communications feature emoji and text. That means using these icons strategically can help your brand hone a sense of community and inclusion.
The positive connotations for emoji don't end there, however. Customers also tend to consider businesses more competent when they use emoji, which means these icons can help your brand position itself as an authority while still appearing friendly and engaging.
Communicate Clearly
As you begin to think about incorporating emoji into your brand's marketing strategy, make a point of prioritizing clear communication. Remember that most emoji have relatively clear-cut meanings, and others have developed widely recognized alternate meanings. Since using emoji in an ambiguous or incorrect way may mean that your target audience won't get the message, take the time to understand what you're really saying.
If you're new to emoji marketing or if you aren't sure about a particular icon, a quick Emojipedia search can clear things up. For example, you'll want to know how your audience perceives the peach emoji before using it to promote your brand's new peach pie or peach-scented candle.
Don't Overdo It
Once you've decided on emoji for your brand's next campaign, make a point of using them in moderation. Unless you're confident that your audience is fluent in emoji, don't use these icons to replace words entirely. Instead, add them to the end of your message to drive your point home and help your audience remember what you've said.
No matter how much your audience appreciates emoji, try not to overdo it. Add one or two to an email subject line to grab attention, or add two or three to the end of a social media post. Never add dozens to a blog post or attempt to communicate a complex string of thoughts using only emoji. While some followers may appreciate the challenge of deciphering your message, it's much more likely to fall flat or appear out of touch to others.
Stay On Brand
Every brand needs a distinctive voice that helps it appeal to its target audience, and that principle doesn't apply to written copy or video content alone. The emoji you use should also fit the voice you've developed.
To incorporate emoji into your brand voice, review the available icons and choose a few that are relevant to your brand. Every time you include them in copy, think about how they enhance your message, connect with your community, and advance your marketing goals before hitting "publish."
Develop Your Own Language
If you're serious about emoji marketing, you might consider following the lead of major brands that have designed their own signature icons. For example, Ikea released its own emoji library complete with images of Swedish meatballs, the store's distinctive blue shopping bags, and even the Allen wrenches necessary to build most of the brand's furniture. While custom emoji are ideal for building brand awareness among larger audiences and encouraging engagement with loyal fans, keep in mind that your brand doesn't have to have its own set of icons to make an impact.
Instead, try using one emoji strategically. For example, Dominos made waves when inviting customers to place online orders using only a pizza emoji. In doing so, the pizza chain managed to associate itself with a popular emoji in a crowded marketplace, boosting its brand awareness, entertaining customers, and increasing sales all at the same time.
Improve Open Rates and Click-Throughs
You already know that great content has the power to convert. But did you know that including emoji in your copy can improve conversions and amplify campaign metrics, too? Simply adding emoji to a Facebook post can improve the number of likes by over 50 percent while increasing the number of shares by a third. For email marketing campaigns, using emoji in subject lines and in the body text itself can even improve open rates and encourage click-throughs, both of which can generate leads and drive conversions.
Of course, not all emoji tend to prompt action. Studies have shown that the emoji that best encourage click-throughs include some of the more unusual examples, like those that depict octopi, horses, jeans, and cherries. If you aren't sure which will work best for your brand, try split-testing to see what helps you reach or exceed your goals.
Let Context Guide Your Strategy
Whether you're planning to incorporate emoji into your social media strategy or your email marketing campaigns, always pay attention to context. Naturally, some businesses can use emoji relatively freely, especially if their products and services are upbeat and lighthearted or encourage fun and entertainment. However, others focus on more serious topics that don't always work well with emoji.
Before introducing an emoji marketing strategy, make sure you know your audience, your niche, and appropriate times for using or avoiding these icons. Developing internal best practices for your brand can help you quickly evaluate whether to use emoji, ensuring that you're constantly improving your marketing campaigns instead of confusing or alienating your audience.
Not sure if your brand is ready to dive into emoji marketing? Consider the context, put these best practices to work, and start small. Track the results each time you add an emoji to a social media post or email marketing campaign, and you might be surprised to discover just how much these engaging icons can boost your brand.