8 Creative Ways to Repurpose Your Blog Content (and Why You Absolutely Should)
Fascinating, in-depth blog posts may be the cornerstone of your brand's content strategy. But that doesn't mean you should ignore all other types of content while focusing solely on your blog. Discover eight creative ways to repurpose your blog content and find out why it's so important to branch out into other mediums.
Why Repurposing Your Content Is Essential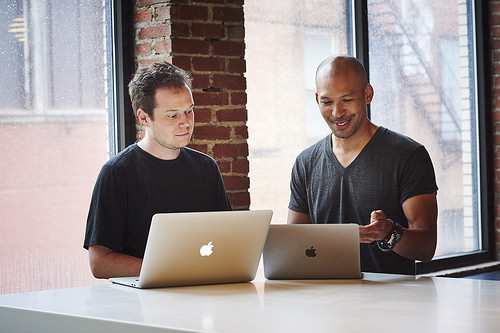 Image via Flickr by alphalab
Repurposing your blog posts can be quick, easy, and beneficial to your brand. When you repurpose content, you can tap into the following perks:
Reach a Larger Audience: If you focus solely on writing great blog posts, your content may never reach your entire target audience. Creating visual, audio, or video content can help you reach more people with the type of content that best resonates with them.
Create More Touchpoints: Many marketers stand by the "Rule of 7," or the idea that a potential customer has to interact with your brand at least seven times before taking action. Adding more variety to your content strategy creates more touchpoints and more opportunities for your audience to turn into leads or customers.
Get More out of Your Efforts: Writing well-researched blog posts and creating high-quality content takes an incredible amount of time and tons of resources. Fortunately, repurposing your blog posts makes it easy to extract additional value from your efforts without adding significantly to your workload.
Improve Search Engine Optimization: Duplicating your content can quickly compromise your SEO efforts, but creating more content around select topics is a smart SEO strategy. Repurposing your content allows you to boost your SEO in a simple, streamlined way.
How to Repurpose Your Blog Content
Before getting started with repurposing your blog content, it's important to know that this strategy requires much more than simply copying and pasting what you've written onto a new platform. Instead, repurposing involves rethinking and reworking your original content in a way that appeals to your target audience. Try using these eight strategies.
Publish an In-Depth E-book
Publishing an e-book can help you establish your brand as an authority and lets you create an enticing content upgrade offer for new audience members. While turning a single blog post into an in-depth e-book may be a stretch, you can easily convert a series of blog posts into a complete volume on a topic that's relevant to your audience. Whether you've already written a comprehensive series or you're planning your content strategy now, consider transforming each blog post in question into a chapter in your next e-book.
Break It Down Into an Email Sequence
From welcoming new subscribers to nurturing leads, automated email sequences let you offer value to your audience as you position your brand and pitch your products and services. While any email sequence you send should be compelling and convincing, it doesn't have to feature completely new content. Try repurposing blog posts that introduce your brand, set the stage for your offerings, or delve into your audience's pain points as email sequences to save yourself time while still connecting with your audience.
Create Curiosity With a Quiz
No matter how informative your blog post might be, some members of your target audience still need a little extra incentive to click through and read your content. Try piquing their interest by repurposing select parts of your blog post into a quiz. Great quizzes have a knack for making people curious and encouraging them to want to learn more. You can facilitate this by linking to the full-length blog post at the end of the quiz.
Get Visual With an Infographic
Sharing statistics and digging into data are great ways to make key points while offering insight into complex topics. However, not all of your readers have the time to process dense content or make sense of strings of numbers. Instead, make even high-level content easier to understand and more memorable by turning it into an infographic. By putting together an infographic to call out highlights and adding visuals, you'll also create shareable content that has a wider reach.
Turn It Into a YouTube Video
Not all videos need a production crew or a big budget. With just a camera, a microphone, and a light, you can create short videos for YouTube, using your blog posts as the foundation for your new audiovisual content. You can easily add links to your website, blog posts, and other resources you've created in each video description, giving you added opportunities for increasing your reach and boosting your SEO.
Develop a Script for a Facebook Live
Developing a new YouTube channel might seem like a big undertaking, but if you're already active on Facebook, you already have a built-in video platform. Turn your best blog posts into scripts for Facebook Live video, and create short video clips for your audience. Then save your live videos so followers can access them later to create value for weeks and months to come.
Teach Your Audience With a Webinar
Whether teaching is a core component of your service offering or you're looking for new ways to introduce your audience to your sales funnel, turning blog series into webinars can be a smart move. Since viewers typically tune in live and can ask questions or leave comments, webinars offer an effective way to connect directly with your audience while providing informative content and even making a sales pitch.
Reach New Listeners With a Podcast
Not ready to branch out into video but love the idea of building a brand presence on a new platform? Consider launching a podcast, and use your best blog posts as the basis for each episode's script. Not only can producing a podcast increase your visibility, but it can also help you connect with audience members who don't have time to read but love listening during their commutes, over lunch, or even while working out at the gym.
From e-books and emails to podcasts and videos, you can find countless ways to repurpose your blog content. Choose the methods that best align with your brand's goals and start getting more out of your blog posts while taking your content marketing strategy to new heights.
More from the author: