All You Need To Know About The Art of Talking To Your Audience
Today, more than ever, online marketers will tell you that content marketing is the best way to engage with your audience. However, you will only succeed if you can talk to consumers in a language they can understand and relate to. The ability to create relevant and easy-to-understand content is an art in itself. In doing so, you must fully understand what your audience is interested in and what their main problems are and learn more about their culture and values. These tips will help you create engaging and intriguing content in every medium.
Conversational Tone
No one wants to be bored when searching for information — even when the topic they're looking for is a serious one. You can combine a conversational tone with informative content in a way that leads your reader to believe you're talking directly to him or her. Instead of focusing on the format and using terminology only you would understand, make the content clear and straight to the point, just as if you were explaining the concept to a friend over coffee.
Word of Caution: When adopting a conversational tone, remember to avoid using slang or colloquialism that will make you appear less professional.
A Personal Touch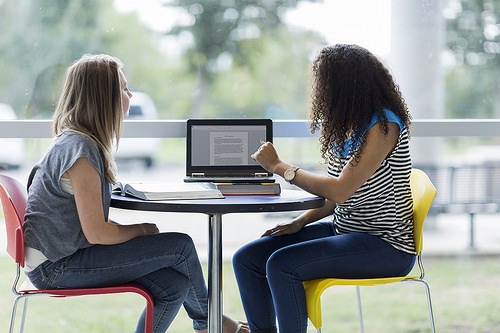 Image via Flickr by NEC Corporation of America
People will not connect with your brand if they cannot connect with you or your brand's tone. When talking about your company's successes or failures, include stories and master spinning the tales in a way that makes your readers want to know more. Talk about your mistakes, and not just your achievements, so they can relate to you as a human as well as a professional who can help them solve their most urgent problems.
Word of Caution: While you want to add personal details and views to your content, avoid writing about topics that are not related to your blog or area of expertise.
Metaphors, Anecdotes, and True Stories
When writing blog posts, social media posts, or even newsletters, remember that today's reader has a much shorter attention span than that of the previous generation. You will have to find the right balance between providing information and storytelling. Include case studies that improve your credibility and let your audience understand how you think and what your priorities are.
Behind-the-scenes stories and videos are more likely to get your readers engaged with your brand and what it stands for than a dry presentation about your achievements.
Sneak Inside Their Head
Before you write for an audience, you must understand your readers. Do your research, and find out as much as possible about what they are looking for and what makes them happy or sad, satisfied or angry. If you can sneak into your readers' heads when writing for them, you will be able to create content with their expectations in mind. You can answer the questions they have before they ask them and use the buzzwords that are most likely to make them tick.
Paint Positive Images
No matter what, remain positive and paint a picture of a bright future. Even if your business has gone through a rough patch, don't dwell on those difficulties. Focus on your company's ability to tackle problems and come out stronger on the other side. Don't make digs at your competition, either.
It is always best to talk about the good things instead of the negatives. However, this doesn't mean you shouldn't reply to critical comments made on your blog and address the issues some of your customers might be experiencing using your product or service. Always give them constructive advice, and let them know you are there to help.
Word of Caution: Try to remain positive without sounding like you are boasting about your success all the time.
Be Passionate
Passion can be contagious, and if you can show that you feel strongly about helping your audience and creating solutions that make people's lives easier, you can get more consumers on board with your product. If you show a true passion for the subject you are writing about, you are more likely to appeal to your readers' emotions and create deeper and more powerful connections through content marketing.
Word of caution: Write about things that are related to your business, product, or services, but avoid talking about politics, industry trends, or your competitors.
Don't Be Too Predictable
Do you remember the time you got bored with your favorite crime series because you figured out who the killer was in the first five minutes? Don't let your readers go through the same disappointing experience. If they know what your post is going to be about before they reach the second paragraph and can predict what advice you are going to give, they will leave your site before they reach the end of the article.
Word of caution: Focus on making your headlines intriguing and exciting, without giving away the content and its advice. When you create a content strategy, you should always think from your customer's viewpoint. What are they expecting you to do, and how can you surprise them?
Ask Questions
According to Entrepreneur Magazine, you should talk with your audience instead of to them. Involve them in creating and interpreting your content by asking questions. Ask rhetorical questions, such as "have you ever wondered …" or "are you fed up with …" to connect with your readers and make them think about what you have to say.
In today's world, content marketing is more than writing blog posts. It is about creating experiences. It is not about quantity of content, but quality of engagement, relevance, and uniqueness. Before you create a content strategy, study your audience and step into their shoes. Find out what your readers are looking for, how they happen to land on your site, what their most important problems are, and how you can engage with them. It is also important to develop a unique brand persona that they can connect with on a cognitive and emotional level.
More from the author: