8 Ways to Boost Business Blogging Success
Blogging is one of the best ways for any business to leverage the power of content marketing. In fact, a business blog is a great opportunity to demonstrate to your audience that you're here to address their problems and answer any questions they have surrounding your business. These educational articles will provide extra value to your target audience and help you to cultivate relationships.
What are some other benefits to business blogging?
Business blogging provides useful content that your audience can benefit from right now and in the future.
Blogging means that you're continuously updating your website with content, which Google loves.
Blogs are great for Search Engine Optimization (SEO).
When executed well, a blog with a strong Call-to-Action (CTA) can encourage lead conversion.
A blog is a way for all team members (who are comfortable) to be creative and contribute to your brand.
In a recent HubSpot study, 85 percent of business bloggers reflected that their business blog delivers value that further grows their business. How can you be part of that 85 percent? Below are 8 tips for successful business blogging.
1. Select Topics Your Audience Cares About
While this advice seems a bit obvious, it's easy to miss the mark on choosing a topic that addresses your customers' needs. When selecting a blog topic, keep in mind that it should add value to the reader by answering a question or providing a solution.
What are your buyers asking? Their questions vary based on where they are in the buyer's journey, so your blog topic must address their specific concerns. For example, if a buyer is almost ready to buy, write a blog post comparing specific brands of a product. If your audience is in the research stage, highlight how your product or service can save them time or money.
2. Pick The Right Keywords (Short Tail and Long Tail)
Keywords are intended to point search engines in the right direction when a specific phrase is searched. When choosing the best short tail and long tail keywords to use, it's best to think of the internet as a library.
For example, let's say someone is looking for information on coffee. In a library, they would first start by going to the section that houses books on "the history of the coffee bean." In there, they might look for a book about "comparing the different types of coffee beans." After, they might look for more information on "the best region that produces strong coffee beans." This process is the same way that keywords work. Choosing the best keywords to use on your blog will make your post show up in relevant searches.
3. Always Add a CTA
Now that the perfect blog article is created and ready to be placed in front of the right audience, it's important to add a strong CTA. This is actually one of the best tips on our list. Why? Adding a CTA will help to link your blog to your business goals.
What should the CTA be? It depends on the topic and what you want your reader to do after reading the post, but a few examples include downloadable content (make sure you ask for an email!), a link to a quote, or clickable button to your "Contact Us" page. The key to adding the CTA is to make sure it's clear, obvious, and relevant to the content in the blog post. CTAs can be placed strategically throughout the post, on the side, or at the bottom of the page.
For example, if a blog post is about a service related to your business, a relevant CTA would be a button that links to your contact page.
4. Promote Your Business, But Avoid Pushy Sales Talk
When appropriate, it's okay to promote your company in a blog post. Just make sure that you're doing so without sounding too aggressive or sales-y. While you're trying to educate your customer, the point of a blog post is to engage potential customers and get them to contact you. Invite them to do so in a way that positions you as a trusted advisor.
5. Let Your Audience Engage with Your Posts
Ask your readers questions about a certain aspect of your post. Encourage them to share their experiences in the comment section. When someone does weigh in, acknowledge their comments and respond (even when they don't agree with your post). This interaction is one of the best ways you can build trust, credibility, and loyalty to your brand. It will also help to humanize your company, which is an added benefit in today's digital world.
6. Consistently Publish New Content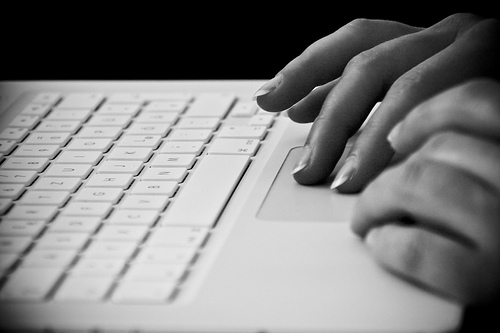 Image via Flickr by Anonymous Account
Google loves fresh, new content. The more you update your website, the better, and posting a new blog counts as a website update. Creating a publishing schedule for consistent posting will help to build up a following as your readers will learn when to watch for a new post. Still not convinced? Recent HubSpot research reveals that businesses with over 16 published blog posts per month received almost 3.5X more traffic than others who only published 0 to four blog posts per month.
7. Research and Cite Other Sources
What distinguishes a good blog post from a great one? Research. During the writing process, take time to find statistics, examples, and real-life scenarios that relate to your content. These data points will add credibility to your post and help your audience find what they're looking for. Surface level content with keyword stuffing won't do the trick as it won't be as detailed as your reader will want it. Google could also decrease the ranking of the blog post, thus, hurting your websites SEO.
When including research and examples that support your blog post, make sure to cite each source. One easy way to do that is citing directly in the copy and providing an outbound link. Make sure to test the link to confirm it works.
8. Share and Promote Your Content
After you're done publishing your latest blog post, tell your audience. Develop a one to two sentence teaser and link to the post from your company's social media channels. If you have an email list, you can even send out an email promoting your post.
As you can see, blogging for your business has many benefits, with the most enticing options being lead generation and business growth. Do you currently blog for your company? What are some of your successful tips? Share them with us in the comments below.
More from the author: