Social media platforms, such as Snapchat, can be game changers for businesses. They put companies in direct contact with current and potential customers. However, to be successful, you have to implement an effective, thoughtful social-media strategy. The first step is to recognize which platforms are a good fit for you.
Snapchat has earned a lot of attention for its potential. Some experts have expressed how the platform functions in a way that is as close to real life as possible. After all, users have a conversation or give a shout out to someone and 10 seconds later, the interaction is in the past and gone. Unlike Facebook or Twitter, your message is not going to be available for eternity. And you cannot include links to your website or other content to keep users coming back for more.
While this type of interaction might mimic face-to-face encounters, it can stump marketers. The fear of the unknown might make businesses ignore the platform altogether. Being unable to keep the contents alive for a long period of time creates uncertainty. In fact, not every company should have a Snapchat presence. Learn whether your business fits the bill for joining Snapchat (or not).
Consider the Value After Recent Changes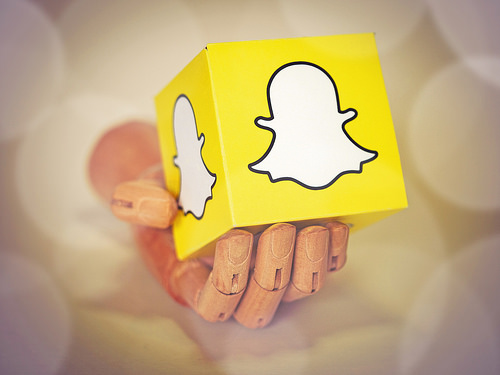 Image via Flickr by Visual Content
Snap, the parent company of Snapchat, recently announced grim quarterly results. It lost 17 cents per share on revenue of $230.7 million, according to Business Insider. These losses came after controversial changes to the app launched in February 2018. One of the most contested differences was the separation of the "stories" of celebrities and those that came from your friends. After backlash, the company began tweaking the changes to address the concerns of users.
People often shun change. At this moment, Snapchat is in a precarious situation. Once considered the new titan of social media, the app's success seems to have stalled. Of course, companies have limited resources and must make the most of marketing budgets and their employees' time. So, you might be reconsidering delving into Snapchat at this delicate moment. But before you completely shut the door, consider other data.
Namely, daily active users actually rose from 166 million from the first quarter in 2017 to 191 million for the same time period in 2018. While it's less than the rise reported in the fourth quarter in 2017, those numbers should not be ignored. Weigh them as you decide whether it's worth it for your company to sign up for Snapchat. Dig deeper to learn more about what's happening. Also, keep tabs on upcoming results to see how walking back some of these changes works — or doesn't — for the app. Clearly, you don't have to rush to judgment one way or the other.
Know the Target Audience
Demographics are hugely important when deciding which social media platforms are a good match for your audience. If your service or product is best for the middle-aged, for example, then you'll want an outlet such as Facebook or Twitter for your messages. Snapchat, on the other hand, trends young. In fact, about 78 percent of 18-to-24-year-olds use Snapchat, and 71 percent of them visit multiple times per day, according to Pew. If you're targeting young people, then you can't just write off Snapchat despite any current declines in use.
Decide on the Importance of Visual Messages
Snapchat provides users the chance to capture the attention of others with highly visual posts. In fact, a big part of posting images to Snapchat is effectively using its filters. These allow you to enhance your images or infographics and make them somewhat of a novelty. You can create your own filters, which is an opportunity for branding with logos and the like.
Nowadays, everyone's message has to include engaging visuals. But some products and services lend themselves more to photos and graphics than others. A car company might reveal a sleek new design with a photo, or a chef might share an image of her most famous dish. Certainly, an artist could make great use of such an app. Doctors and lawyers, however, might not be the best match for this type of visually driven marketing campaign. "Know thyself." If your company has a story to tell with images, then Snapchat might be a good home for it.
Think About Showing How the Sausage Is Made
Many customers expect businesses to share behind-the-scenes photos or videos showing them how a company actually works. They want to see your office or warehouse or factory. Today's consumers want to choose companies with similar values. One way to get a glimpse at the character of a business is to see typical work days, special moments among employees, and what your work area looks like. Snapchat is a great place to share sneak peeks into your business.
Get Engaged
Businesses looking to speak to customers and potential customers on a one-on-one basis will find Snapchat useful. It allows for quick, yet potentially meaningful conversations. It all depends on the effort and skill you put into the dialogue. Don't be afraid because over time you'll be able to hone your Snapchatting skills. This type of engagement is apt for companies that require customization and a greater understanding of the individuals buying their product or service. This kind of one-on-one engagement is also a plus for businesses looking to encourage social media influencers to promote their product or service. You can find the most popular people on Snapchat and reach out to them directly with little effort.
Obviously, Snapchat has its problems. At the moment, the ramifications of the changes the social media platform made to its app earlier in 2018 are unclear, and the company is trying to respond to users who disliked the transformation. Still, it offers potential benefits to some companies, especially those seeking to reach a younger customer base. If your business is inclined to share visual messages, divulge information about the company from behind the scenes, and engage with users one on one, then this might be the platform for you.