Business to Business Marketing: What You Need to Know
Companies offering products or services to other businesses use business to business marketing and can benefit from strategies with in-depth content. The biggest trend in marketing is content marketing, active online presence, and an interactive website. Your content marketing materials should engage business owners in your target market. We know what it is like to buy a product or service as a consumer; however, business owners make more considerations based on logic when making a purchase. Understanding your target market and the different people in the buying process will help you succeed in your marketing campaigns.
What Is Business to Business Marketing?
Business to business marketing is based more on logic because purchases need to be backed by a logical argument, financial investigation, and relevant data. There are more people involved in the purchase and they make careful considerations. Business to business marketing is about the people buying your product or service with a focus on what it does and if it saves them time, resources, or money. It is important to establish a trusting relationship in order to improve customer retention. Knowing who are possible customers helps to address their needs properly through content.
Business to business customers
Companies who use the products
Government agencies
Resale companies
Hospitals, schools, and other institutions
Because there are multiple people involved in the buying decision, addressing the needs and questions of all of them will help to create marketing material that engages everyone. For example, the human resource department will have different concerns then the sales department and material should address each department's concerns. The main factors in buyers' decision to purchase are price and profit potential. With business to business marketing, you have to provide companies with solutions to problems.
How Is It Different From Consumer Marketing?
Knowing the difference between business to business marketing and consumer marketing helps in the development of marketing strategies. The main difference is that more people are involved in the purchase than in consumer marketing. At its core, business to business marketing follows the same basic principles as consumer marketing just executed differently. When consumers make a purchase, they base their decision on price, popularity, and other emotional factors. Businesses are more concerned with price and profit potential. Logic governs their decisions rather than emotion. Below is a comparison of the main differences between business to business and consumer marketing.
Business to business marketing
Relationship-driven
Maximize relationship value
Focused target market
Multi-step buying process
Brand identity created on relationships
Educational and awareness activities
Rational buying decision
Consumer marketing
Product-driven
Large target market
Single step buying process
Brand identity created through imagery
Merchandise and purchase activities
Emotional buying decision
While more people are involved in buying decisions, business to business still has little personal emotion involved. Consumers are not concerned with lengthy material descriptions; however, businesses want detailed information which includes studies, statistics, and infographics. The buying process takes longer and costs more than consumer purchases because of considerations businesses need to make. Marketing to consumers focuses on the product or service, while business to business marketing focuses on the customers' needs and concerns.
What Strategies Are Beneficial?
Business to business marketing strategies focus on your product or service, target market, price, and promotion.  Sharing useful information benefits your business by establishing you as an expert in your industry while engaging business owners, managers, and employees. Host webinars as training or informative material as an indirect marketing technique to establish yourself as an expert. Focus on a niche to build credibility and help address your target market's concerns and questions. Use live chat on your website to address any questions, and create a communication schedule with your contacts, including e-mails and printed materials.
Content marketing is the current trend with 53% of businesses using it with their marketing strategies. The types of content and how often you publish should be planned and scheduled to ensure you deliver content regularly. You can create content in bulk and publish over a period of time or even outsource for content. Combining an active social media presence, blog posts linked to a website, and calls to action will drive traffic back to your website.
Marketing strategies
Booths at industry tradeshows
Active social media presence
eMail newsletters
Live chat on a website
Host informative webinars
Attend networking events
What Type of Content Is Appropriate?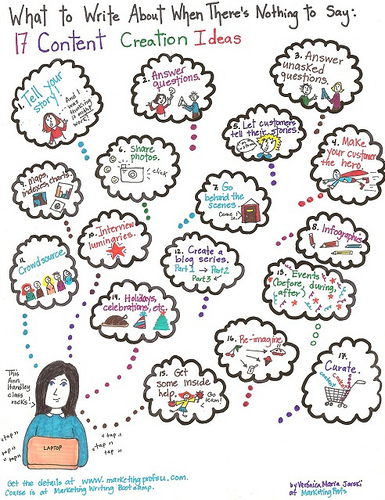 Image via Flickr by Social Media Max
The type of content and frequency of publishing depend on your target market and their needs.  The most popular types of content are videos, blogs, research, and original data. These approaches work well for business to business marketing. Content marketing is cost effective when you create content with your laptop and smartphone. You could also try the inverted pyramid marketing technique which is putting conclusions first and working backward so the most important information is presented right away. Use a combination of different types of content based on relevant information.
Types of content
Webinars
Videos
Blogs
Infographics
Study results
Product or service reviews
Interviews
Research
Original data
Discover your target market's concerns and questions and look for credible information that addresses them. With business to business marketing, it is important to be certain that your content is relevant and research-based while keeping content concise. Use keywords to optimize search engine results by doing keyword research and using keywords throughout your content, especially in headings, subheadings, links and the first paragraph. Add links to related topics on other pages on your website, post blogs from your website on social media, and link to original data from your research.
In conclusion, remember that companies are most interested in price and possible profit. Therefore, you need to show them how your product or service saves them money, time, or resources. Explain how the product or service works by offering a solution to a problem. Important factors to keep in mind are the product or service, target market, price, and promotion. Your business clients need a logical argument, financial investigation, and data to justify their purchases and you can create content to guide them through the buying process.
More from the author: