The Importance of a Content Calendar
Did you know that 88 percent of business-to-business companies incorporate content marketing into their overall marketing strategy? Does yours? Furthermore, a recent study done by the Content Marketing Institute found that only 32 percent of those companies have a written process for content marketing execution. While that number in itself is a bit scary, what's even more eye-opening is the fact that those marketers who do have a developed content marketing plan will be 60 percent more effective than those who don't.
How can companies be more effective and strategic in producing content that's engaging? With the creation of a content calendar.
In addition to proving to be an effective marketing tool, why else should marketers utilize a content calendar? What is a content calendar? What programs or plugins produce an easy-to-use content calendar? Continue reading on to learn all about the importance of a content calendar, and why we know you'll fall in love with one.
What Is a Content Calendar?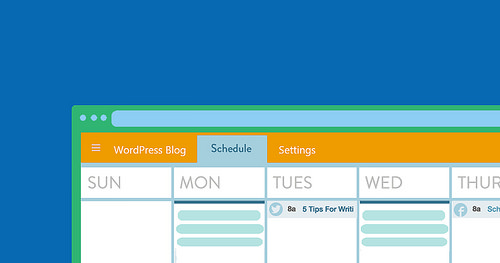 Image via Flickr by Joe The Goat Farmer
This type of calendar is a way to plan out and organize future content. Content calendars can come in several forms. For example, a social media content calendar is a place to plan all content that will be placed on social media channels. An editorial content calendar is meant to plan out specific marketing assets such as blog posts, videos, or infographics.
Your content calendar makes sure that all marketing efforts have the same end goal in mind, so make sure it's easily accessible for your whole team. Google Sheets is a great place to keep your calendar that allows multiple people to access it and update it in real time. In fact, a well-maintained content calendar allows marketers to view all campaigns to get an all-encompassing plan of action for marketing execution.
What Information Goes Into a Content Calendar?
At the very least, content calendars are the place where ideas, topics, and dates are stored. While this is a great first step in organization, an excellent content calendar will go above and beyond to include the following:
Topics with an assigned owner
Prioritized list of what topic should be executed first
An assigned writer, editor, publisher, and scheduler
List (and links) to channels the content will be posted on
Incorporating the above items will help to create a functional content calendar that will help your team stay on track and focused. Just remember, how much information is included in a content calendar is entirely up to you. At the end of the day, the sole purpose in creating one is so those broad ideas and strategies turn into actionable campaigns, so it shouldn't be overwhelming.
What Programs or Plugins Create an Effective Content Calendar?
Like we mentioned above, Google Sheets or Microsoft Excel are great programs for creating and using content calendars. There are some excellent free templates out there, but it's also just as easy to make one yourself. Google Calendars is another great resource that allows companies to track, analyze, and color code different marketing campaigns.
What it comes down to is trial and error. You don't have to get it right the first time (most companies don't). Instead, choose a template that's easy to update and tweak so your content calendar fits the needs of both your team and your goals.
Why Should a Company Use a Content Calendar?
Creating engaging content is crucial for all businesses. Why? It measures success while creating brand awareness, engaging customers, and increasing SEO. Content calendars are the best way to plan out engaging content that will convert.
Why else should a business invest time, money, and resources into the creation and management of a content calendar?
Organization: Content calendars are the answer to obtaining an organized content strategy. They are not only a planning tool but also provide the ability to visualize your content strategy over time and across platforms. These calendars can also show any gaps or overlap of campaigns.
Remember Key Dates: These calendars should also be used like regular calendars. Content calendars need to include key business dates such as holidays, events, launches, etc. You'll also want to note local, national, and international dates so topically those key days don't sneak up leaving you scrambling.
Time Saver: While this point is pretty self-explanatory, content calendars help marketers plan content ahead of time, indicate what assets are needed for execution, and determine the timing of when that content will go live. This saves a great deal of time during the week as everything is pre-scheduled, thus allowing you to be much more efficient and productive.
Deeper Customer Understanding: Freeing up more time, content calendars will allow for increased success and more targeted pieces that your audience wants to see. The structure that content calendars provide is also a means of tracking. Do you notice patterns? Does content that goes live on a Monday do better than any other day? This will help marketers fine-tune their strategy by determining optimal post times, further defining the target audience, and confirming what types of content are more engaging. At the end of the day, this will determine what is working and what isn't so marketers can focus efforts on duplicating those campaigns that are producing results.
Effective Planning: Instead of making last-minute decisions about topics and types of campaigns, content calendars allow for proper preparation as well as ample time for research, creation, and execution. This means that a deadline will rarely get missed, and it can even mean that those pieces will stay within budget.
Final Thoughts
A content calendar is the single source of truth for a company's marketing strategy. It provides a great tool and resource for organizing both short-term and long-term goals. Choosing the right tool and process for your team can greatly help with efficiency and analytics tracking while producing content that's aligned with your business goals. Do you have experience using a content calendar? How do you currently organize marketing campaigns? Leave us a comment below; we love hearing from our readers.
More from the author: