How to Create White Papers
The term "white paper" originated in 19th century Britain to describe an official government report. This authoritative and informative document relied on research data and proven facts to back up its claims. The white paper format has since been adopted by various fields as the ideal format for arguing a position or suggesting a solution to a problem.
White Papers as Marketing Tools
White papers are an important element of marketing strategies and are used widely by corporations. A well-written and comprehensive white paper can establish you as a market authority while developing your brand. It can help potential clients understand or solve issues and guide their buying decisions. White papers can also increase traffic to your site and help your business grow.
The length and resemblance to research reports dissuade many business owners from writing white papers. Following the outlined steps below makes it a straightforward process, with most of your time and effort spent on planning. If you want to turn out a quality white paper rather than another sales brochure, take your time and prepare.
Prepare
Choose a Topic. The best idea for your white paper aligns your audience's goals with your own. Figure out who you're trying to reach and think about their needs. You must focus on problems your readers want to solve for your paper to be read. Think about which topics you have knowledge in and understand which readers' problems you can solve. The benefit from reading your paper should be clear to the reader.
Create an Outline. White papers are fairly long. A detailed outline will help you stay on point and preserve the document's logical structure. In your outline, include the following sections:
Title: a working version of the title that describes your topic well.
Executive Summary: a 200-word summary of your paper with a benefit defined to the reader.
Introduction: an opening paragraph describing a point of view that you'll elaborate on further in the paper.
Section Subheadings: clear, working versions of subheadings.
Bullet Points Under Subheadings: lists of ideas you want to cover in each section.
Sidebar Ideas: notes on any research or data you'd like to include.
Conclusion: a summary of key ideas with a possible call-to-action.
Perform Research. Since white papers are essentially research reports, all ideas and opinions must be backed up by verifiable data. Though information from the internet might suffice for your specific topic, performing deeper research will take your work to the next level.
You can utilize industry research reports and government websites, such as the U.S. Bureau of Labor Statistics or the U.S. Small Business Administration, to create a solid foundation for your paper. For best results, perform your own research. This approach can establish you as an authority, make your white paper unique, and give you invaluable knowledge about the industry and audience.
Write Your White Paper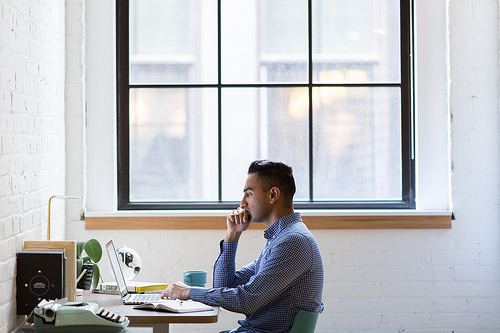 Image via Flickr by perzonseo
Once you've gathered all the necessary data and materials, it's time to start writing. At this point, your goal is to get all your thoughts on paper. Don't worry about editing until your after draft is complete. As you write, keep the following ideas in mind:
Write in a professional, but friendly tone to sound original and trustworthy. Avoid big words and complex sentence structures.
Be as descriptive as you can. Prove all claims with facts and figures from reputable sources.
Follow your outline to preserve the cohesiveness of your paper.
Polish Your Title and Subheadings. Working out a title that shines is crucial. The title is the first thing your readers see when they pull up a list of search results. It must tell the readers how their lives will improve after reading your paper. Come up with different title options and try combining them. Test the variations on real customers to see which is the best.
Make sure your subheadings are clear and descriptive so readers can navigate your paper easily.
Write the Body. The introduction lays the foundation for the rest of your paper. It must hook the readers' attention and make them want to keep reading. Essentially, it's a summary of your white paper. You demonstrate a problem readers face, establish your expertise on it, propose a solution, and summarize the paper's key points.
Once you have your readers' attention, make sure the following sections deliver on the promises made in the introduction.
To secure your audience's trust, beware of turning your paper into a sales pitch. The point of a white paper is to answer questions and provide readers with a solution. Try mentioning your products or services naturally at the end, after you've already laid out your arguments and persuaded the reader to agree with you.
In the conclusion, summarize your paper, make necessary connections, and reinforce important insights. Add citations and list all resources.
After Writing
Edit. It's time to start editing and proofreading. Correct not only grammar, but content and structure as well.
Design. Ideally, your paper will be designed by a professional to make sure it's appealing to readers and easy to read. Your designer will help you select or create the right infographics and place them in the body of the document to enhance readability and reinforce important points.
Promote. After spending a considerable amount of time creating your paper, you probably want to get some value out of it. Promotion is essential to your paper getting read. To reach as many people as possible, you need to start a full-fledged marketing campaign.
You could mention your paper on all your professional social networks, such as LinkedIn, Twitter, or Google+. You could share it with other bloggers, analysts, and journalists. You could publish a press release. Take advantage of any marketing tools available.
In today's world of information and technology, consumers love digging deep to research products. They base buying decisions on reputable information rather than sales pitches. White papers are a great way to establish credibility and help customers develop a genuine interest in your products or services.
More from the author: