One of the biggest perks of infographics is that this type of visual content can transform even mundane topics into fascinating narratives. Since infographics seamlessly blend eye-catching visuals with short and sweet text snippets, they can capture your audience's attention when written content alone can't do the job. Find out how to create a good infographic on a boring topic with 10 straightforward tips.
Keep Your Story Focused to Reduce Distractions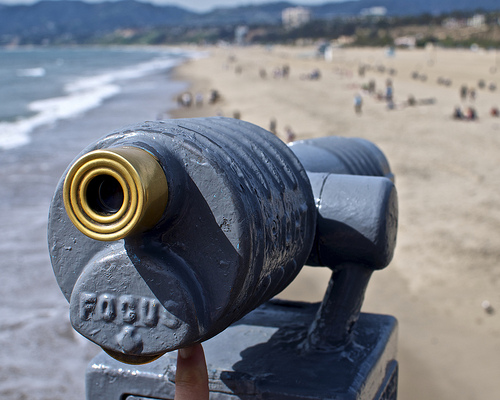 Image via Flickr by stevelyon
No matter how humdrum your topic might be, one of the keys to creating a good infographic is maintaining a strong sense of focus. Start by choosing just a handful of primary points to reduce the risk of your audience becoming distracted
Use visual cues to help them navigate your narrative, too. Placing arrows and directional signs and maintaining plenty of empty space to highlight the main ideas are great ways to make sure your audience doesn't get lost, especially if the data is relatively dense. By showing your audience where to concentrate their attention, you'll guide them through the infographic seamlessly while emphasizing your points effectively.
Use Charts and Graphs to Add Visual Interest
One of the most exciting aspects of infographics is that they can accommodate a virtually infinite range of visual components. You can keep it simple with a few icons and splashes of color, or you can spice it up with bold graphics and images. If you're covering a relatively dull, data-heavy topic, using charts and graphs is a great way to break down complex statistics or figures. Incorporate plenty of brand colors into your bar graphs and pie charts to add even more visual interest.
Build Maps to Enhance Understanding
If your data reflects events or statistics from a variety of locations, try incorporating a map rather than a simple chart or graph. Maps can easily draw in your audience and offer a new way of processing relatively monotonous information. Since maps can become distracting due to the sheer amount of information they can provide, make a point of using color, icons, and other visual cues to keep your audience focused and encourage them to process the entire infographic.
Develop an Eye-Catching Timeline
Need to cover some relatively tedious historical material but want to do so in an engaging way? Infographics can be the perfect platforms for turning an ordinary series of events into an eye-catching timeline. This type of infographic can certainly include more than a handful of points, but you'll want to make sure to create a clear path to guide your audience through the content. Consider highlighting the most significant events with colorful icons or graphics, keeping the style consistent to develop a cohesive, engaging infographic.
Transform Data Into a Flowchart
Not every series of events fits neatly into a timeline, but that doesn't mean you can't turn it into an interesting infographic. Events that don't have a clear chronological structure often work well into a flowchart, which can help your audience understand how select actions lead to other happenings.
Keep in mind that flowcharts can become difficult to follow if you don't lay them out carefully. To ensure that your audience won't lose interest midway through your infographic, make sure the information flows clearly and that it includes icons, charts, and directional signals for easy navigation.
Answer a Pressing Question
In many cases, the topic you're addressing may be tedious, but that doesn't mean you can't hook your audience. Before creating your infographic, do some market research to find out what piques your audience's interest. Then consider designing your content around a series of pressing questions concerning the topic. Emphasize each question using a combination of fonts, colors, and graphic elements to ensure that the queries stand out prominently as a way of attracting your audience.
Reveal How Something Works
Any topic can appear boring if your audience doesn't have a great understanding of how it works. To make a humdrum concept more interesting, pull back the curtain and reveal its inner workings. Keep it simple to follow and easy to understand, and include a call to action (CTA) pointing your audience toward additional content and branded resources. By offering unique insight into how something works, you can use the infographic as a jumping-off point for encouraging higher-level interest.
Compare and Contrast Simple Concepts
Whether you're introducing a new concept to your audience or you want to offer an easy entry point into your infographic, try pitting it against a buzzworthy competitor or a topic your audience already knows. Comparison infographics can turn even the most commonplace ideas into exciting matchups by revealing how two opposing sides fare against each other. To make the most of a comparison infographic, choose a layout that makes it easy for your audience to understand similarities and differences and ultimately determine which side comes out on top.
Help Your Audience Remember Mundane Information
Just because information is fairly mundane doesn't mean it isn't important. If you want to make sure your audience remembers something significant, an infographic is a smart route to take. After all, nearly two-thirds of people are visual learners, and the average person can process images 60,000 times faster than written information. When you pair images with key pieces of information in a beautifully designed infographic, you can make sure your audience won't miss a thing.
Create a How-To Guide With Visual Appeal
When you want to show your audience how to complete a process or share step-by-step instructions, a how-to guide can work well. Start by laying out each step, taking care to provide a brief descriptor and a longer explanation of each one. Add an icon to make each step easy to find and simple to understand, and tie it all together with clear navigation and easily identifiable goals.
Not sure where to start with creating compelling infographics for your brand? Check out the CopyPress Knowledge Base to find out what makes a great infographic or connect with CopyPress creatives to work with a professional team that specializes in developing eye-catching content.