The content marketing sphere is projected to become a $300 billion industry by 2019. Where traditional marketing efforts used to reign, online content marketing has begun its domination of the marketing sphere. What has stimulated, and continues to stimulate such growth? What makes up the bones of this marketing super force?
Clients and Content Marketing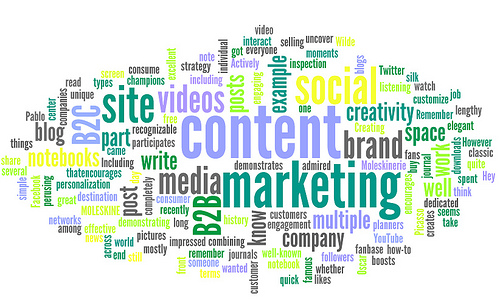 Image via Flickr by DigitalRalph
Of those interviewed, 58 percent of marketing agency representatives feel that their clients have no idea what content marketing is. Only five percent feel that their clients were very knowledgeable. This isn't terribly surprising, since content marketing is relatively new to the scene. While businesses are familiar with more traditional forms of marketing, content marketing may be altogether foreign to them.
How much content are these marketing agencies producing? Eighty-two percent said they produce between one and 10 pieces of content every month for their clients. Thirteen percent of companies responded that they publish content multiple times a day, while 43 percent said they publish content once a week, and 35 percent said they publish once a day.
Interestingly enough, 65 percent of those same respondents wish they published content more often. The amount of content you publish depends largely on your strategy, but this response tells that, if agencies want to be publishing more, content may occasionally take a backseat to other marketing efforts.
Content Types
Ninety-two percent of the agencies interviewed produce blog posts, 70 percent produce web copy, 30 percent create infographics, 45 percent create videos and other interactive media, and only 16 percent of agencies create illustrations. There are several takeaways that can be gleaned from these numbers. Such a high number of agencies produce blog posts and web copy because these forms of content have proven to improve ROI, SEO, and more. It's not at all surprising that blog posts are king. These forms of content are the foundation of content marketing, so aim to produce them regularly.
Evidently, there's a drop between web copy and blogs, and digital, interactive forms of content like infographics and videos. These forms of content are newer to the content marketing scene than blogs and web copy, but that means there's room for you to catch the wave of innovation these powerful content forms offer. High-quality infographics, for example, increase user engagement and can provide your audience with useful and powerful resources.
When asked about the greatest challenges that agencies face when creating content for clients, 33 percent responded that their greatest challenge was understanding and meeting the client's expectations, while 15 percent reported that their greatest challenge was scaling production.
Businesses and Content Marketing
When asked what survey respondents wanted most out of content marketing, 35 percent wanted more visibility and higher search rankings, 43 percent said they wanted increased sales and revenue, and 13 percent reported that they wanted more traffic and a loyal community. When crafting any type of content, it's always important to remember that no matter how fun your piece is, it needs to be worth the investment and contribute to your strategy, whatever that may be.
Twenty-six percent of companies spend less than $5,000 on content marketing every year, while 22 percent spent between $5,000 and $15,000. These numbers are good to be aware of when preparing bids and estimating campaign and project costs. Knowing what your client is willing to pay will help you tailor your work to their needs while ensuring that your team doesn't work more than they're getting paid for.
Content Marketing Freelancers
How do freelancers fit into the content marketing ecosystem? According to CopyPress's study, 64 percent of freelance creatives do this work full time. Seventy-eight percent of those creatives have a four-year degree and 28 percent have a master's or above. These aren't inexperienced individuals looking for a quick buck; they're trained professionals with education and experience.
Fourteen percent of these freelancers responded that they work more than 40 hours a week. However, only six percent reported making more than $90,000 in 2015, while 67 percent made less than $20,000 in the same year. Twenty-five percent of those creatives were dissatisfied with their pay rates.
Freelance content creatives tend to be writers and editors, as evidenced by the 94 percent of freelancers that create almost only written content (webpage copy, blog posts, etc.). Forty-seven percent of respondents said that they never or rarely receive attribution or a byline for that content, and 53 percent of writers responded that when they did receive attribution, having their name attached affected the time and effort they put into the project, at least moderately. Having a name attached to content makes a freelancer more accountable for what they produce.
Of the 64 percent of agencies that outsource their content, 81 percent of those agencies outsource almost exclusively to freelance creatives. These agencies outsource for a variety of reasons, though 70 percent of agencies said that they outsource to guarantee high-quality content.
The Future of the Content Marketing Ecosystem
While predicting the future of content marketing is about as accurate as predicting next year's weather, you can look at trends that are gaining momentum and that can be expected to stick around. Since social media continues growing, expect that social media content will continue to become more relevant, and that users will seek to interact with brands through social media, which will demand that many businesses adopt a stronger online presence on those channels.
Artificial intelligence in content marketing is still in its infancy, but companies are already seeing the success of artificial intelligence, especially as marketers use such technology to analyze their competition. That technology and its branches are likely to stick around.
Familiarity with the current content marketing ecosystem is about far more than just statistics. Those numbers illustrate what efforts are succeeding, what efforts are falling short, and where there is room for innovation. Content marketing is a diverse ecosystem of creative minds, abundant needs, and hungry audiences. And while the future is rarely clear, know one thing: this ecosystem isn't going anywhere.