Instagram has grown to become one of the most popular media sites to date. Almost entirely image-based, this site has grown to include a sizable population of "influencers." These users are outside the normal sphere of personal accounts and are instead carefully curated lifestyle accounts that are typically run by one or two people who have, through their usage of the site, gained a level of influence within Instagram. These users can be business owners themselves or just particularly adept at navigating social media to build follower counts and provide engaging, desirable content.
Influencers have become increasingly important in the world of social media marketing. Brands looking to reach larger audiences than they would be able to on their own have begun incorporating influencers into their social media marketing strategy, some to great success. In this guide, learn what Instagram influencing is, how it can help you expand your audience and improve your business, and some examples of companies that are doing it right.
Reaching the Masses
The idea of influencers didn't begin with Instagram. Think about commercials that include celebrity endorsements: this is essentially the same as influencers. By including well-known names in commercials, companies are essentially aligning themselves with the celebrity and using his or her fame as a way to increase the reach of the service or product.
Instagram influencers are just another take on this. These users often have beautifully curated feeds that border on professional. Instagram is set up as a way for users to get a glimpse into the lives of others, and influencers use this vicarious experience to build a following. Often, these influencers are centered around a particular lifestyle or aesthetics: they are essentially branding themselves.
Many times, the success of these influencers rests on the artistry of their feed and the transparency they present to their followers. Instagram has upward of 8 million users, which means there are plenty of niches to be explored. Influencers maintain their success by finding their place within the larger Instagram community and producing quality content that is directly related to their chosen niche.
For businesses or services, that means influencers have a near-direct line to a large pool of potential customers who share a similar vision or interest. Influencers cultivate a group of followers through their content, and many partner with businesses to bring their followers interest-driven products and services while also making revenue off their Instagram accounts. This partnership benefits both groups and has shown remarkable success at boosting businesses that manage to use this system effectively.
Decide on Goals
The first and most important step when deciding to incorporate influencers into your social media marketing plan is to decide on what the goals of the posts will be. For example, are you looking to drive traffic to your own Instagram page? Do you want to spread the word about a promotion? Are you looking to drum up interest in an upcoming event? Having your goals set ahead of time can help you when you're trying to figure out with what influencers you want to work while also helping you decide on a budget. Most influencers charge per post, so knowing what you want those posts to do before you start your search is essential for creating a campaign that's right for you without blowing through your budget.
Align Interests
Next, it's time to find influencers. You should begin your search on Instagram. Many companies use buyer profiles to create content that appeals to their ideal audience: looking for an influencer is like trying to find the personification of your buyer profile. For example, if your main service is creating creative business cards, you'll probably want to look for influencers who own their own small businesses that would benefit from having distinctive business cards.
Spend some time orienting yourself to your prospective influencer. Check out his or her feed's overall aesthetic—does it jive with your social media presence? How many followers does the influencer have and are those followers actively engaged with the influencer's profile? Does every post seem to be nothing but promotion after promotion or does he or she switch things up? These are all important considerations.
Stay Transparent
One of the quickest ways to lose the interest of potential customers is to mislead them or appear to be taking advantage of social media marketing. Ensure that your chosen influencers are comfortable stating that the posts they make that feature your content are paid for or promoted posts. This will make the posts appear more genuine: social media has proven itself critical of posts that promote a product or service without a disclosure that the business being discussed paid for that promotion. Some influencers may want to write their own posts, but many will allow you input into creating quality content that not only matches their style but also your own.
Successful Examples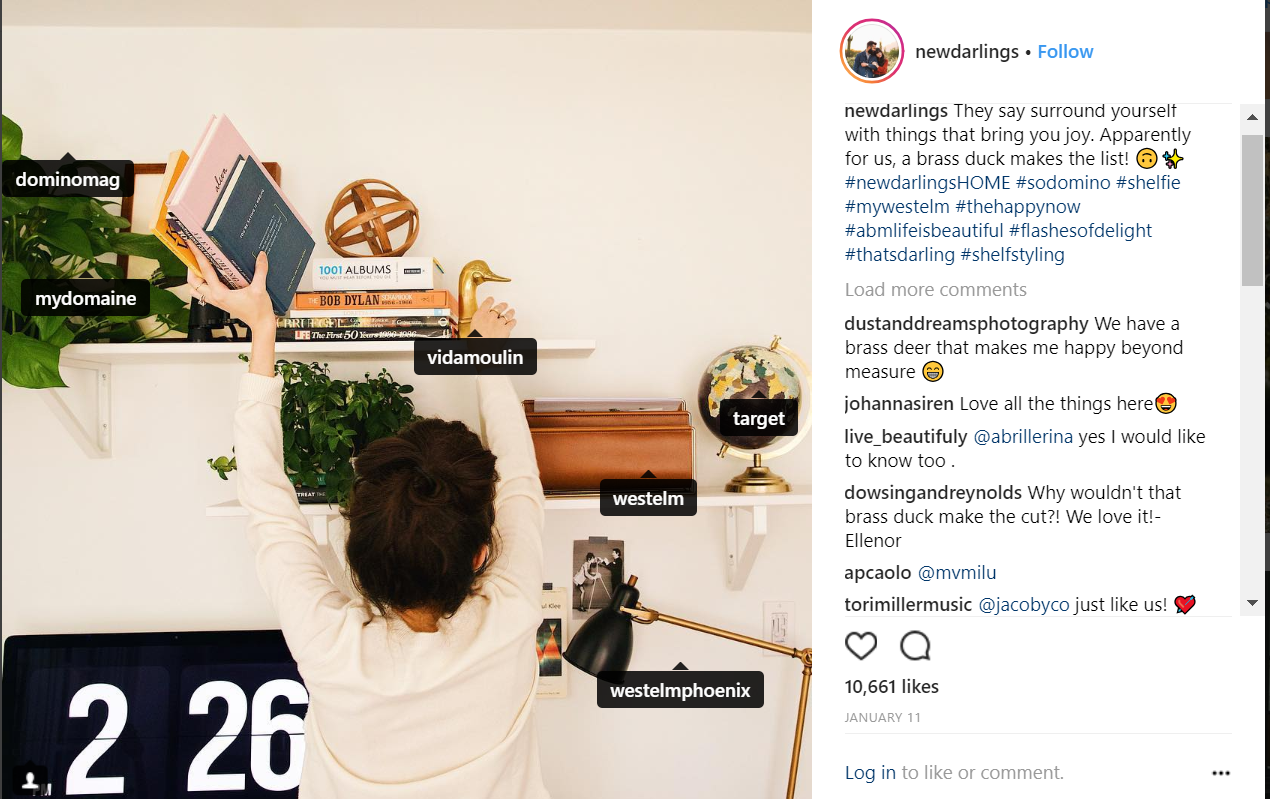 Image via Instagram by @newdarlings
There are tons of successful influencer campaigns that have launched in the past few years. West Elm maintains a particularly successful campaign with popular Instagram users who have pages that include posts on home decor, clothing, and other lifestyle trends. West Elm smoothly incorporates itself into the pre-existing post style to promote its products and website. These posts are directly related to West Elm via both photo tagging and hashtags and are clearly promoting its products, adding to the aforementioned transparency of the posts.
Microsoft also regularly partners with Instagram influencers to promote its technology, reaching a huge range of audiences by establishing partnerships with influencers who post on topics ranging from travel to makeup artistry.
Watchmaker Daniel Wellington also created one of the most effective influencer's campaigns of 2017, establishing not only an associated lifestyle with its brand but also massively increasing its audience through posts. It partnered with some of the biggest influencers and increased its audience by 31 percent through its efforts.
Using Instagram influencers in your social media marketing campaign may be one of the best ways to increase your audience and reach more people than ever. These influencers have created their own brands and, if you find one that aligns with yours, you may be able to establish a truly lucrative partnership.