Content Creation
4 Ways to Distribute Content for More Traffic
CopyPress
April 27, 2018 (Updated: February 28, 2020)
To succeed in content marketing, you need to do more than just create high-quality content. Even if your content is well-written and compelling, all the time and effort you invest in it will go to waste if you don't know how to share it properly.
With so many content-sharing channels available these days, distributing content has become a lot easier and more convenient. However, this doesn't mean that it's easier to achieve the content marketing results you want. There's no one-size-fits-all content distribution strategy. A distribution method that has done wonders for one marketer or business may not work for another. As such, it's essential that you clearly identify your target audience, your goals, and the appropriate distribution options before you start sharing your content. Follow these content distribution tips to drive more traffic to your website.
Things to Consider Before Distributing Content
To devise an effective content distribution strategy, you need to know how to deliver the right content to the right people at the right time.
Right Content
The type of content you should create and distribute depends on the goal you're trying to achieve. While making sales is the ultimate goal for all businesses, you shouldn't share sales-oriented content all the time because some of your target consumers may not be ready to make a purchase. You also have to produce and share content that serves other purposes, such as raising brand awareness, increasing customer engagement, and building loyalty.
When you're promoting your content, you have to know exactly what you wish to achieve with the content and plan your distribution strategy accordingly.
Right People
Most businesses have multiple buyer personas to target. However, you may not be targeting all your buyer personas when you're creating content. The best thing to do is to go through the content again and try to identify the characteristics of the persona it's targeting, such as age, gender, income, buying behavior, and others. Then, use the information you've gathered to plan your content distribution strategy. For instance, if the persona is an entrepreneur or professional, it's a good idea to share your content on LinkedIn. If you're targeting the younger set, Instagram or Tumblr may be a better option.
One of the main benefits of reaching out to the right audience is that it results in leads that are easier to convert.
Right Time
The intended lifespan of your content is another factor you need to consider when distributing your content. If you're planning to create content for a special occasion, such as Black Friday, you should share it on websites that attract consumers who seek up-to-the-minute shopping information, such as social media networks and shopping blogs. On the other hand, if you wish to distribute evergreen content, it's better to share it on websites with a loyal following.
Knowing the lifespan of your content and the demand for it enables you to develop an efficient content distribution schedule and use the right distribution channels to take full advantage of available sales opportunities.
4 Ways to Distribute Content for More Traffic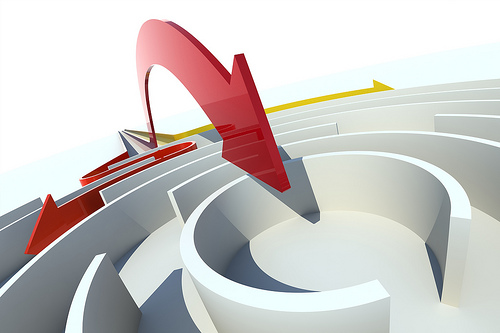 Image via Flickr by ccPixs.com
Nowadays, content can be shared in many different ways, from blogs and social media networks to emails and e-books. Also, you can distribute content yourself or through another content publisher, or use a paid content-sharing platform. With so many options available, it can be difficult to know which methods best suit your needs and purposes. However, some content promotion tactics are generally more effective than others. Here are a few that can help you reach a larger audience and boost your website traffic.
Leverage Influencers
One way to make your content stand out from that of your competitors is to leverage influencers. Identify the influencers in your industry, show them your content, and ask them if they're willing to share it with their followers or leave feedback in the comment section. If these authoritative figures decide to share your content, their followers will more than likely take a look at it and possibly visit your website to look for similar content.
Use Social Media
According to a report published in The Next Web, there were more than three billion active social media users around the world in 2017. This makes social media one of the most powerful online platforms for distributing content.
You can promote your content on social media either organically or through paid advertising. If you choose to do it organically, you have to share your content within the communities or circles you follow. People in your communities who like your content will share it within their own communities, creating a domino effect that can result in a lot of traffic, leads, and sales. If you want to get quick and targeted traffic, you can invest in paid social.
Convert Your Content into Different Media
If your content is originally in text format, consider converting it into other media, such as PDFs, infographics, and videos. By doing so, you can share your content on many other popular websites, including YouTube, Vimeo, Scribd, and Slideshare. This will give your content more exposure and allow you to attract very different audiences. YouTube alone is worth the extra effort. Being the second most popular search engine behind Google, it gives you a virtually endless pool of potential leads.
Promote Your Content on Content Communities
There are many content communities that are getting tons of traffic, such as Bizsugar, Blog Engage, Inbound.org, Triberr, and others. Submitting your content to these communities is a great way to get noticed and drive traffic to your website. Competition may be tough on these websites but you should be able to get ahead if your content is outstanding.
While producing great content is a vital part of good content marketing, it won't benefit you if the content is not shared and seen. A sound content distribution strategy will help you get your content in front of your target audience, giving it a chance to work its magic and attract more visitors to your website. Be creative and experiment with different methods to see which ones deliver the best results.
More from the author: