The purpose of online marketing is to draw traffic to a destination, most often the marketer's website. The process of advertising and marketing to draw in traffic and converting that into leads is no simple task, and when traffic starts to slow down, the whole machine is in trouble. Protect your hard work spent on marketing by finding the cause behind your traffic loss and rectifying it as soon as possible. Chances are, if the loss has been sudden, the issue can be discerned and addressed by going through the possibilities below.
1. Check Your Site
First, consider any recent changes you might have made to your website, such as migrating to a new domain or removing pages. Enter Google Search Console (GSC), search for your domain, and look closely at the graph of your website visits, comparing it against a log of whatever changes you've recently made. By the way, if you aren't regularly checking your site's visits with GSC, be sure to make a habit of it now. GSC will help you detect and troubleshoot all sorts of issues with your domain.
Particularly, you'll want to check for crawl errors, which are points where Google's indexing bots tried to visit one of your URLs but failed. See which pages are unable to be accessed and from where. You might realize that in your zeal to delete some unhelpful content, you accidentally removed the one in-domain link to a vital page.
Another common issue with websites is dead links, also known as 404s. A number of tools are available that will help you check for these pages, and GSC will help determine whether your number of indexed pages has dropped. If this has happened, you'll still have to parse out what part of your updates damaged the site and why. This information will help when contacting customer support about any new changes you've made that may be involved.
2. Compare the Search Engine Results Pages (SERPs)
It's a good idea to regularly check the state of your relevant SERPs to see how things have changed. For instance, if you know that your homepage ranks #1 for a valuable keyword and your top competitor ranks #3, but then you notice that those positions have switched, it's probably the culprit behind your traffic loss. Even a drop from sixth place to seventh will noticeably cut down traffic.
Studying your competition is crucial here. Did they run a popular social campaign drawing traffic to their domain? This holds a lot of clout for SERPs. Or, perhaps, there was a small update to Google's current algorithm. An SEO investigation tool will alert you to days when one or more of your pages suddenly drops in its main keyword SERPs. You can then check current news related to Google and your industry to try to figure out what brought on the change.
In many cases like this, the solution is to step up your game and work around this temporary setback. After all, you cannot ask customer support to resolve either a change in the algorithm or the success of your competitor.
3. Watch for Penalties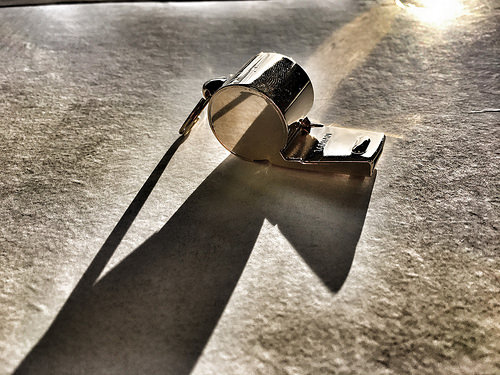 Image via Flickr by sterlinggraham
Google punishes domains that do not meet their standards of quality, authenticity, and security. Back in the "Search Traffic" section of GSC, you will find a section called "Manual Actions." This is where you might find some sort of penalty enacted upon your website, reducing your traffic. This comes down to two possibilities:
Your website has been hacked, and Google is reducing traffic for the safety of others. If this is the case, immediately seek help from your web host.
Your website has too many black-hat or shady tactics on it or, in some cases, on sites related to it.
If something that is within your power to fix is causing a manual action that decreases your traffic, resolve it as soon as possible. It might be rough if someone at Google marks you with multiple penalties at once, so here are some things you should work toward fixing if any apply to your site:
Thin content, meaning content that is low-value, very short, or an obvious duplicate of other content. Highly similar titles and meta descriptions and duplicated paragraphs are all bad ideas. You are better off combining your helpful information into a smaller number of pages and using redirects for all the content you moved.
Spammy or unnecessary links. Be careful, as sometimes this appears because of pages that allow visitor content such as blog post comments. Enforce automated policies to disallow linking, hold comments containing links for review, or get a captcha.
Cloaking, which refers to a page that presents one impression to a search engine-crawler bot but something else to human visitors. The Fetch as Google tool will help you spot these problems.
Backlinks from suspicious websites. There are several SEO tools that will help you find your backlinks, see which ones are likely to negatively impact your site's reputation, and disavow them. Disavowing doesn't remove or break the link, but it tells Google that your website does not condone it.
Paid or exchanged links. These are unscrupulous and not worth the risk anyway.
Pages with suspicious or user-unfriendly redirects.
After handling these matters, you'll need to submit a reconsideration request to GSC (also found under Manual Actions).
4. Check for Missing Backlinks
This final suggestion may be the most difficult to address. Sometimes, for one reason or another, the number of backlinks directing people to your site drops. Perhaps, a single website served as the majority of your backlinks, and the site is temporarily down or gone forever. Or, perhaps, you got into some trouble on social media, and the controversy has made a number of people turn on you and remove their backlinks to your site.
Depending on what actually caused this loss in backlinks, you'll have to take a unique approach — whether that's helping a large, friendly website get back online; smoothing over a controversy on social media; or building new relationships with sites that can backlink to you.
Traffic loss is the clearest sign that your visibility online is neither healthy nor secure. If a major algorithm update wasn't announced in the past few days, chances are your traffic loss will fall into one of the four possibilities above. Whatever you do, don't give up or hastily assume what the problem is before you know for sure. Identify the matter and take steps to resolve it and prevent it from ever occurring again.
Behavior Analysis to Know Your Audience and Maximize Your Budget
Download eBook