6 Email Automation Strategies to Try Today
Email marketing is an essential component of robust digital marketing strategy, but not every brand email you send has to be part of a regular newsletter or one-off promotion. Automated email workflows can give your brand extra opportunities to connect with clients, nurture leads, and drive sales.
Just getting started with email automation, or don't know how to take your campaigns to the next level? Check out these six email automation strategies that you can try today.
Start With Welcome Emails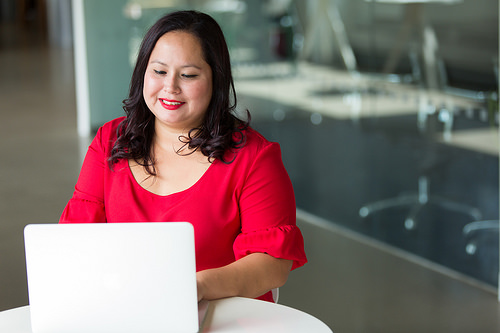 Image via Flickr by wocintechchat.com
What do you do when new subscribers join your email list? If you don't take any action, aside from automatically confirming their subscription and adding them to the queue to receive your next newsletter or promotion, you're missing out on a key opportunity to connect with your audience. Welcome emails have an average open rate of 50 percent, which is much higher than standard newsletters.
Automated welcome emails serve as excellent platforms for introducing your brand to new subscribers. Naturally, not every subscriber has the same level of knowledge about your company's mission, the products and services you offer, or the exciting projects you have in the works. Sending a welcome email gives you a chance to get everyone up to speed and make sure new subscribers know how to contact you, make a purchase, or learn more.
If you're feeling generous, you could even include a special offer for new subscribers with your welcome email. In the world of email automation, welcome messages are among the easiest to send out. Simply create the ideal introductory message for your brand, include a few key links, and set it up to send automatically whenever a new client subscribes.
Launch Drip Campaigns
Welcome emails may be remarkably effective, but you don't have to stop your automated workflow with a single message. Instead, consider creating a comprehensive drip campaign that begins after a new signup.
For most brands, drip campaigns include a combination of education and lead generation. Sending a series of emails that highlight certain aspects of your brand can help effectively deliver your message if your brand has a fascinating origin story, groundbreaking mission, or products and services that perfectly meet the needs of a specialized niche. Drip campaigns can also help you stay on top of your subscribers, which is particularly helpful if you don't regularly schedule newsletters and promotions.
To make the most of drip campaigns, be strategic about the total number of emails and their consistency. Take care not to overwhelm your subscribers with too many messages in a short period of time. Track campaign metrics closely so you'll know what's working, what doesn't resonate with subscribers, and which clients demonstrate the most interest in your brand.
Take Things Slowly With Nurture Campaigns
Similar to drip campaigns, nurture campaigns are more focused on warming up leads and generating sales. While drip campaigns usually include a single path, nurture campaigns often have several possible journeys based on list segments you've created or actions that subscribers take during the campaign.
For example, chief executive officers (CEOs) might automatically get a different series of emails than other subscribers. Likewise, subscribers who engage with certain campaigns or click on sales pages might receive different messages than leads who haven't shown as much interest or haven't advanced as far in your sales funnel.
Nurture campaigns can be challenging to create, as they have several moving parts and require in-depth knowledge of segmentation. Once you've set one up and started offering great content that piques your clients' interest, you can let the campaign generate leads and drive sales automatically.
Increase Sales With Abandoned Cart Emails
Abandoned shopping carts are regular occurrences for e-commerce companies. Even if your online store boasts an excellent design and great user experience, a number of distractions can stop potential clients from making a purchase. You can offer a helpful automated email reminder whether your clients willfully or accidentally leave your online store without completing a purchase.
To make abandoned cart emails effective, you'll need to link your online store to your email platform, then create a trigger that automatically emails clients who've started filling their carts. Your abandoned cart emails can be relatively simple. They can have a friendly reminder about what your clients were browsing, while offering extra incentives. Try including a discount or promotion to encourage warm leads into completing the sale.
Encourage Loyalty With Upsell Emails
You don't need to stop emailing subscribers and forget about earning their continued business once they shift from warm leads to active clients. Sending an upsell email can be a great strategy for encouraging customer loyalty and generating additional sales.
To create an automated upsell email, connect with current customers at a predetermined point after they've made a purchase. If you can anticipate that they'll need a refill or a replacement after a certain period of time, use that as a trigger for your automated email. If replacements don't apply to your business, try maintaining customer loyalty by offering incentives for complementary products and services.
Reconnect With Re-engagement Emails
It's normal for a small percentage of your subscribers to show decreased interest in your brand and your marketing materials as time passes. Just because some subscribers don't regularly open your emails or click through to your website doesn't mean they have to remain inactive, however.
To keep your list healthy and your subscribers engaged, set up an automated email workflow designed to reconnect with inactive clients. This type of automated workflow is often triggered after a certain period of inactivity. It includes a short series of emails that feature special offers and incentives. If targeted subscribers don't respond to any of the emails, consider removing them from your list to make sure you're only emailing people who want to hear from your brand.
Whether you run an e-commerce company, offer business-to-business (B2B) services, or specialize in a niche, email automation can work for your brand. Try these six email automation strategies to increase loyalty, boost sales, drive traffic, and put your brand in the spotlight.
More from the author: