Content Creation
The Different Types of Google SERPs
CopyPress
July 2, 2018 (Updated: March 2, 2020)
When you're marketing a product or a service, exposure is the name of the game. The amount of it you get translates to how well your product performs in its respective market. On the web, this is especially relevant considering how many people use the internet. And luckily, you have great techniques at your disposal for drawing attention to whatever you're promoting. We've all heard of things going viral, and that's because of the work marketers pour into making their products as well-known as possible.
While social media is a great avenue for promoting a product or service, another way is to capitalize on search engines. If you aren't familiar, search engines are the channels through which we access information on the internet every day. Bing, Yahoo, and AOL are examples of search engines — services that deliver information based on queries you type into a text box. For this piece, however, we'll be focusing on the biggest search engine in the world, Google, and how you can use it to drive more attention to your business by taking advantage of the unique way it displays content.
You might have heard of search engine result pages, or SERPs. These pages display search results from your queries. Whereas many search engines simply show off a static page of results, Google has multiple ways of displaying information based on what you're looking for. This opens up many opportunities for marketers to get their message seen by tons of visitors. If you play your cards right, those looking for your product or service might see not only standard text results but also something more interactive with your branding on it.
Here's a list of the different types of Google SERPs that can help drive more traffic to your site, as well as tips to achieve better recognition within each one.
AdWords
AdWords is one of the most popular ways to drive more traffic to your business. It works directly with Google's search engine optimization techniques to display ads for your business and promote your content in searches. You can choose between having your ad show up at the top or bottom of search result pages and pay more money to reach a larger audience. It's essentially a foolproof way to spread the word about your company or mission. Consider this a necessary first step in getting noticed on the internet.
Carousels
Carousels in Google search results give users a bird's-eye view of relevant content, such as an actor's film roles, an artist's albums, a publisher's articles, and so on. Typically, carousels pop up more frequently when you use keywords such as "top" or "best," since many of them display something's highlights rather everything in full detail. Therefore, to get your business to show up in a carousel, focus on driving traffic from search terms such as "best news app" or "top financial software." If you gain enough traction over time, you could be featured in one of these SERPs.
Featured Snippets
Featured snippets are similar to carousels but better-suited for companies that want to promote content such as Top 10 articles or lists. At the top of a SERP, you might see a featured snippet displaying a chocolate chip cookie recipe or the best vacation spots in California, depending on what you're searching for. If you include a similar list in one of your articles, use relevant keywords that pertain to that subject. Promote it like any other piece of content, and you stand a chance of being featured right at the top of a search engine page.
Related Questions/People Also Ask
If your content gets displayed in a featured snippet, chances are it will be demoted to the related questions/people also ask section soon. However, this isn't to say you won't generate clicks this way. In fact, you might see larger volumes of traffic because your content will likely remain in this section longer than it would in a featured snippet. Visitors will find the answer to a common question you provide in an article within a list of drop-downs. If they're interested in learning more, they'll visit your site. Just be sure your content is compelling enough to keep them hooked.
Google Shopping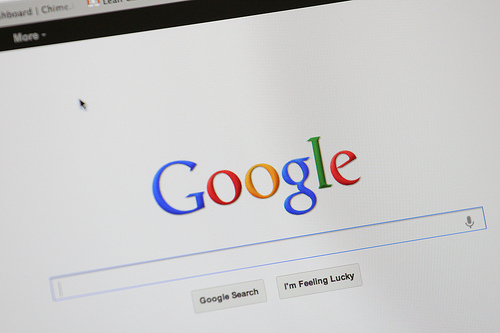 Image via Flickr by theanthonyryan
If you're selling a physical good, you'll want to focus on getting placement in Google's shopping results. Shown as its own dedicated page in SERPs and as a widget in the main feed, Google's shopping section will display the most relevant products at the best prices based on your search terms. To get your product more attention, join the Google Merchant Center and sign up for an AdWords account. From there, focus on short and sweet keywords such as "notebook" instead of more complicated queries such as "apple macbook pro 2016 13-inch."
Top Stories
If you're running a blog or news website, you'll want your content to show up in top stories. This can put your articles in front of millions of readers simply by featuring it in a carousel at the top of a page. To get your content featured in one of Google's Top Stories lists, submit your site to Google News. This is the only way Google will know to display your content to the public via this SERP. Otherwise, you'll be stuck relying on keywords generally related to your article topics.
Images
If you're promoting photography or graphics, Images is the SERP for you. It automatically collects the best pictures based on your query and displays them in a short, horizontal list that's expandable via a button at the bottom. To optimize your images for displaying in this SERP, begin by naming your photo files with keyword-friendly titles such as "sunsetbeautiful.jpeg" instead of "IMG_073.JPG." You'll also want to make sure you own the image and embed it in its host website properly.
Knowledge Graph
Taking advantage of the knowledge graph SERP can help when building a brand. You'll recognize the knowledge graph when looking up nearly any popular brand or person. For instance, typing in "Ford" will display a summary of what the company is, who founded it, and even how much revenue it's generated. The same can be done with your own brand. To appear in a knowledge graph, set up a Wikipedia page and get verified on social media. Once you've done that, you'll have a better chance of appearing in one of these SERPs.
Twitter
When searching for, say, a recent trend or occurrence, Google will display a carousel of popular tweets on Twitter surrounding the subject. To get featured in this widget, all you really need to do is double down on how you're composing tweets. Make sure to include all the necessary keywords surrounding the subject you're discussing and place a link back to your website. As long as you appear in the Twitter SERP, you'll no doubt drive significant traffic to your business's website.
Rich Cards
It's no secret that mobile devices drive most web traffic. That's why Google has made optimizations for displaying SERPs on smaller screens. One feature the company introduced recently is the rich card, which displays content similar to a featured snippet, Twitter widget, or top stories entry. In fact, it's essentially a combination of all these, since you can commonly find a horizontal feed of rich cards. If you can manage to get featured in any of the above-mentioned SERPs, you have a good chance of appearing in a rich card, as well.
Videos
When people are searching for new products or services to use, one of the most common ways they learn about them is by watching videos on the topic. That's why Google displays videos mixed with other search results. To get featured in this SERP, title your video with common keywords that relate to your topic. For instance, when uploading your content to YouTube, title your video "Apple iPhone 8 leather case" instead of "This new case is awesome." Relevancy will give you a better chance of being featured in a video SERP.
Getting your business in front of millions of eyes on the internet can be a challenging process. It's hard to spread the word and go viral if you don't take the necessary actions to do so. Thankfully, Google has all the tools you need to succeed baked right into its search engine through its various SERPs. All you need to do is make sure your product, service, or content is prepped properly for prime time so the company's utilities can find you and make you the next viral sensation.
Of course, remember that once you take these steps, things won't change overnight. Google won't randomly find your content one day and decide to promote it the next. No, it takes hard work, optimism, and a set goal to achieve what you want. Using Google SERPs as stepping stones can take your business in the right direction. The tools are there — all you have to do is learn to use them.