Google's Brand New Restaurant Review System
Ed Pronley
on
July 22, 2021 (Updated: May 4, 2023)
Google announced Wednesday that it's adding new features to its restaurant reviews on Google Maps. Originally, customers could leave up to a five-star review, a small blurb about their experience, and a picture, if they felt inclined. But soon, they'll be able to add even more details.
What's New?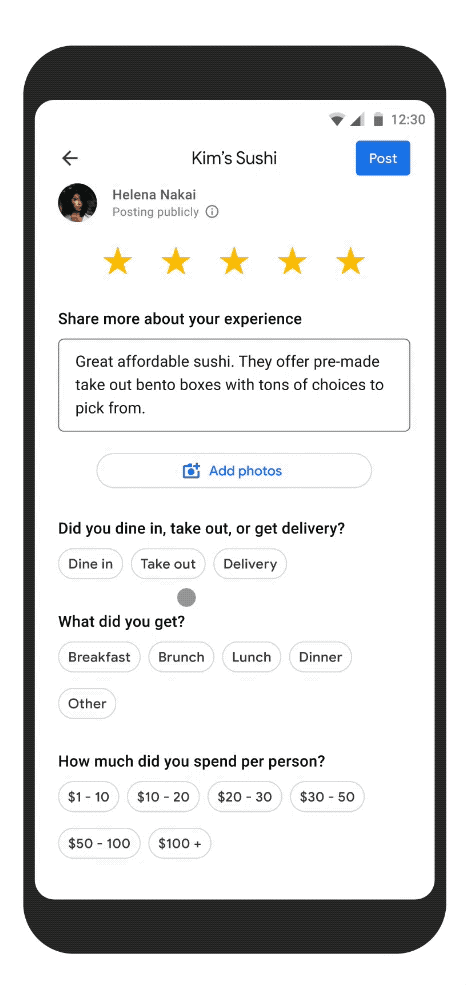 Image via Google
According to Google's announcement, users can now share how they received their food (dine-in, take-out, or delivery), what meal of the day they ordered, and roughly how much they spent per person. This update is currently available on the Maps app to those in the U.S. with Android or iOS. However, they're hoping to roll out more countries and categories soon.
What additional categories they're referring to? I'm not sure. But currently, their choices for the type of food are Breakfast, Brunch, Lunch, and Other. So, I hope their additional categories for the future include a type of cuisine. Not only would cuisine options help customers find restaurants more easily, but it'd also help me know if a local pizzeria also dabbles in sushi and tacos.
Why Should We Care?
Changes to Google's restaurant review system are important for several reasons. For starters, it's going to change the way we find restaurants through their search system. You want to see a list of restaurants where you only need to spend $5 to $10 per person? Go ahead. You want to find a place that can deliver you breakfast? Done.
Well, almost done.
Google actually hasn't allowed people to search with those categories yet. Hopefully, a future update makes that search feature a reality. Those search options will also help restaurants better understand their competitors. Let's say Mo's Diner wants to see the price of other breakfast restaurants in the area. They can find that information easily and make more informed decisions. Maybe a popular diner down the street has a price range of $10 to $20. Mo's Diner could then promote their $10 pancake meal on their website or social media.
Lastly, if Google is releasing this for restaurants, who knows what's next! Maybe soon you'll be able to compare price ranges for different furniture stores. Maybe you'll be able to find out if your local comic book shop also sells board games. As far as I can tell, this is the first step into a much larger world for Google and its users.

When people are more informed about what stores and restaurants offer, businesses have to market their products more effectively and pay close attention to what their customers want. Otherwise, they might have trouble keeping up with the competition. Because of these updates, and the others sure to follow, businesses will need to start a new era of competitor analysis and make sure their company is keeping up with customer demand.
What else is coming?
There was more in Wednesday's announcement than just restaurant updates. Google is also rolling out new features which can allow you to see how crowded public transit is and reminisce about past vacations you took through pictures and location marking. Though both features have practical uses, avoiding crowds and figuring out which hotel you stayed at, they also build on user experience.
User experience is key to attracting more people to a brand and Google is cashing in on that. For example, in their announcement, the company mentions COVID-19 multiple times. They know where people are right now in life. In the past year, not as many people have been traveling and therefore fewer people have been using the Maps app. Google wants to change that, and they are — through clever marketing!
This announcement provides people with the opportunity to get back out into the world in whatever way they're most comfortable. Google is saying, "Hey, we're here the moment you're ready to go!" The company knows its users, and it's created additional product features to show it.
More from the author: