The History of Content Marketing
Content marketing is a subsection of marketing that involves creating and sharing written and visual material. It doesn't explicitly promote a brand but generates interest in its products or services. Today, we often associate content marketing with digital platforms like websites, blogs, email, and social media. But in reality, content marketing existed long before these channels. Today, we're looking into the history of content marketing by era, visiting periods like:
1700s: Ben Franklin Blazes the Trail
Image via Amazon
Though people once believed the early phases of content marketing didn't start until the late 1800s, Joe Pulizzi and Robert Rose from The Content Marketing Institute traced its history back even further. Benjamin Franklin published the first yearly Poor Richard's Almanack in 1732. It doesn't sound like content marketing, but he created the publication to promote his printing business. It ran manually until 1758, selling up to 10,000 copies per year at its most popular. The Almanack was one of the best-selling pamphlets published in the Thirteen Colonies.
Some of the content within the Almanack included seasonal weather forecasts, household tips and tricks, puzzles, astronomy and astrology information, and poems. These pieces often still appear in magazines and online publications today.
1800s: Print Content Pushes Forward
In 1801, the Librairie Galignani bookstore, a haven for English-language reading material in Paris, wanted to grow its business. To promote new ventures like reading rooms, owner Giovanni Galignani used his publishing business to print Galignani's Messenger. The daily English newspaper featured articles from influential authors and information about popular books, which tied back to the bookstore. Print promotional marketing set the tone for other companies, stores, products, and processes of the day. Other examples of publication content from this century include:
1900s: Branding Takes Its Place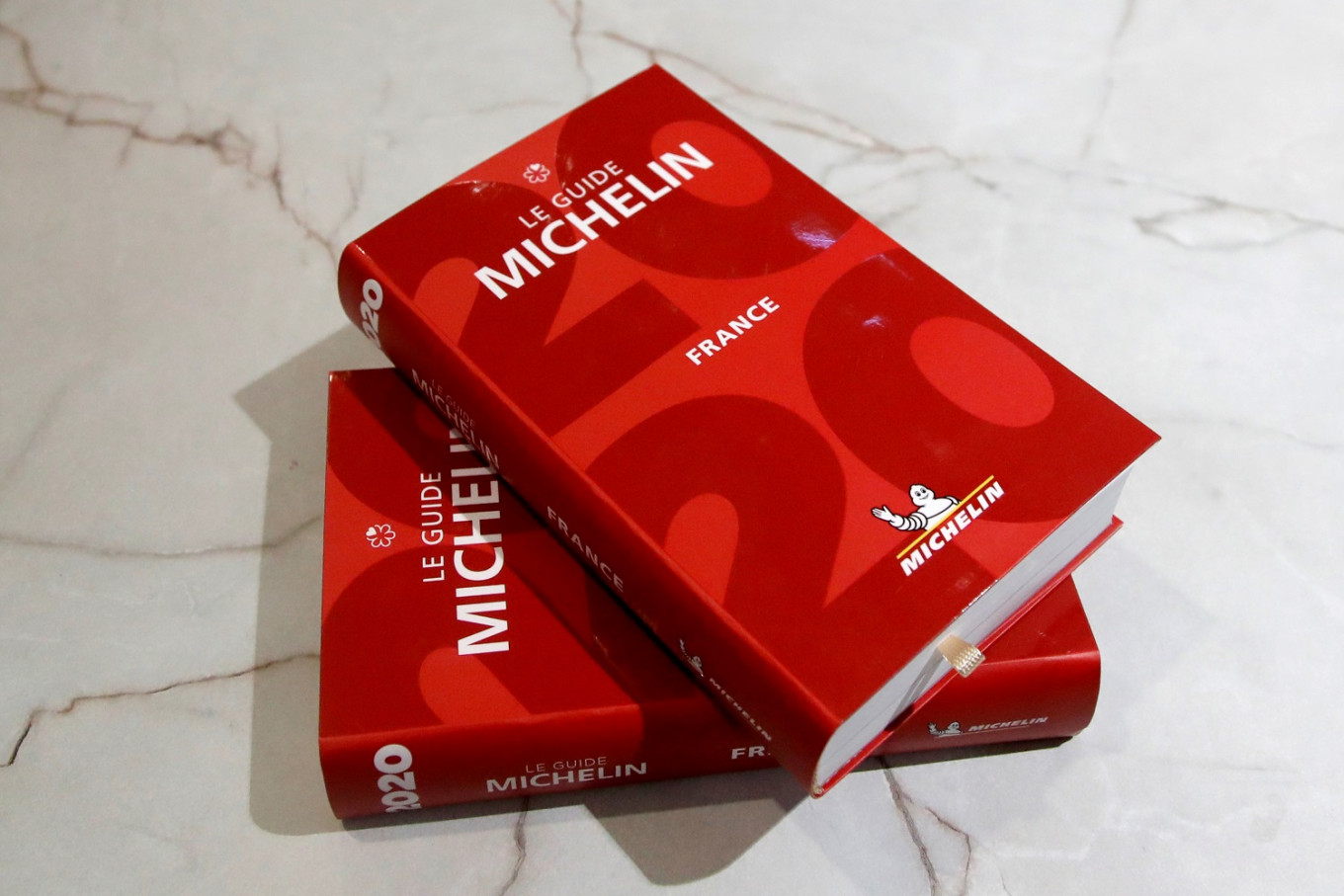 Image via Reuters by Charles Platiau
Brand publishing was commonplace by the rise of the new century. The Michelin Tire Company hopped aboard the trend with its Michelin Guide in 1900. The 400-page book gave drivers tips to maintain their vehicles. But it also encouraged them to get out on the road and travel and explore unknown places and businesses. The Michelin Guide became known for its travel tips and restaurant ratings.
Michelin took a gamble on this type of marketing for its time. In the early 1900s, few people owned their own cars. And if they didn't own cars, they didn't need to buy tires. By making traveling seem exciting and exposing people to places they couldn't visit without personal transportation, Michelin could get people to buy cars. Then someday those cars would need new tires. It worked so well, in fact, that the Michelin Guide still exists today.
The Jell-O corporation followed this clever trick to encourage people to buy their products. Starting in 1904, company salespeople went door-to-door handing out Jell-O cookbooks for free. Though the book was free, many recipes within called for Jell-O products. This helped the company increase its sales by over $1 million in two years.
1920s to 1930s: Radio Content Rages
Today, we know quality content extends beyond print material. But in the 1920s and 1930s, when print dominated, the idea that radio content marketing could exist was groundbreaking. But clever companies found a way to use the new medium to their advantage. In 1924, the Sears-Roebuck Company started its own radio station called WLS, which stood for "world's largest store." The company previously purchased airtime on other stations to provide tips and information to the farming community. But with its own channel, Sears could provide even more content, like music and comedy shows. All of which were interspersed with ads for its own stores.
Radio content marketing even helped coin the term "soap opera." In 1933, Procter & Gamble sponsored an afternoon serial radio program called Oxydol's Own Ma Perkins. It targeted female listeners who did household chores with the radio on in the afternoons. Throughout the program, P&G plugged its products, specifically Oxydol soap.
In 1938, CBS radio engaged in a prank similar to what we'd call clickbait today. On Halloween night, actor Orson Welles announced on air that an alien invasion was happening in New Jersey. The broadcast was an on-air adaptation of the H. G. Wells' novel War of the Worlds. But unsuspecting listeners didn't know, and the segment created mass hysteria. Publications across the country wrote over 12,000 articles about the broadcast. CBS didn't care that the tactic was unethical. The stunt turned the brand into a household name.
1960s to 1970s: Multi-Channel Marketing Moves Forward
If you could hop in Doc Brown's Delorean and go back to the 1940s and 1950s, you might think content marketing as we knew it up to that point was dead. Thanks to World War II and the rise of television, content marketing fell by the wayside. Overt advertising became the name of the game. It was more popular than trying to convince people subtly what they should or shouldn't buy. Radio programs, newspapers, and TV stations became flooded with commercials and sales pitches, similar to the ones we still see today.
But by the 1960s, advertising and content marketing blended as magazines became more popular. In 1968, Weight Watchers Magazine became the first consumer magazine to sell at newsstands and supermarkets. Aimed at women, the magazine provided information about healthy habits, diet, and other women's issues. It paired these lifestyle articles with the ads that became so popular in the two previous decades.
But people weren't just seeing those ads in magazines. They also found them on television and the radio as well. This era helped launch multi-channel marketing. Exxon was one pioneer. In the early 1960s, it launched the slogan "put a tiger in your tank," referencing the strength of its gasoline. The company used the slogan in all its advertising and marketing to create a consistent message. Other companies followed, making the cross-channel campaigns we use today a standard practice.
1980s: Content for All Ages
By the 1980s, companies realized that even though adults had the money and purchasing power, they weren't a brand's only consumers. Plenty of brands made products for children and teens but were marketing to their parents, those with the cash, instead. LEGO became one of the first to get kids to do their marketing for them. In 1987, the company launched its Brick Kicks magazine for exclusive club members. The publication included building ideas, comics, and games. If kids wanted the magazine, their parents had to sign them up for the club, and most would beg until they got their way. The publication still exists as the free LEGO Life Magazine for children ages 5 to 9.
This type of marketing to a younger demographic stayed popular throughout the 1990s and 2000s, with other brands releasing similar publications. Nickelodeon Magazine, Disney Adventures Magazine, and American Girl Magazine were just a few others that promoted their products and services through content like puzzles, games, lifestyle articles, and celebrity features.
1990s: Houston, We Have a Name
It's hard to believe after 200 years what we know as content marketing today still didn't have an official name by the 1990s. Many companies were doing it, but they saw it as a strategy, not its own marketing entity. John F. Oppendahl changed all that in 1996, coining the term "content marketing" during a roundtable discussion at the American Society for Newspaper Editors' conference.
Having a name led to the expansion of content marketing as a discipline and a service. By 1998, Netscape's Jerrell Jimerson had the professional title "director of online and content marketing." A year later, people in the industry used the term widely. For example, author Jeff Cannon included it in his book, Make Your Website Work for You: How To Convert Online Content Into Profits. This set the stage for content marketing to become one of the most influential practices of the digital age.
2000s: A Shift from Print to Screen
The internet coming to homes and being a consumer commodity in the late 1990s helped make content marketing a mainstream practice for businesses. As they added websites, blogs, and email marketing to their strategies, companies had to come up with new ways to connect with their audiences on these channels. By the late 2000s, social media sites like Facebook, Twitter, and YouTube gained popularity. This shift increased the demand for content that was more than just informative. It also had to be engaging and shareable, as well as visual for timelines and feeds.
Content Focused on Clients and Consumers
In 2006, Blendtec was one of the first to embrace video content marketing on YouTube with its "Will It Blend?" show. Founder Tom Dickson wanted to prove his product could blend just about anything, from iPhones to explosives. He filmed himself tossing random objects into a Blendtec blender to see what would happen. People went crazy about it. The channel has over 200 million views in its lifetime and over 850,000 subscribers, despite the last video going live in 2020.
The move from print to screen helped brands learn the best ways to adapt their content and messaging for different channels and audiences. Other examples of companies that followed this digital migration in the 2000s:
Content Focused on Brands
The 2000s weren't all about how the consumers reacted to and expanded the need for content marketing. During this era, the content marketing industry grew, too. In 2001, Penton Customer Media began advertising content marketing as a service. In 2004, the Magnum Opus Awards, now called the Content Marketing Awards, began celebrating professionals' efforts in the field.
The late 2000s are also pretty special to CopyPress. Our company got its start in 2009 at a conference in Denver, Colorado. What began as a way to develop software to scale content production turned into the full-fledged content marketing agency you see today!
2010s: Digital Content Experiences Take Center Stage
By the 2010s, content marketing became a lifestyle for some brands and marketing departments. With more and more companies learning the value of sharing content online, brands had to get more creative. It wasn't just about the individual content pieces anymore, but the experience they brought to the clients and customers. Some examples of this type of content strategy include:
These experiences and company extensions did more than subtly promote each brand. They turned content creation into a money-making process that turned well-established businesses into multi-faceted corporations.
2020s and Beyond: What's Next?
The COVID Pandemic of 2020 made a lot of companies rethink how they marketed their brands, products, and services. With people moving to remote work, online learning, and spending more time at home, marketing teams had to refocus and adapt their brands to these changes. Content marketing was at the forefront once again. With more downtime and time spent at home, people had more opportunities to read content for pleasure. They also spent more time searching for information to learn and try new things without leaving their homes or towns.
This led to a push and need for more content, like tutorial articles, how-to YouTube videos, and podcasts on a variety of topics. We're still not out from under the pandemic cloud, so how does that influence our content future? The focus today and into the foreseeable future isn't the content itself, but how it's packaged, presented, and shared with the target audience. Trends from 2021 showed that no matter the content subject, the presentation was key. Hot topics of content marketing for the present and future include:
Increasing audio and video content consumption with podcasts and video-centric social platforms like TikTok.
Optimizing content for mobile devices to cater to over 70% of web traffic that comes from mobile.
Hyper-personalization marketing lets companies, clients, and consumers curate content to see what they want when they want it.
Voice and visual search features that allow people to find content without typed words.
Interactive content marketing like polls, quizzes, and forms to keep viewers engaged. Brands like Macy's have even taken interactive marketing offline and into their real-world campaigns.
Using data and tools like CopyPress's content marketing analysis report to uncover gaps in content offerings. This allows companies to provide more of what their audience wants to see.
"CopyPress gives us the ability to work with more dealership groups. We are able to provide unique and fresh content for an ever growing customer base. We know that when we need an influx of content to keep our clients ahead of the game in the automotive landscape, CopyPress can handle these requests with ease."
Kevin Doory
Director of SEO at Auto Revo
What Does It All Mean?
Practicing content marketing has turned many businesses into media publishing companies. That's probably something you never considered. But if your company publishes any kind of magazine, newsletter, or blog, it's a media publishing company. That means you're not just tossing out information hoping to make sales of your "real" products and services. Your function as a publishing company is just as important to your audience as any other commodity you sell.
Give the content development areas of your business the time, attention, and curation they deserve. They're not just a tactic or a throwaway strategy. They're an integral part of bringing brand awareness and new leads to your business. When you know your audience, focus on quality, and set your brand up as unique in the market, you can stay ahead of the content marketing curve and its trends.
CopyPress is here to help you do that. We develop all the content you need to stay current in the content marketing landscape and blaze new trails for the future. Schedule your free strategy call with our team to make your brand the next content marketing trendsetter.
More from the author: