How to Build Trust Through Content Marketing
While content marketing can give your business a platform to build brand awareness and generate website traffic, this digital marketing strategy also has the potential to do much more. Find out how to build trust and drive sales through content marketing.
Strive for Honesty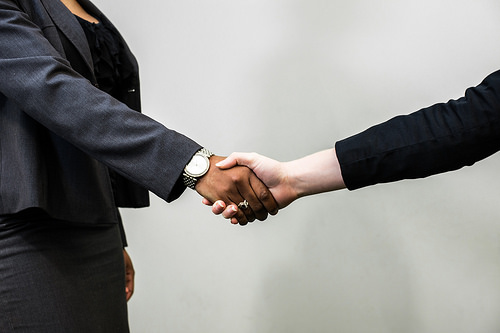 Image via Flickr by amtec_photos
Whether you are writing a short blog post or an advanced e-book, always strive for honesty and straightforwardness in your content. You'll find plenty of opportunities to be clever in your content. However, you should never mislead your audience intentionally, or you may erode any trust you've worked hard to establish.
For every type of content, honesty begins with the title. Avoid assigning your articles clickbait titles that entice readers to open a link, only to find the post covers a different topic or doesn't actually answer the question at hand. If you're struggling with low-open or click-through rates, practice crafting exciting yet truthful titles, or build trust by asking your audience for honest feedback on the type of content you create.
Aim for Authenticity
No matter what kind of products you sell or the variety of services you offer, every company has a story to tell. Your content can certainly strike a professional tone to position your business as an expert in its industry. Keep in mind, however, that painting your brand as an entity devoid of personality may prevent you from building meaningful relationships with your target market.
Rather than overemphasizing professionalism at the risk of eliminating personality, aim for authenticity in your content. Weave storytelling into your content strategy, and help your target market understand the "why" behind your company's story. After all, if you don't give your customers a reason to care about your company, they may never truly trust your brand. By sharing snippets from behind the scenes and sharing why your brand does what it does, you'll naturally create countless opportunities to connect with customers.
Create Genuine Connections
As your brand embraces authenticity and forges deeper relationships with customers, you will want to take steps to ensure your connections are genuine. One of the simplest ways to do this is by encouraging your audience to become active members of your community. Invite readers to engage with the content you share, and then take the time to respond to comments and questions.
As you encourage engagement, you'll do more than merely invite two-way communication. Over time, this content strategy can make customer relationships more meaningful, build deeper connections to your audience, position your business as a trustworthy brand, and even drive sales.
Establish Authority
It doesn't matter if you just launched your company or if you've been in business for decades. Your content strategy has plenty of room to establish authority and position your brand as the best in its niche.
You can begin creating authority by re-evaluating your content strategy. While not every article or blog post needs high-level data or opinions honed over years of experience, every piece of content should highlight your brand's thought leadership, especially if you want to build trust.
Give your expert status an even bigger boost by connecting with other leaders in your industry. Ask them to share your links on social media to give your content more clout while putting it in front of a much wider audience. If you can't seem to get big names to share your content naturally, try quoting them in relevant blog posts or even reaching out to them for their insight when writing your next piece of high-level content.
Add Value
Establishing authority can certainly get your target market to pay attention to your content. To take the next step toward building trust, however, you'll need to add value to every piece of content you create.
To increase your value proposition, write or outsource high-quality content that resonates with your audience. Develop informative content that helps your market understand what sets your brand apart from the competition. Create educational content that shows customers how to get maximum use out of your products. Write entertaining content that allows your audience to connect with your brand.
If you aren't sure what your audience wants to know, there is no need to guess. Ask for feedback, or check with your support team for insight into frequently asked questions. As customers sense your company cares about their experience, you'll have improved opportunities to build trust and increased chances to generate sales.
Skip the Hard Sell
Your content marketing strategy should always support your business's sales goals. However, content marketing and direct sales don't typically work together. Rather than working overly salesy messages into your content, avoid the hard sell altogether. Instead, focus on a content strategy that centers on adding value and building trust, and leave the selling to sales pages and sales calls.
Initially, you may worry you're missing out on key sales opportunities. As you build trust through your content, however, you'll find customers who want to purchase your products and services don't need a strong push to buy. Instead, they need high-value content that helps them learn about your brand, understand your product's benefits, and feel confident about their purchasing decisions.
Be Accessible
To establish trust and generate sales through content marketing, you will want to ensure everything you publish is accessible as possible. Rather than putting a price tag on your premium content, make everything available free of charge. With this strategy, you'll encourage as many members of your target market as possible to experience the high-value content you offer while absorbing your brand's thought leadership.
Instead of charging for high-level material, consider setting up gated content that requires customers to provide an email address to access. Once you have permission to email prospective customers, you can create numerous opportunities to build trust, add extra value, and form genuine relationships with every new piece of content you share.
Don't let your content strategy fall short of your ultimate marketing goal. Implement these tips to start using content marketing to build trust and drive sales.
More from the author: