Copyblogger describes, how the cycle of idea usage works in the social media and blogging world. Ideas are generated, analyzed, praised, or criticized, and then they are recycled. Content development needs to be organized in order to maximize the return on investment from the content. Innovative content starts conversations, which increases the relevance of the content and how it is shared on social media platforms.
How to Improve Your Content Development Process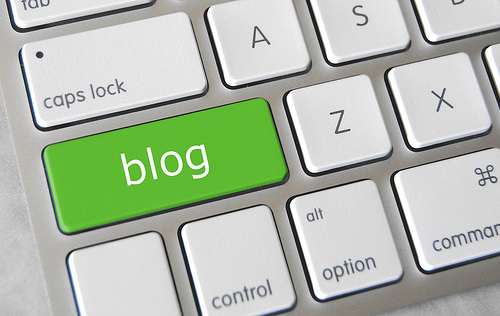 Image via Flickr by Got Credit
Convince and Convert explains, the importance of planning the content development process at least two to four weeks in advance to produce the most compelling content. This process includes the breakdown of weekly topics, their associated blog posts, social media messaging, videos, and emails. Everything must be proofed multiple times to avoid any costly errors due to poor wording.
First and foremost the content development needs to focus on the information conveyed to the audience. Plainly, what do you want to discuss? It is best to research and evaluate possible changes to your specific business niche. Consider possible future trends and how they would impact your community and consumers.
Tech Co. states content development requires the coordination of multiple roles including writers, editors, promoters, managers, and analysts. If numerous writers are collaborating, ensure they have clear directions to make all the content have similar tone and layouts. If instructions are not followed strictly there is a strong likelihood information will be used across multiple entries defeating the idea of creative and innovative content.
Gearing content to possible future trends starts new business conversations, allowing the business to propose ideas, receive feedback, and inbound links because the material covered is not yet recycled. Identifying your target audience creates separate topic areas to keep fresh information in the content. Completing a SWOT analysis for your own business and sector can also detect other areas to tap into to develop engaging content time and time again.
Changing Ideas and Actions into Engaging Content
Once you have considered future trends, it is time to discuss what would happen if no changes were made at all. Analyze how your competition does things better, or worse to find room for improvements. Use these ideas to identify the direction and objectives you want to take your content and business in the future. Each goal is a separate topic area breaking down into smaller subtopics.
Considering all of the identified objectives it is time to decide which of the options can be created and which cannot. Objectives can be sorted based on how they align with business goals, values, and motivations. Independent contractors can take the information available and decide what will be engaging for others. This is why outsourced content development is beneficial. Sometimes too much personal bias will devalue the content.
As each objective is achieved, it is essential to create new content covering the progress and restarting the content development process. With each successful objective a new set of information is collected, to then be turned into ideas and business action. The final step in content development is deciding the return on investment in the content created.
Content Promotion and Return on Investment Analysis
The establishment of rules in content development can help with the promotion aspect of the content. This promotion is achieved through keywords and proper tagging. Keyword usage will help increase the visibility of the content in search engine results. Keyword choice needs to be actual words and phrases people are searching for.
Social media is a valuable tool to share content, but the key is to figure out what will get your potential audience willing to click on the link to the content in the first place. This is where the analysis process becomes the most important. Analysis can focus on the performance of individual posts and feedback to tailor future content to reach desired returns on investment.
Impact explains, 53 percent of marketers say bogging is their top content marketing priority. Especially since 70 percent to 80 percent of users report they ignore paid advertisements and focus more on organic results. It is the quality of the content that will determine if the target audience continues to read the content on a regular basis. The more content provided adds to the expertise of the business, making them an authority in their business sector.
Once your business confirms its expertise, new content becomes more valuable for continuing the discussion offline and in the homes of the target audience. That is when you know the content development is achieving business goals because the conversation leads to increased sales and a higher return on your investment.
Keep Your Competition out of Your Content
Considering your competition during the research process is a useful tool, but it is strongly recommended never to mention your competition in your content. Unless the content is about you and your competition collaborating on a project, mentioning them will benefit them more than you would expect.
The point of the content is to make your brand stand apart from the competition, so there is no need to mention them by name to make your point. Content development should focus on how your business is useful, not how to bash your competitor. People may be more likely to share negative information, but you do not want negativity surrounding your business, or its content.
To keep fresh ideas flowing it is recommended to organize your content development seasonally to consider the long-term approach of your content, not just on a monthly basis. This organization can help you plan out events to gain other forms of content to be shared through social media and blogs. Videos can be uploaded to social media quickly, and then embedded into content as appropriate.
Content promotion is just as important as the development of the content. Without a formal promotion process, content is dead on arrival because it is not being shared. People are more likely to watch a short video than read an article. This is where images and videos become even more important. The information in content needs to educate the audience about your business and services, but first, their attention needs to be caught before any reading occurs.