Whether you're looking for new ways to highlight your company's digital assets or you're seeking great-looking print collateral to promote your business, printing your infographics can be a smart strategy. While printing infographics requires a touch of design savvy and a few formatting updates, turning these web-based assets into print documents lets you take your marketing materials to an entirely new level. Find out how to print infographics and learn when to use these image-based assets.
How to Format an Infographic for Print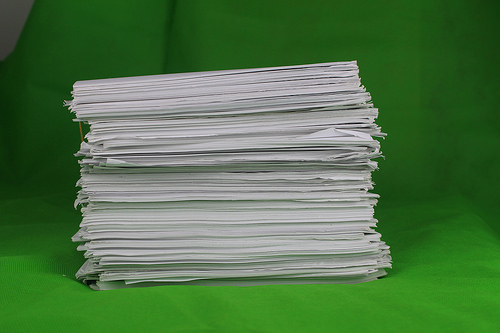 Image via Flickr by tetracarbon
Since infographics are primarily designed to be digital content, turning them into physical assets isn't quite as straightforward as pressing "print." Before printing your infographic, you'll need to make sure it's in the correct file format.
While you may have opted to upload a PNG version of the infographic to your website for easy viewing and downloading, you won't want to print a PNG file, as this image file type is geared toward the web rather than print. Although JPG files are suitable for both web and print, this image file type isn't optimal for printing infographics, either. JPGs work best for photos and other resolution-dependent images, qualities that make them less ideal for text- and icon-heavy infographics.
Instead, convert your infographic into a PDF file before printing. Since PDF files are ideal for text, icons, and vector images, using this file type can make your infographic shine. Because PDFs can feature a wide range of quality parameters, opt for the highest-quality version when saving your infographic before printing.
Best Sizes for Printing Infographics
While there's no wrong size for printing infographics, you'll want to make sure the print size aligns with your intended use and that it doesn't obscure any text or graphic details. For a basic flyer, opt for a letter-size print that measures 8.5 x 11 inches. For a small poster, try an 11 x 17-inch or an 18 x 24-inch print. For a larger marketing poster, aim for a 24 x 36-inch or 36 x 48-inch print. If none of these common sizes seem right for your purposes, check with a professional printer for advice or custom sizing.
Before printing, make sure the digital file can accommodate the selected print size without distortion or pixelation. For most prints, you'll typically need a resolution of 200 or 300 dots per inch (dpi). However, some high-quality prints may require a resolution of 2,400 dpi or higher. If the digital file is too small for your printing plans, you may need to reconsider. You can either take a step back to the design phase, where you can resize each element as necessary, or you can rethink your marketing needs and aim for a smaller print.
In some cases, you may need to size your infographic so it's slightly larger than the size you want to print. Taking this step accounts for the bleed and ensures the infographic will print to the edge of the sheet, without leaving blank space or an unsightly border.
How to Create Sharp-Looking Print Infographics
Even if you choose the optimal format and size for your infographic, not every file will look great in print. Fortunately, you can make a few minor tweaks during the design process to ensure your infographics look sharp on paper.
First, choose your fonts wisely. Since you'll want to ensure your print infographic is legible, aim for fonts that are both large enough and heavy enough to read easily. As a general rule, larger, bolder type looks better in print and captures readers' attention more easily. However, not every web-based font is suitable for printing. Before settling on a font, confirm your printer has the font you've selected to make sure your infographic will print correctly.
Next, check the color profile. Most high-end printers use the cyan, magenta, yellow, and black (CMYK) color profile rather than the red, blue, green (RBG) profile. You can change the color profile quickly using virtually any image-editing program. However, you'll want to give the file a quick visual check to make sure the colors still look true before printing.
When to Use Print Infographics
Want to make sure you get the most value out of your digital assets? Get inspired by these four ideas for using print infographics:
Brochures
Whether you're attending a local event or you want to connect with customers at your brick-and-mortar business, handing out brochures or flyers is a great way to help clients remember your company. Small infographics can easily translate to a single-page flyer, while more extensive infographics work well as multipage brochures. Be sure to include contact information to continue the relationship long after your first meeting.
Trade Shows
Trade shows are the ideal venues for promoting your business and connecting with new partners and customers. To stand out from the crowd, however, you'll need an eye-catching banner or poster. Turn your infographic into a large poster to showcase key accomplishments or to highlight the data you've collected. Be prepared to start conversations and answer questions about key data points to add even more value.
Direct Mail
Why limit your infographics to customers you meet in person when you could introduce them to a much wider market? Whether you want to send a postcard or a letter, print infographics work well in almost any type of direct mail campaign. Make sure that any infographic you choose has a strong call-to-action to ensure you get the best return on investment.
Business Cards
You won't be able to include an entire long-form infographic on the average wallet-size business card. However, you can pull icons and data points from an infographic to illustrate what you do for the company or to share important key performance indicators (KPIs) you've reached. Keep each example simple yet impressive to make your new business cards memorable.
Whether you want to showcase your business at a trade show or you want to gain more local customers, printing infographics can be a great way to promote your company. Keep these tips in mind for transforming digital assets into beautiful prints without losing color, quality, or details.