How to Use Your Buyer Persona to Create Targeted Content
While the internet provides a medium for even small businesses to connect with a large audience, it also has created a very crowded space. For companies to remain relevant in today's busy marketplace, they must find a unique way of engaging with their target customers. Using a well-developed buyer persona can provide companies with this unique angle by giving them the insight they need to develop a personalized content message that resonates with their customers.
What Is a Buyer Persona?
A buyer persona is a fictional, yet realistic, portrait of your target customer. Most businesses create several different buyer personas to represent the primary members of their customer base. Studies show, however, that most of your business (up to 90%) likely comes from just two to four buyer personas. Creating a few different buyer's personas to match allows you to create a customized content strategy that directly engages with your target customers.
The goal of the buyer persona is to gain insight into how your primary customer thinks, acts, responds, and behaves online. A buyer persona also can help you better understand your customer's needs and how your goods or services can help fill these needs.
How to Develop a Buyer Persona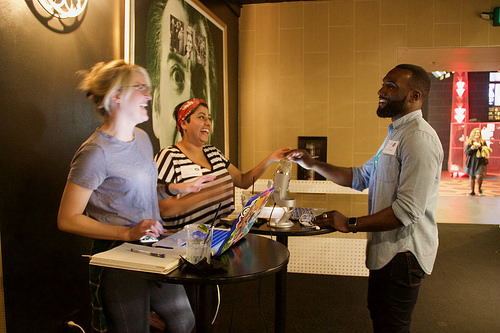 Image via Flickr by samkap
Developing a buyer persona is not as easy as simple as jotting down a few facts you know about your prime customers. It requires careful planning, data collection, and analysis. Here's a look at some things you should do when preparing to create a customized buyer persona.
Website and Social Media Analytics – It's important to collect both website and social media data and perform a comprehensive analysis to better understand your ideal customer. Look for online trends, determine what content your customers currently view and what they don't view, identify specific motivators, and collect all other relevant data.
Customer Database – Your current customer database can provide you with a wealth of information about your customers. Look for demographic information, such as age, gender, and location. You also can track purchasing history to determine how and when your customers make their purchases.
Market Research – You don't want to consider only your current customers when building an effective buyer persona. You also want to gather insight on potential customers. Market research can provide this valuable information and help you better understand what your ideal candidates look like, how they interact online, and what problems they have that they are looking to solve. Do some research into your competitors marketing strategies and find out what techniques they are using to connect with their customers.
Sales Team Feedback – No one in your company knows your customers better than your sales team. After all, they work with them every day. Ask your sales team for feedback to get a better understanding of who your target audience is.
Customer Insight – Get to know your current and potential customers better by asking for insight. Use various surveys and polls to find out what your customers want and need. You also can check out online reviews of both your customers and your competitors' customers to gain insight into consumers in the industry.
It's important to note that creating buyer personas for your business is not a one time process. As the market changes and your company changes and grows so will the needs of your customers, as well as your company's ability to meet these needs. You must continuously track the success of your marketing strategies and make the necessary adjustment to ensure that your current buyer persona still offers a good representation of your target customer.
Tips for Using Your Buyer Persona to Create Content
Having a buyer persona in place allows you to write customized content that is tailored to match the needs, personality, and interests of your target customers. There are several ways you can use your buyer personas to influence your content marketing strategy.
Style and Tone – Use your buyer persona to set the right style and tone for your content. For example, you will write completely different content for a professional male about to enter retirement than you would for a teenage female just entering college. It's important to know and understand your target audience when writing content, so you can use the right tone, style, and jargon.
Problem-Solution Strategy – More people are turning to the internet to help solve their problems than ever before. This provides a great opportunity for you to show them how your goods or services can help solve their problem. The trick is to understand your target customer's problems. Your buyer personas should provide you with this information. You can use your buyer persona to create problem-solution content that both address your customers' frustrations or problems, and provides them with an instant solution to that problem.
Pick the Right Keywords – Use your buyer personas to determine what your ideal customers are searching for online. This will help you expand your keyword generation from outside the typical industry-based keywords to include additional keywords that represent your target customer.
Bog Topic Creation – Understanding who your ideal customers are, what their hobbies and interests are, how they interact online, and other pertinent information will help you choose blog topics that are most likely to interest them. Using this strategy can help you reduce the bounce rate of your content and increase conversion rates.
Website Content – Your website may be the first thing potential customers see. You must make sure that your website content, as well as website design,  is tailored to your target customers. Use your buyer personas as the foundation of your website design and content and customize it to match your personas.
Social Media Strategy – Content isn't the only major aspect of an effective marketing strategy. You also must know where, when, and how to publish and promote the content to provide the great visibility. Use your buyer personas to determine how your customers behave online. Find out what social media platforms they use, as well as how and when they use social media. This information will allow you to create a social media strategy that generates the most attention from your target customers.
Studies show that personalized content delivers 18-times more profit than standard content. If you want your ideal customer to find your business in today's crowded online marketplace, developing an accurate buyer persona and using this data to write great content can help. Contact CopyPress today to learn how to use your buyer persona to improve your online visibility today.
More from the author: