Providing a great customer service experience is vital to the success of your business. It can help you build customer loyalty and sharpen your competitive edge. However, delivering good customer service is not a straightforward process these days. In the past, consumers mainly used customer service to get their questions answered, lodge complaints, and request assistance. While they still expect you to provide these services, they also want to interact on a more personal level and build a closer relationship with your company.
By integrating content marketing into your customer service strategy, you will have something to discuss with your customers beyond questions, complaints, and support. Great content and meaningful conversations around it will add a new dimension to your customer service. Your customers will know you are dedicated to providing them with the best possible experience, instead of just treating them as problems that need solving. Discover these six benefits of incorporating content marketing into your customer service strategy.
Enhance Brand Loyalty
Today's consumers are knowledgeable, empowered, and demanding. They are less likely to support businesses that only focus on bringing in new customers and making quick sales. To win your customers' support, show them that you support them.
One thing great content and customer service have in common is that they can solve your customers' problems without pushing your products. When your customers see that you are sincerely trying to help them solve their problems through a steady stream of useful content, they are more likely to trust your brand. This can result in a higher level of customer satisfaction, greater brand loyalty, and more customer testimonials and referrals.
For better long-term results, invest more in building customer loyalty and less on promotions and offers. You can further boost brand loyalty by rewarding interaction. Consider giving out free guides, e-books, discounts, and other incentives to customers who engage with your content, subscribe to your social media accounts, or share your content.
Educate Your Customers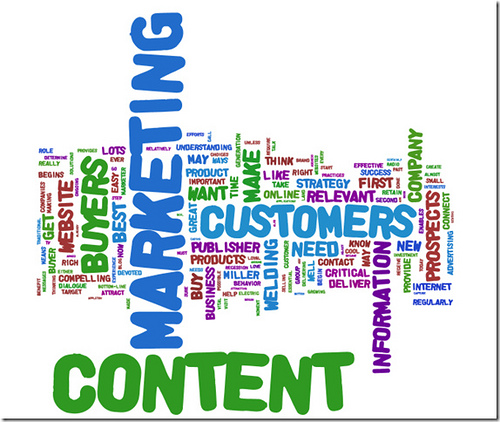 Image via Flickr by DigitalRalph
Great content can help your customers develop a better understanding of your products and industry. As they become more knowledgeable and passionate about your niche, they might one day become your brand ambassadors. These enthusiastic customers will share their knowledge with other customers and help your customer support team solve problems on social media websites, forums, and other platforms. Everybody enjoys showing off their knowledge, so it pays to educate your customers with useful, informative content.
Reduce Response Times
Another advantage of combining content marketing and customer service is that it can significantly speed up customer response times. In today's fast-paced world, consumers want to find answers to their questions in the shortest time possible. One way to meet this need is to create a comprehensive knowledge base that contains helpful information and answers to frequently asked questions. With a user-friendly website and enough content, you will be able to provide your customers with 24/7 support.
If you want to take your customer service experience and content marketing to the next level, invest in algorithms that can recommend pieces of content based on customer queries. This will not only meet your customers' needs for information and assistance, it will also reduce the number of queries and requests you receive.
Reduce Strain on Your Customer Service Team
Whether you are handling your customer service tasks yourself or using a dedicated support team, you must be prepared to invest substantial time and effort toward keeping your customers satisfied. Every minute you spend responding to your customers' queries is a minute you can spend on other important tasks, such as marketing, lead generation, or customer retention. You will feel especially strained if you are paying for a dedicated in-house customer service team or outsourcing your customer support to another company. As your business grows, you can expect to spend more and more on customer support.
While it is important to interact on a one-on-one basis with a potential lead, you can use content marketing to answer common questions in the most efficient manner and minimize strain on your customer service team. Instead of writing emails from scratch, you can save time and effort by directing customers to relevant blog posts, articles, or FAQs that can sufficiently answer their questions.
Maintain Consistency
Consistency is the key to customer service success. You do not want to relay inaccurate, contradictory, or potentially dangerous information to your customers. Failure to provide your customers with reliable and consistent information can undermine your reputation and credibility, making your customers lose trust in your brand.
By building a knowledge bank of well-researched information, you can ensure consistency and transparency of information at all times. Content marketing also reduces human errors in customer support, because your customer service team can direct your customers to pieces of content that answer their questions instead of handling the queries themselves. You can further reduce errors by implementing auto-responders or artificial intelligence.
Provide SEO Benefits
One of the benefits of creating well-written and helpful articles and blog posts is that they can help your website rank high in search engines. By continually adding new tutorials and how-to content to your knowledge bank, you will one day establish yourself as an authority in your niche. Besides improving customer loyalty, being an authoritative figure boosts your chances of getting backlinks from other websites. To take full advantage of the increased traffic, use calls to action to secure email addresses, and add free trial signs to your high-traffic support pages.
There is no denying that content creation can be an arduous task, especially if you have to write a blog post or article on every common query you receive from your customers. To make the process easier, add new content to your customer support strategy reactively. When a customer asks a question, write a post about it and direct him or her to it. Over time, you will have an extensive knowledge base that will provide your customers with valuable information and support for years to come.