Infographics are here to stay. Every major online publisher is utilizing data visualization to convey big ideas in easily digestible bites. Whether you are a publisher or a brand, learning how to approach infographic design and creation can help you add a brand new content weapon to your arsenal.
Most people who approach infographic creation have a simplistic concept in their mind about how the process happens. The idyllic representation of that process is usually a designer sitting in front of an iMac, stylus in hand, finding beautiful ways to represent data. That representation is about 25% of the process, and why so many people get the entire thing so very wrong.
Infographic and visual content creation begins with the collection of data, or ideation. From there, the process should involve not only an editorial team, but amazing copywriters, fact checkers, and a QA team. All of these pieces help to shape the vision of the idyllic designer, cranking out the next viral sensation.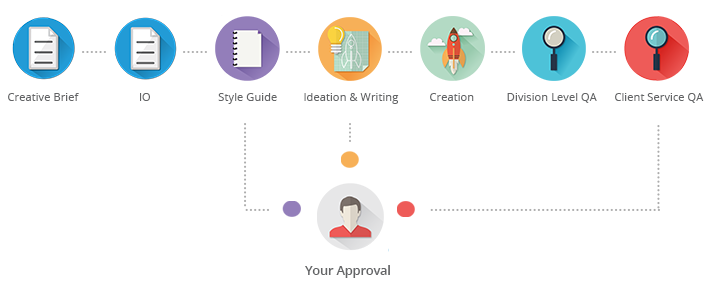 The reality is that truly amazing data visualizations and stories told through stunning visuals are most often created by highly trained professionals. However, there are a massive number of tools available to allow the novice to create content in a visual format.
The following list is my attempt to create the ultimate resource for experts and novices alike when it comes to infographic and visual content creation tools. The list is segmented into the following parts:
Data Sources
Ideation
Photo and Image
Data Visualization
Illustration
Infographic Templates
The list will be added to on an ongoing basis in an attempt to make it the most comprehensive list of infographic tools available.
Data Sources
All great infographics begin with great data. Even if the visualization you are creating veers more into the storytelling side of the infographic space, data is still the cornerstone on which great content is created.
The following tools and portals can help you collect amazing data to kick off your infographic creation process.
The Google Public Data Explorer makes large, public-interest datasets easy to explore, visualize and communicate. As the charts and maps animate over time, the changes in the world become easier to understand. You don't have to be a data expert to navigate between different views, make your own comparisons, and share your findings.
As they note on their about page,:
Google Scholar provides a simple way to broadly search for scholarly literature. From one place, you can search across many disciplines and sources: articles, theses, books, abstracts and court opinions, from academic publishers, professional societies, online repositories, universities and other web sites.
This is a great place to find scholarly information on any topic.
The Datahub provides free access to many of CKAN's core features, letting you search for data, register published datasets, create and manage groups of datasets, and get updates from datasets and groups you're interested in.
Knoema is an amazing data search engine that brings up not only data but visualizations of that data as well.
Ask a community to help you find the data you need. Crowdsource the research and find items that have already been crowdsourced or shared.
Influence Explorer provides an overview of campaign finance, lobbying, earmark, contractor misconduct and federal spending data.
The website is super clunky, but if you are looking for data on the US population and how it breaks down, there is no better source for data. They also offer some data visualizations and infographics.
Community curated information and data on a number of topics. This is a great place to research information of all kinds.
DataPortals.org is the most comprehensive list of open data portals in the world. It is curated by a group of leading open data experts from around the world – including representatives from local, regional and national governments, international organisations such as the World Bank, and numerous NGOs.
Think of Data Portals as a directory of servers with great data. It is not as easy to search as some of the items above, but the data sources are of extremely high quality.
Here at NumberOf.net we try to answer the question that begins with "How Many..?". All the facts are divided into five different categories.
The five categories:
General – People, Business
Geography
Measurement
Objects
Science
Ideation
I am a big proponent of collecting data before you settle on a content idea. To me, content schedules should be broken up around base topics, data, and information retrieved, and then topics should be specified. This keeps a situation from happening where you have a great idea that simply can't be backed by research, forcing you to dump the concept half way into production.
Ideation tools can be anything from tools to get your creativity flowing, to tools that allow you to collect and manage ideas.
I used this tool to write this post. A web version, desktop, mobile, and browser extensions all make this a great tool to collect and shape ideas from around the web.
This is a great tool by Built Visible that anyone can utilize via Google Docs.
It serves as a way to quickly search for keyword-focused ideas, sources, and other info. It is great for brainstorming.
Really great "10 lists." A good place to get the juices flowing.
They have moved heavily into the subscription ebook business, however Scribd remains the "world's most popular open platform for sharing documents." You can search "documents" across any topic. Any topic!
This site is still around, and is a great way to find interesting topics based on what the community has curated. They also have a trending option which lets you look for the most popular content out now.
I love Quora, and wish I could spend more time on it. I would describe it as Yahoo Answers for smart people. The reason the quality of info is better is because someone's actual name and expertise is on the line with the responses given. It's a GREAT place to get answers, information, and ideas around topics.
This cool tool is a meta search engine that lets you see search suggestions based on keywords. Knowing what information people are searching for can help shape the larger concept and research for great content.
Another suggestion based tool. Great for creating HUGE lists of topics on the fly.
Photo and Image
Images are sometimes going to be a core piece of your infographics, but they can also be an important part of the ideation process, as well as an effective way to convey visual concepts to your designers.
The tools we will look at here will include tools to find images, as well as tools to quickly edit and manage images.
This is a visual search engine. It literally allows you to search visually across different platforms, rather than by keywords. The result can be a search that is less than focused, but that can open you up to some new ideas.
Compfight is a great search engine that allows for license based searches across multiple formats. The searching is done based on tags, and is pretty accurate.
Have a question about where your photo came from originally? Tineye is  reverse photo search engine that can help. This is a great item to use during the quality control process of infographic creation.
This is a web-based photo editing piece of software. It allows you to do basic editing, filters, etc. Good for people looking for a lightweight tool.
Super simple photo editing tools. Some of the more valuable items include:
Embossed Text
Combine Images
Add Text
Cropping
Simple online photo editing.
Of all the web-based photo editors that we looked at, this one has my favorite UI. It provides some really easy-to-use tools, lots of great clip art, solid text options, and pre-sized template options.
A fun and easy-to-use photo collage creator.
Another great photo editor that is web-based. I think you are getting the point that in order to make small tweaks, you don't need to have Photoshop.
Data Visualization
There was a time in the life of infographics where the name was synonymous with only data visualizations. Timelines, articlegraphics, and interactive pieces of content have all grown to be popular infographic options.
There exist many options for visualizing data online. These apps can make it easy for teams without designers to piece together internal data they have to make it more shareable.
If you have great internal data sets and are looking to simply visualize data, Info.gram makes it easy enough that a team doesn't need to involve a designer. They've made their templates interactive, which adds an interesting element for your editorial mix.
When I was running on a Mac, Omnigraffle was my go-to way to wireframe my ideas that I wanted to hand off to designers. If someone as terrible at design as I am can make this tool work, then it is a good fit for anyone.
The best part of Omnigraffle is the preexisting stencils that exist, both paid and free.  Someone with semi-decent design capability could use just Omnigraffle and stencils to create great simplistic infographics.
Easel.ly is a website that features thousands of free infographic templates and design objects which users can customize to create and share their visual ideas online. Using the site is as easy as dragging and dropping design elements, and users can either choose a template from our extensive library, or they can upload their own background image and start from scratch. Over 300,000 users have already registered with Easel.ly, and thousands of infographics are produced using the site every month.
iCharts is more of a business intelligence software then an interactive infographic creation setup. However, the charts can be shared, and if you have large amounts of internal data that can be managed and measured, this could be a great option.
For example, if you wanted to show the difference in sales of a certain segment, year over year, this would be a great tool.
Dipity is a free digital timeline website. Our mission is to organize the web's content by date and time. Users can create, share, embed and collaborate on interactive, visually engaging timelines that integrate video, audio, images, text, links, social media, location and timestamps.
TimelineJS is an open-source tool that enables anyone to build visually rich, interactive timelines. Beginners can create a timeline using nothing more than a Google spreadsheet. Experts can use their JSON skills to create custom installations, while keeping TimelineJS's core functionality.
Stat Silk offers a few products that are interesting.
STATPLANET and STATRENDS are both offered in downloadable and web-based formats. The web-based version can be utilized to create interactive JS-based statistical content. Some great examples exist of what they are capable of.
This is an interesting product that allows you to integrate with different data sources. Most of the functionality revolves around diagramming, so the visualizations are limited.
We believe that the traditional text resume is long overdue for a makeover. We are creating an online resume format that is beautiful, relevant and fun. We want to enable people to express their professional accomplishments in a simple yhttps://www.copypress.com/blog/wp-admin/post.php?post=25222&action=editet compelling personal visualization. Our vision is to help people turn their education, skills and experience into opportunities
They offer a low cost solution for creating pretty high quality infographics from templates. I like the finished product they offer for the price point. I think this is a product worth test driving for cost conscious content producers.
This is another business analytics solution that can be utilized to create great visualizations.
Tableau Desktop is data analysis that keeps you in the flow. It's easy to learn, easy to use, and 10-100x faster than existing solutions. It's built on breakthrough technology that translates pictures of data into optimized database queries. Use your natural ability to see patterns, identify trends and discover visual insights in seconds.
Another basic solution, mostly used for diagramming. It can be useful for wireframing as well, and has collaboration functionality built in.
You will need a developer for this one, but the results are great. You are able to create great interactive pages from your data. By including a designer in the project, you can manage to create some amazing interactive visualized datasets without the need for a high-priced boutique.
Tagxedo creates compelling visual word clouds.
This software allows you to create great quote-based images. Obviously not a data visualization tool in the purest form, but a good tool to utilize in combination with a social media publishing schedule.
Another creative, fun tool for creating word art.
This tool allows you to create map-based data visualizations from various map options (terrain, street, geo, etc). There are several stored data options that can allow content creators to quickly tie data with maps.
Illustrations
Great infographics have great illustrations. This is the make or break element, because first impressions of this content type are everything. I believe strongly that what seperates truly great work in this area is data, ideation, and copywriting. But what separates professional work from easily recognizable amateur work is the illustration.
I left Adobe Illustrator off the list, as it is already the industry standard for illustrators.
Corel is one of the more utilized software suites outside of Illustrator. One of the value propositions is that it can be utilized on Illustrator files so you can easily collaborate with designers that use the Adobe suite even if you choose not to use the program. The price point is still up their at around $449.
In Conclusion
Creating great infographics and data visualizations is a multiple-step endeavor, but many of these tools can help simply that workflow. I think this list also helps to make great infographic creation something that can be done on every budget. Just because you do not have the budget to hire a professional infographic creation company like CopyPress, doesn't mean you can't make data visualization a part of your ongoing editorial calendar. The core is creating a great process, and backing that process with great tools and implementation.