Social media has exploded into a marketing superpower. Brands now use Facebook, Instagram, Twitter, and more to deliver quality content to their audiences, build connections, and further establish a powerhouse brand identity. Each social network offers different ways of connecting to your audience. Instagram, for example, is primarily a visual social network, perfect for connecting to a younger audience.
If you're new to Instagram marketing, this is the place for you. With a strong foundation built on these four Instagram marketing tips, your brand will be well on its way to watching that follower count climb.
Why Use Instagram for Marketing?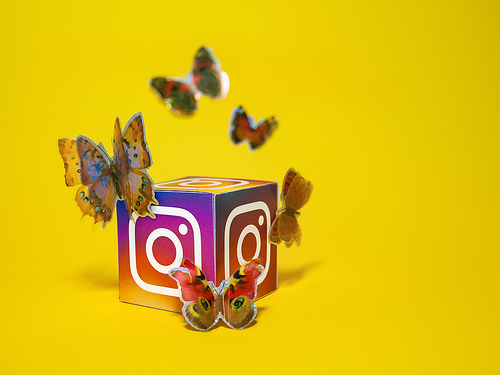 Image via Flickr by Visual Content
What makes Instagram prime for your marketing efforts? For starters, this social media channel has more than 500 million active daily users. That's active, not just users with an account. That means if you're marketing on Instagram, you're marketing to a titanic audience. According to Statista, the most significant age demographic using Instagram at the end of 2016 were between 25 and 34, with 18 to 24-year-olds trailing close behind. Pew Research Center also found that young adults use Instagram more than they use other networks like Facebook or Twitter.
These statistics are good news if you have a younger target audience. If your target audience is above the age of 50, however, it may not be worthwhile to invest too much in Instagram marketing, unless you're looking to expand your audience to include a younger demographic. As a largely visual medium, Instagram gives you the opportunity to showcase your products, build connections between your brand and your audience (both through actual content and through interacting in comments), and further develop your brand identity.
Here are a few ways that you can use Instagram to drive a successful marketing campaign.
1. Post Consistently
One question that often arises with any social media marketing is how often you should post. You want to find a balance between posting enough to keep your audience satisfied but not so much that you drive them nuts or they lose interest. Posting frequently will certainly lead to greater engagement, but only if that's what your audience wants. For many audiences, posting once a day is enough, while some want more or less. Test out your audience by comparing engagement when you post once a day compared to three or four times a day.
More important than posting frequently, however, is posting consistently. A study from Union Metrics found that brands started losing followers when they became less consistent in their posting. Post frequency played a less significant role. Keep your audience satisfied by creating a regular posting schedule that they can anticipate. In addition to posting at a regular time, keep your posting frequency consistent. If your audience seems to like you posting three times a day, don't suddenly drop to just once.
2. Use Hashtags and Location Tags
You're not the only one using Instagram for marketing, and it can sometimes seem like your content is being lost among the many other businesses on the app. Fortunately, you can use hashtags and location tags to draw users to your content. In a study of the top 100 global brands of 2014, Simply Measured found that 88 percent of those brands' posts included at least one hashtag. Simply Measured also discovered that those posts with at least one hashtag had 13 percent more engagement. Tacking on a location tag increased engagement by 29 percent.
But that doesn't mean you have to only use one hashtag. In fact, TrackMaven found that nine hashtags seems to lead to maximum engagement. Use hashtags in Instagram like you would use keywords in content. Using research on your audience, anticipate what they may be searching for and thus what tags will lead them to you.
3. Use a Mixture of Images and Videos
Instagram offers the opportunity to use either photos or videos, and you should take advantage of both. Whether you use image or video will depend largely on your audience and the type of content. For example, if you want to show off the design of a product, a high-quality image should do the job, but if you want to introduce a staff member or demonstrate a product, a short, high-quality video will work best. Pay attention to engagement. If your audience seems to like one type of content more than the other, post more of that type.
Don't forget the Instagram Stories feature. While it received some backlash when it was first release, taking accusations of being a

Snapchat

copycat, Stories has become a staple of Instagram. They offer brands the opportunity to stream live video, giving audiences a face to your brand and strengthening your connection with users. Use Instagram Stories to stream a Q&A session, give a tour of your offices, conduct a how-to demonstration, or whatever else you can come up with.
4. Keep Captions Short (Usually)
While Instagram marketing largely relies on high-quality images and video, the captions you post under your content are just as important. You can use captions to not only clarify and supplement content (or to just make your audiences smile), but you can also leave a clear CTA and more details regarding your products and services.
The key with captions is to keep them short, when you can. Instagram will hide anything longer than three lines behind a "More" button, and many users, in their rush, will likely skip reading a caption if they have to click to learn more. To maximize engagement, keep your captions short and punchy. Deliver the most important information and direct them to your website for more. Don't be afraid to have fun with your captions, either. They can make your content far more memorable.
Marketing on any social network can be intimidating but, by establishing a few simple habits, your brand can use Instagram to drive traffic to your website, build brand loyalty, and increase conversions. Maybe we'll even see you on a top 100 brands of Instagram list some day.