Some businesses in a growth stage will find it better to spread their roots wherever they can, and try social media sites beyond the common choices, such as Facebook, Twitter, and Instagram. If this applies to you, you may be wondering what else is out there. Take a look at these smaller or niche social media platforms, or big ones you may have never heard of before. Your ideal audience might hang out on a few of them.
1. CafeMom
CafeMom is a site for mothers, with topics such as pregnancy, raising children, and general interests like healthy living, cost cutting, and fashion. Moms on the social network learn new tips and share experiences with each other, and the system is supported by an advertising platform. If you offer products or services that would appeal to mothers, soon-to-be moms, or families, CafeMom might bring you better returns on your ad spend that broader websites such as Facebook. Also consider Ravelry, a site focused on crafts, such as knitting and crocheting.
2. Funny or Die
This comedy website shares edgy humor produced by the company itself and registered users, and social functions have also been added recently. Whether you do business in the comedy sphere or simply made a few funny commercial, you should definitely post them on Funny or Die and check out the newest things that have people cracking up. The site often features celebrities to draw in fresh traffic, has a mix of everything from raunchy to satirical comedy, and is a reliable place to connect with a millennial audience.
3. Kiwibox
This social networking site is specifically set around New York and the people who live there. It is mostly popular with teens and young adults. Give this site a shot if your business operates from New York or seeks customers in that area.
4. Telegram
A competitor to WhatsApp with roughly 200 million users, Telegram differentiated itself early on by emphasizing privacy, featuring immediate self-destruction of messages similar to Snapchat's behavior. WhatsApp may allow for these functions now, but Telegram always did, meaning it drew in an audience particularly invested in privacy. Does that sound like your audience? If so, give Telegram a spin for short, punchy campaigns, similar to how businesses use other social messaging platforms.
5. Flixter
Flixter is a smaller American site for movie buffs, operating like a more social version of IMDB. Check it out if your audience happens to include passionate moviegoers interested in any genre, filmmakers, or anyone looking to find new things to watch.
6. Snapfish
Are your customers likely to be photographers, or memory-keepers who always want to take a picture of every event? Created by HP, Snapfish is a photo storing service that gives its users free, unlimited storage. Check out what people are sharing and discover people passionate about topics related to your business by searching for relevant photos. Also consider We Heart It, which is specifically for motivational photos.
7. MySpace
Although not the social king it once was, Myspace has specialized itself for musicians and music lovers. Around 20 million users chat, blog, form and participate in groups, share pictures and videos here. Younger people especially passionate about music, celebrities, pop culture, media or certain genres, bands, etc. could be waiting to discover your products or services. Also consider ReverbNation, which is specialized for musicians and music industry professionals.
8. Tagged
Would your business appeal to people seeking more connections in life? Tagged is a social media site dedicated to dating and new friendships, matching people up through common interests and allowing them to chat and interact through games and activities. Also consider Badoo if your reach is more international, or focused on the dating crowd.
9. Care2
Care2 is an activism social media service where like-minded people, groups, and yes, businesses, can work together to bring about the changes they want to see in the world. Even if your audience doesn't necessarily overlap with common activism goals, Care2 often encourages healthy and green living, which makes it great for any business with products that fall into those categories. Consider using Care2 as the seed of a social media campaign for a worthy cause.
10. TheDots
True to its name, TheDots is all about connecting, but with creative people as its main demographic. Best of all, it's a job posting and hiring portal as well, so companies are encouraged to join up and interact with potential creative connections and hires. If you sell products or services to writers, artists, inventors, or any other sort of creator, you might find a nice pool of successful potential customers and influencers.
11. QQ and International Options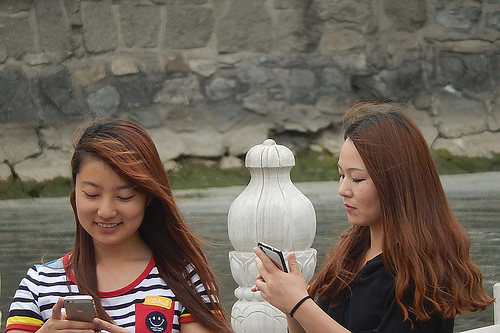 Image via Flickr by mikecogh
There are a vast number of alternatives to the most popular American social media platforms that you should consider, if their geographic boundaries match your customer base. We'd especially like to suggest Tencent QQ, known more commonly as QQ, is a Chinese social media instant chat service for basic messaging, voice chat, and video chat. The system uses a built-in translator that transforms anything you or the other party says into the recipient's preferred language. It is used by over 80 countries and supports many languages, including English.
China's government restricts access to Facebook, Twitter, YouTube, and Snapchat, to which QQ is especially similar. QQ is certainly the largest site on the list, but if the geographic focus around China fits your customer base, you stand to gain a lot of connections. Also consider trying WeChat and QZone, other Tencent apps that serve their own functions and more specific international audiences.
Before we finish up, other popular international options worth checking out include:
Taringa!, which is similar to Facebook but based in Latin America
Sina Weibo, a Chinese microblogging service
VK, which is similar to Facebook but based in Russia
Renren, a Chinese sharing platform with a larger youth user base
Skyrock, a French social media and blogging platform
Viadeo, a European business-focused site similar to LinkedIn
Mixi, a Japanese shared-interest social website
Keep in mind that not all of these sites are like Twitter or Instagram, where you'll be able to produce content and try to get it in front of everyone you see. Depending on the site, how it functions, and what its audience's expectations are, you will have to get creative to figure out how best to use each site to grow your business and lead count. Be patient and authentic, and avoid annoying, spammy, or exploitative tactics. Soon you'll find clever ways to bring value to customers hanging out at these platforms.