No matter your brand's niche, creating compelling blog posts and relevant articles is key to a strong content strategy. Before you start brainstorming content ideas, however, you'll want to make sure the topics you choose are likely to resonate with your audience.
Doing keyword research is essential for finding popular topics, shaping your search engine optimization (SEO) strategy, and even seeing how you compare to your competitors. So where should you start? Get to know seven keyword research tools and find out how they can help you devise a smart content marketing strategy.
Google Keyword Planner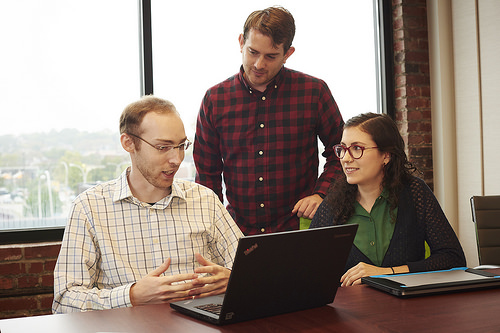 Image via Flickr by alphalab
When you want a quick, simple tool that works with virtually every budget, Google Keyword Planner is a smart place to start. To use this free tool, enter keywords and keyword phrases related to your brand and the topics you cover. In mere seconds, you'll learn how many average monthly searches Google records for your keywords and dozens of similar terms. You'll also see how competitive each term is, which can help you understand how easily you can rank for it.
Since Google Keyword Planner is integrated with Google Ads, you can also use this tool for pay per click (PPC) ad research and planning. Simply select terms to add to your plan, and you can set up ads in minutes.
Cost: Free
Keyword Tool
If you're looking for something more robust than Google Keyword Planner, but you aren't quite ready to pay a monthly subscription fee, Keyword Tool serves as a helpful complement to Google's paid search platform. With Keyword Tool, you can identify long-tail keywords that you won't always find via Google Keyword Planner, and it also helps you optimize for search beyond just Google. If you're optimizing for other search engines like Bing or other platforms like YouTube and Amazon, Keyword Tool is a must.
While Keyword Tool doesn't have reporting functions or search interfaces as advanced as most other tools, it does help you keep your costs low. The basic tool is free, but the pro version starts at $88 per month.
Cost: Free to start
CopyPress Keyword Juicer
Using paid search tools like Google Keyword Planner can be helpful if you're researching keywords for ad campaigns. If you want to use keyword research to shape your content strategy and earn links, however, a tool like CopyPress Keyword Juicer offers more relevant results. Start by plugging in your keywords to access search volume, rank, and similarity, and use the results to inform your competitive analysis.
Since any effective SEO strategy requires an investment, this tool also helps you assess your return (ROI), too. Use Keyword Juicer to predict the traffic you'll generate, check your ROI for each keyword, forecast the value you'll gain, and use the data to showcase your success.
Cost: Currently available free for beta testers
SEMrush Keyword Difficulty
No matter how much time you devote to your site's SEO, you probably won't be able to rank first for every search term you're targeting. In many cases, however, ranking for similar yet less competitive search terms is a smart alternative. SEMrush Keyword Difficulty helps you find and target less competitive keywords. This tool's simple ranking system shows you the difficulty percentage for each term so you can weigh each one instantly.
If you're competing with a few high-ranking sites, you'll also want to use SEMrush Domain vs. Domain. With this tool, you can compare any two sites and get rare insight into the common and unique keywords each one claims. Not only does this tool help you see how your SEO work holds up, it can also help you identify new search terms to add to your strategy.
Cost: Starting at $99.95 per month
Moz Pro
SEO is hardly an overnight process, but that doesn't mean you can dedicate hours each day to running reports and analyzing keywords. With Moz Pro, you'll get a handful of tools to automate your keyword research, allowing you to save time and get better results. Use Moz Keyword Explorer to get accurate estimates of search volume for your keywords and gain a better understanding of what makes pages rank on search engine results pages (SERPs).
In the world of keywords, not every database is created equal. Moz Pro claims to have the highest quality keyword database, which it updates with millions of additions each month. When you can't afford to rely on inaccurate information, Moz is a smart buy.
Cost: Starting at $99 per month
Ahrefs Keyword Explorer
Like Moz Pro and SEMrush, Ahrefs packages its keyword research tools with apps for monitoring and analysis for a comprehensive SEO platform. With the Ahrefs Keywords Explorer tool, you can tap into a database of 3 billion keywords to access difficulty scores, get alternative ideas, and even understand how SERPs have ranked various sites over time. You can also conduct high-level competitive analysis with the Ahrefs Organic Search Report and dig into what Ahrefs deems the biggest index of live backlinks in the world.
If you're doing keyword research to inform your content strategy, you'll also want to use tools like Ahrefs Content Explorer. You'll find out what niche content gets the most shares and links in your industry so you can develop a more competitive strategy.
Cost: Starting at $99 per month
KWFinder
When you want to find long-tail keywords for your content strategy, but you don't want to have to spend days or weeks learning a new app, KWFinder is a great pick. This tool makes keyword research easy by suggesting up to 200 similar terms per search and showing you keyword difficulty right away.
With the basic plan, you'll also get access to SERPChecker and SERPWatcher to help you track keywords, domains, and rank updates. You can also use the suite's LinkMiner to analyze competitors' backlinks and log in to SiteProfiler to get the scoop on how entire websites perform.
Cost: Starting at $29 per month
Whether you want to dip your toes into keyword research with a free tool or you're ready to invest in a high-powered paid tool, there's an ideal option for you. With the right keyword research tool at your fingertips, you'll be able to create compelling content while optimizing for search engines, staying on top of the competition, and making your content strategy better than ever.