Pop culture reaches almost everyone in some way. You may never have played Pokemon Go and you may not care who died in the latest Marvel movie, but your audience might. Marketers can reach their target audience on a deeper level using pop culture, which often involves something the individuals in your audience enjoy and love. The key is to recognize that love and capitalize on it, turning pop culture craze in your favor. Here's how you can make your content pop with a pinch of pop culture.
Do Your Research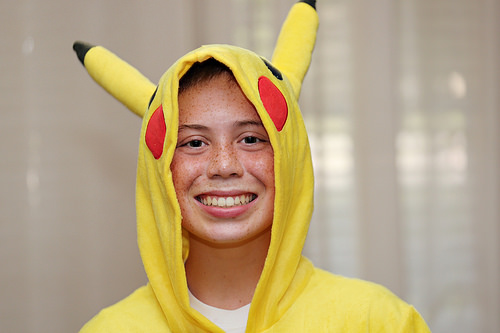 Image via Flickr by jillccarlson
Before you get started integrating pop culture with your next marketing campaign, you should do what you should do before you start any campaign: research. As you may research your competitors to see what content strategies have improved engagement on their social media efforts, you can analyze brands that have brought pop culture into their campaigns and walked away successful. As you research other brands, pay less attention to what pop culture subject they used and more attention to how they used it.
Let's look at the massively famous Pokemon Go game that released a couple years ago. Remember the craze? The initial fervor with the augmented-reality mobile game may have died down a little, but the game still boasts plenty of active players. When the game was first released and everyone around you was stopping on street corners and rushing out of the office to catch a rare monster, brands quickly capitalized on the opportunity.
Amazon, for example, tweeted an advertisement that features a smartphone connected to a portable phone charger. The photo was captioned with only "Because #PokemonGO." The game was known for quickly sapping battery power from players' phones, so Amazon offered to solve consumers' problem by providing a way to charge their phone on the go, allowing them to continue playing the game with their friends. Amazon recognized a problem for their audience, then solved it by promoting their goods. They sold product while also proving to their audience that they understood their needs.
While some companies, like Amazon, used Pokemon Go to promote specific products, other businesses offered discounts. The Dallas Arboretum and Botanical Garden, for example, discovered that their park featured three "Gyms" and a handful of "Pokestops," all places that held valuable items and experience points for players. The park released an advertisement notifying players of the special spots and offered free entry after 3 p.m. for every day in July. With such a deal, the Arboretum and Botanical Garden built loyalty with the locals and created the opportunity for increased ticket sales.
Other brands took advantage of other pop culture events. To celebrate October 21, 2015, the date to which the main characters of Back to the Future travel, Pepsi actually released, for a limited time, the product that was featured in the film: Pepsi Perfect. Such a pop culture integration likely took months of planning, while many of the responses to Pokemon Go were likely planned and executed in a week or less.
Pepsi and the many companies that jumped on the Pokemon Go bandwagon recognized a trend in which their audience was interested. Sometimes businesses use marketing to influence audience interests toward their services or products, but when brands recognize what consumers are already interested in, they simply need to direct those interests.
Stay Current
In order to get a grasp of what your audience is interested in, you need to stay current. Start by using your research into audience demographics and behavior to find where their general interests may lie. Is your audience older and almost only aware of what they see on the news, or are they younger and constantly riding the most recent trend? Pop culture tends to resound better with the younger generations who are constantly connected, but that doesn't mean older generations don't get in on the fun.
Start looking for trends on social media. Twitter can show you the most popular hashtags at the moment, Facebook features a "Trending" feed, Snapchat includes Live Stories, and YouTube posts popular videos. Even Google Trends lets you see trending Google searches. Not every trending topic will relate to your audience, but follow those trends and hashtags to see who's talking about what. If your target audience seems interested in the trend, you now have something to work with.
You don't always have to play with trending feeds. Holidays and special events are also a significant aspect of popular culture, so don't forget to play them to your advantage. Center a campaign around Halloween or the Super Bowl. Rather than needing to create interest, you'll just need to direct the current interest.
Spin Trends in Your Favor
Trends, as fun as they may be, do your actual brand little good if you don't use them to your advantage. How you spin a trend will depend on its nature. For example, if you want to push a Christmas campaign, you have months to prepare, plan, and publish. Other trends, however, can come and go within weeks, if not days. If a trend rises that you can spin in your favor, the easiest way to jump on it may be to use social media. Publish some posts or advertise deals through your social media channel that run with the trend and lead your audience back to you.
Timing is everything with integrating pop culture and content. If you write about a deal you're offering that's connected to Pokemon Go, you may find some success, but most of your audience will likely find the content outdated and the campaign may hurt you rather than help you.
If your target audience was a part of the Pokemon Go craze, however, it may not hurt to throw a good joke about the game in a piece of high-quality content. You're not centering the piece around the game, but your audience will laugh along with you and feel like you understand and relate to them. Including pop culture references, if that fits your brand's tone and audience, even if the topic isn't currently trending, can help you build connections with members of your audience, to whom you're proving that you understand.
Sometimes keeping up with trends can feel like trying to grab smoke. You may worry that by the time you publish your content, interest in your pop-culture references may have fizzled. But with practice timing your campaigns and posts, you can make pop culture work for you by delivering a high ROI, strengthening connections with your audience, and cementing your brand's tone.