One of the relatively new strategies content marketers are using to get noticed is social media cards, a special form of customization for social media posts linking to your webpages, which allow for more direct, clickable social posts and a clean, professional impression. Let's take a look at how social media cards can boost your content's clicks and conversions, as well as its particular strengths in email content marketing.
What Are Social Media Cards?
Have you ever tried to post something to multiple social media profiles, and found that some just didn't do the job very well, and required you to make specific templates and multiple versions of everything you post? Thanks to social media cards, also known as social cards or social previews, you can say goodbye to this annoying busywork. Social media cards use pre-defined information to ensure that the specific image, description, title, and other factors are exactly what you want them to be. In essence, this means you are no longer at mercy to the whims of every social channel's quirks.
Social media cards are great for drawing more attention to your posts and getting more views for your content. Never again will a social media site pick the wrong image as the default, choose the Title Tag of your link instead of your intended title, or commit any other all too common blunder. It's not just about making things work right, though, because social media cards let you customize the exact size and display of images, and even set a default card just in case something goes wrong.
Specifically, social media cards involve meta tags on your websites, which clearly communicate to a social media site to preview them in posts in a specific way, overriding the default rules. Fortunately, you may already have the tools needed to make social media cards without learning this somewhat complicated aspect of web design.
Why Do They Matter?
Beyond the security of every post looking exactly how you want it to, social media cards improve click-through-rate, and they aren't exclusive to content your own account posts. That is, when someone shares the post, or just posts the link to that webpage, it will still use the card you attributed to it, lending a professional consistency in appearance. They also allow you to show more text than what the regular Twitter character limit allows, so you can go all-out with your best possible, highest-converting copy.
On websites such as Facebook, social media cards earn higher engagement not just due to their clean appearance, but because clicking on the picture from the timeline automatically takes you to the target link. In typical Facebook posts, clicking on an image only moves into a zoomed-in mode that shows the image up close and lets you see its description and comments, which isn't nearly as useful. Having an image exciting enough to inspire a click isn't worth much unless that first click takes people where they need to go, with no middle steps in between.
Still not convinced? In addition to being able to configure the specific social image for each individual blog post or page on your website, you can also configure a universal social card that will appear as the default on any page or post where you've forgotten to install an individual social card. If you run a very simple content campaign that only draws to a single target content URL, setting up a universal social card is an easy form or automatic protection against a botched post. No matter what, a post will have something your audience wants to see.
How Do You Actually Make Them?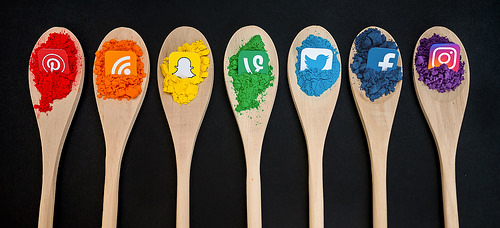 Image via Flickr by Visual Content
While writing custom meta tags for each page you share on social media might be fine in your programmer's eyes, the best thing to do is to have a social media card set up for every page of your site. This way, even when a fan decides to advertise for you by selling you up and sharing the link to, for instance, your contact page, that link will automatically form an attractive social post with a large, enticing image.
Put simply, social media cards can give any of your pages a guaranteed good first impression, and adding them to every post is easy if you supplement the meta tag writing with tools. Most worthwhile SEO plugins for web design platforms such as WordPress will include whatever you need. Enter the relevant section of the plugin's settings, and you should be able to easily put together and preview social cards for posts.
Just be aware: sometimes cards have to be specific to a particular site because of how unique it is, such as Twitter, with its character limits and narrow use of screen space.
Using Social Media Cards With Email
Email marketing has been changing a lot over the past few years, and staying at the front of the pack with new strategies is important. Mailing services such as MailChimp have put an emphasis on creating attractive, appealing email content that your audience can easily share to others with a single click, and this strategy is like dynamite with social media cards implemented.
Do this correctly, and you'll create a fantastic feedback loop where you release your content, it gets attention both from the warm traffic on your mailing list and from newer traffic that saw the shares, and some of the new traffic finds your signup opportunity on your website, contributing to a bigger list and even bigger splashes of growth and attention with your following emails. Combine this with an automated series of content delivered to every new subscriber, and your business will have mastered email marketing based on secure, legitimate concepts instead of gimmicks.
There's not much point in creating fancy infographics, videos, or blog posts if your social media posts advertising them end up looking inconsistent or unpolished. Social media cards enable consistency and professionalism in your social content marketing campaign, earn you better click and conversion rates compared to ordinary posts, and require only a small amount of additional effort if you have the right tools. Make social media cards a requirement for your online marketing ventures, and you'll both literally and figuratively see a difference in your content's appearance.