Content Creation
Minimalism as Branding: How Less Can Be More
CopyPress
June 19, 2018 (Updated: February 28, 2020)
Minimalism can be seen in nearly every corner of the market. Sleek, subtle, and carefully crafted, minimalist branding has gained traction as one of the most popular design schemas today. It has overtaken gratuitous, detailed marketing as the new go-to for high-end brands and companies alike. From major names like Apple to small brick-and-mortar operations, minimalism has made its mark and continues to grow in popularity. It's echoed across curated Instagram pages, Facebook ads, and landing page design layouts, bringing the physical and the digital together in one minimalist package.
Minimalism is more than just paring down, however, and it can be just as time-consuming and difficult to pin down as more traditional branding. It takes careful curation and a strong sense of the company's personality and brand to effectively pull off. We've created this brief guide to help you learn more about this interesting take on branding and give you some steps to start putting it into practice.
What is Minimalism?
Minimalism is, at its core, less. It started as an art and music movement after World War II but has expanded its meaning and aesthetic beyond the bounds of the founding members' ideology. Minimalism is marked by the removal of extra design elements, paring down until what is left the core or intention of the creation at hand. This applies to everything from music to architecture to, of course, branding.
Minimalism as branding is a bit of a divergence from the historic take on minimalism. It takes its core principles from the movement and presents a unified, cohesive framework that emphasizes clean, simple designs with exacting focus. Minimalism isn't just deciding on one color scheme for an entire website or using pictures with blank backgrounds to bring the photographed product into sharp relief. Instead, it's a combination of subtle design and clear intentions that come together to provide a clean and precise yet accessible format.
Content is Key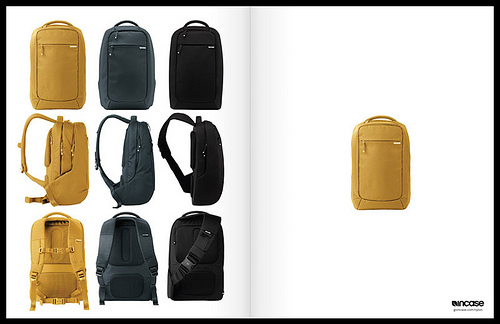 Image via Flickr by Incase
Clear intentionality means that the designers behind the branding need to have a good grounding in the company's brand. The brand includes everything from the company's personality to its ideal customers to how it approaches customer service. Before beginning to move your company towards a minimalist branding, it's important to have a meeting to decide on your brand if you don't have it already cemented. Having a creative brainstorming session can not only improve the strength of your branding but also make it easier to create content going forward.
The focus of minimalism is almost entirely on content. Content here includes both text and imagery, and these need to go hand in hand. For example, you don't want fun, colorful imagery paired with extremely formal writing, especially since minimalism doesn't give much room to clarify cognitive dissonance. Minimalism demands curation and careful consideration.
For content creators, this means getting specific and creative. Just because there isn't much there, it doesn't mean a huge amount of creativity isn't involved. Text needs to be quick and to the point but still suffused with the company's brand and personality. Minimalist websites often don't have large amounts of text, so the text that is included needs to be cleverly written and easy to integrate. Imagery should be clean and focused, demonstrating exactly what the company wants the viewer to see. For example, if you're selling candles, a picture of a room filled with furniture with one of your candles on the table isn't as direct as a shot of the candle itself. It's a balance between creating pleasing images and focusing on the product.
Creative and Consistent
Another major cornerstone of minimalism is consistency. Since the message is the forefront of any branding or design choice, it needs to carry over across every digital platform or printed material. For companies looking to switch to minimalism, this often means a complete overhaul of their branding materials or a slow but detailed shift that occurs simultaneously across the entire company, one step at a time. Minimalism doesn't work halfway: that will only lead to the minimalist aspects looking half-created.
Consistency across the board doesn't have to be boring though. There's a misconception that minimalism is nothing but serious, but you can actually have a lot of fun creating a minimalist branding scheme. Since there's less to rely on, design choices tend to carry more weight, including decisions on color, layout, space treatment, font, functionality, and imagery.
Cross-Platform Continuity
Social media branding has become one of the most important aspects of branding schemas. If you already have social media pages set up for your business, you probably know the importance of having consistency across your digital platforms, including both your website and social media sites.
Minimalism is almost tailor-made for digital advertisement. Since it depends heavily on cohesion between text and imagery, minimalism lends itself well to social media sites that allow a blend of both. Instagram and Facebook are two of the most popular sites for minimalist campaigns, thanks to their platform allowances for text and pictures.
Curating a social media site shouldn't be a one-platform campaign: once you've decided on your brand and your branding, you'll want to carry that over across all your digital sites and any print items you may use. Being inconsistent can undermine the elegance inherent in minimalism and may end up creating what seems like a disorganized branding.
Once you've established and curated a social media site, you're well on your way to creating a successful minimalism campaign. We can't overemphasize how useful looking at successful minimalism branding examples can be in helping you figure out where to start and in giving you inspiration for your own campaign.
Branding is important for any company, whether you just have a company website or your company has a social media presence. Minimalism is one of the most modern branding trends and creates gorgeous, intuitive branding with a heavy focus on pared-down and beautiful design. While it may seem simple, creating a successful minimalism campaign is anything but. However, the extra effort is absolutely worth it and the experts at CopyPress can help you with the content you need for a successful branding.
More from the author: