Mobile First Marketing Tips
Shane Hall
on
September 12, 2018 (Updated: May 4, 2023)
Since 2016, mobile advertising has been the majority of all online promotion, which comes from an equivalent growth in mobile users. Most businesses will see a boost in their content marketing results if they target mobile users first or exclusively. However, it's not as simple as changing a variable on your Facebook ads. If you're going to target mobile audiences, you need to augment your marketing plan so that they appreciate and engage with your content and ads as much as possible. Boost your profitability and content efficiency with these mobile first marketing tips.
Make Your Audience Interact
Mobile visitors are often looking at their phone for a brief part of their busy day, such as riding the bus during their morning commute. Therefore, many businesses use some kind of interactive content that feels good and is easy to do on a handheld device. Examples include brief quizzes, games, and interactive webpages that react to scrolling or other user input.
One thing to remember: if you make any kind of interactive digital media, you need to be certain that any user's mobile device operates that content properly. You don't want any awkward scrolling because not every resolution is supported, or crashes on apps because you didn't test them on every platform. This is called responsive design, and it essentially means that no matter what device a user is viewing your site on, that person will get the same high-quality, seamless experience as anyone else. Responsive design is useful in all online marketing, but is vital for interactive content.
Follow the Three Second Rule
No one is interested in ads at the outset, and even visiting a webpage intentionally can cause a user to quickly hit the back button if he or she doesn't find the content trustworthy, credible, or interesting. This is even more relevant in mobile marketing, when people have limited time and may not be interested in looking at their phone for too long. Advertisers should treat the first three seconds any person has with their brand as the most important.
What does this mean specifically? Well, among other things, it means you shouldn't bury your most appealing information further down your webpages. Keep the top of your pages as interesting and visual as possible, and title them with the best, most direct, benefit-focused copy you can come up with.
Your ads need to be split-tested with different variations of multiple visuals because anything from a simple color swap to a slight zoom could make an inexplicable but measurable difference in your cost per result. If you're making video ads, know that most social platforms have them muted automatically, so text to introduce the video's ideas or attract attention is crucial. There are too many factors to outline here, but when looking at all of your mobile first marketing content, ask yourself and your team what will make a stronger impression in the first three seconds.
Take Inventory with Analytics
Because of the prevalence of mobile traffic, there is no easy way to analyze the types of people who use it. With Google Analytics, however, you can regularly take inventory on your webpages and ads, to figure out things like:
Whether people who visit from your marketing materials, such as blog posts, actually end up subscribing, buying, etc.
Where your traffic comes from, and where it typically goes after visiting
Which links, widgets, app features, etc. get the most interaction or the least
Whether users with certain devices have difficulty engaging with your site due to software problems
Look over the analytics for your mobile marketing at least once every few days, and you could find important insights, such as a subscription box that isn't easily seen by visitors, more traffic coming organically than from your ads, and other things that will help outline the path ahead.
Make Great Video Content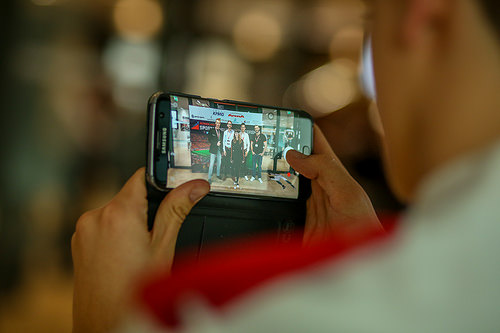 Image via Flickr by HUCOPIX | Elodie Burrillon
If there's one type of digital media that stands out the most in mobile advertising and marketing, it's undoubtedly video. This is even more certain if your audience is younger: millennials are three-times more likely to watch a video on their mobile device than baby boomers are, and nearly half of millennials use their phone's online browser only for watching videos. The appeal of using videos for marketing is their accessibility. It's easier to commit to watching a video than reading an article, or even a long infographic, and the audio-visual stimulation can add impact to your message.
Keep your initial videos short, especially any you use in social media advertising campaigns. The ideal length will depend on the sites you use, but set a firm limit of five minutes for any video that serves as a first impression of your business or content. Later on, you could funnel traffic into more substantial, longer videos. Offering email subscriptions for a free, otherwise-private video course is an awesome tactic for businesses that sell educational materials or knowledge, or that have a more elaborate customer education phase.
Employ QR Codes for Physical Interaction
You've probably seen advertising with QR codes on them, which you can scan to quickly be directed to the relevant webpage, get a discount, or something similar. QR codes are easy to scan and can benefit any business that has activities offline, such as in a brick and mortar store or at a temporary event. You could offer a QR code for a discount that customers can print out, or a code that can instantly like your Facebook page and employ a free gift, both on physical items like mail.
QR codes hold far more data than a barcode, and their potential is limited only by your own business and how you perceive it. For example, there's no need to limit them to printed paper. Place enlarged versions in a store window, on a company vehicle, or on physical products you sell to offer future discounts or special information.
Any dedicated mobile marketing campaign will need to balance advertising costs with the benefits of running such a campaign. If you want your mobile marketing to take off on social media and to start growing your business at amazingly low costs, employ these tips.
More from the author: