Neither reach nor engagement can be ignored in online marketing, but many businesses get them out of balance. Being visible and getting seen is all well and good, but if none of the people you reach click your ads, view your content, or buy your products, your marketing won't be profitable. The converse problem also applies, and an overly small group of engaging customers won't grow quickly without more reach and exposure to new potential customers.
This is the puzzle of reach vs. engagement, and if your business is going through such a challenge, it may be time to step back and look at the situation from a broader perspective. How do you know whether reach or engagement is what your business needs at any given stage of your growth, and is it possible to achieve both efficiently?
Casting the Right Net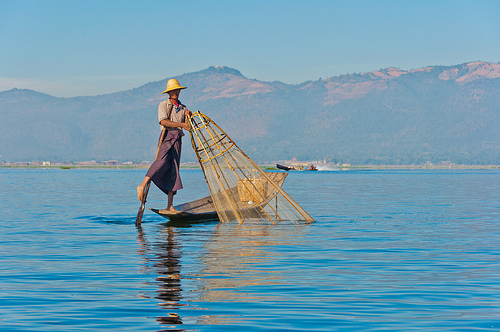 Image via Flickr by Mark Fischer
If your business is fairly new, or at least new to online marketing, it may be best to specialize in reach at first. Instead of relying on segmentation and specific targeting, try to go slightly broad and use that to gather up a list of prospects to re-target later. For instance, you could build up a brand new Facebook page with a campaign using content to get page likes. Once you've gotten up to an impressive number, such as several thousand, you can steer efforts more toward communicating with them and marketing to them.
However, online marketing, by and large, is based on showing something to a specific audience. Target the wrong audience, and your reach will amount to nothing. Focus on casting a net that is not too narrow, but is exclusive in some way. For instance, you could try targeting micronetworks or people fitting your target demographics who like a competitor of yours.
But what should you show these people? The key is to tap into a universal feeling among your audience. For example, for a plumbing business, a funny video showing off the common frustrations of plumbing issues in a home would click with their target audience. It's not as specific or helpful as, say, a guide to unclogging pipes, but it appeals to a large group who might need their business, now or in the future. They will have their guard down if it is clearly made to entertain rather than selling a product or the business's expertise.
Revving Up Engagement
It's a story nearly as old as the internet: You post something on a social media page, send an email to your subscribers, etc., and get virtually no reaction. Despite your high numbers of followers or subscribers, that number doesn't seem to mean anything when you actually have something important to say. But is that really the case?
Too often, marketers get wrapped up in the desired outcome of their efforts. Thus, when they finally post something after attracting new people, they are disappointed and discouraged that no one engaged, so they slow down or stop. It is vital that you divorce yourself from an envisioned outcome per piece of content and instead focus on a long-term plan and the desired experience for your audience. Delivering posts and content on a regular, reliable basis and tweaking what you provide based on feedback and insights, is the key to being noticed and drawing a reaction.
The common marketing wisdom is that a person must see a message seven times before they buy a product, so take that same approach with your social outreach. Let your audience see, over and over, that you make or sell what they want or need. Not only is this the solution to low engagement, but it also plants the seeds for an eventual viral hit. Someday, you may come up with the perfect piece of content, delivered at just the right time so that it could explode in popularity. That can only happen, though, if people are used to checking out your content.
In the same way that broader content that forms a basic connection helps with reach, more specific content that caters to particular problems or questions is best for increasing engagement. To return to the plumbing business example, once they have drawn plenty of followers to a social media page due to their funny video, they could regularly release more specific, helpful content to the page itself, such as answers to common plumbing questions paired with illustrative images.
Construct a Customer Journey
The question of which of these two topics is worth focusing on isn't helpful in most cases. For the majority of businesses today, reach and engagement matter equally, but your business probably has an imbalanced strategy that favors one over the other. Finding a balance should be your priority, and there is one strategy that will definitely help you through this.
A customer journey is an outline of how you want potential customers to find your business, learn about it, and ultimately become loyal buyers. You must know who your specific customers are so you can target them effectively, and you must also stick to your plan and ensure the consistency of your marketing message. If your marketing strategy includes both aspects, you will be able to draw in the right people, make them fans of your brand, and encourage them to both buy products and share your content. This will cause your reach and engagement to feed into each other naturally.
Customer journeys with great content marketing plans built around them are the best way to ensure a healthy, steadily growing system of reach and engagement. When you know your ideal customer's experience, you can create content, ads, and strategies that get their attention, inspire them to engage, and cement your position as a trustworthy brand.
You will have to fight against the inertia of online obscurity, but that is not as big or heavy as it might seem. You will probably send some content and social posts out there to an audience of crickets, but it's all about discovering who your audience is and how they like to discover businesses like yours. Once you do this and carry out your plan, you will start to feel the boulder rolling, so chase that feeling, iterate, and develop the best strategy you can.