Ready to Give Up Content Marketing? Read This First
Shane Hall
on
August 29, 2018 (Updated: January 24, 2023)
As with anything in the business world, content marketing has a minority of success stories. If the content marketing game has proven frustrating and become a net loss to your business, take a break and study our tips and bits of wisdom below. Each point is especially useful for marketers who are not making a return on investment yet, and they should be internalized for every day of your content campaign, starting now.
Have a Goal-Based Strategy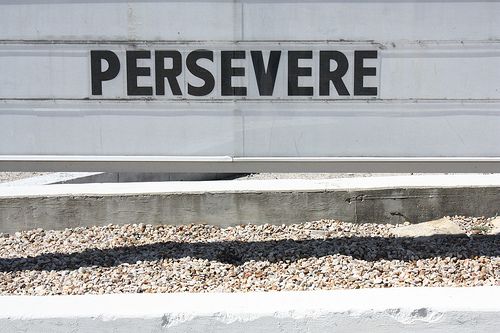 Image via Flickr by ilovemypit
Often, businesses will enter into the content marketing world without any clear ideas of what they want to make or what they want in return. This thinking is a severe mistake, one that should be corrected immediately. First, know what specific performance indicator you want to improve through your content. The easy answer is sales, but you could also aim for email subscribers, daily website visits, or anything else important to you. As long as your goal is something you can regularly track and judge your success from, it'll do.
From this point, follow the buyer's journey model described below:
Define and describe your ideal customer attained through content marketing. This definition could be any group of people, but ideally it should be backed up by research and testing. Examples include American mothers between the ages of 30 and 40, young people living in California, or male golfers above 50. Don't list cold facts, however. Describe these individuals like characters in a story. What are their wants, needs, and frustrations? Who do they care about? What type of media do they like? What are their common beliefs and attitudes?
Using the information above, outline this ideal customer's journey as a buyer or the journey to some other action if you're judging your campaign off of that approach. What type of problem, need, or question does the individual have at first when you want the person to discover you? How should the experience with your content and business proceed from there, ending at the sale or subscription?
Develop content and a delivery system that guides your ideal traffic through this journey, starting with simpler, irresistible content on lighter topics and moving to other items naturally, building your reputation as a trustworthy business in the user's mind. Many systems involve content for three different stages: awareness and discovery, consideration of an offer, and decision.
Failure Is Valuable
Let's say you already are familiar with the buyer's journey model, and your efforts aren't working out yet. While it might sting at first, you should take a neutral look at your content marketing shortcomings without getting too emotionally invested. Instead of moving on too quickly into something new, put together some concrete, honest answers to the following questions:
What is the main aspect of your campaign strategy that underperformed? Possible answers include traffic, audience targeting, content quality, and more.
Knowing that main aspect, what could you do differently to improve upon it?
Did you have a specific attitude or misunderstanding about how content marketing works that led to this mistake? If so, what statement could you use to replace it? For example, "Traffic will come to my content if I give it good SEO keywords" could be replaced with "I should pre-market my content before it comes out so that I know it will get a good traffic splash in the beginning."
The worst move you could make is to take your setbacks and failures as proof that you can't do something. Failure brings forth precious knowledge and experience that forms the foundation of better strategies later. Think about the people who sell expensive courses on business topics and how they always talk about how long they tried to succeed and how much they failed first. This strategy may help you see the intangible but substantial value of your mistakes.
Start Simple
Any business deep into content marketing has seen endless advice and news about the next big product, such as video podcasts or Facebook Live. Start simple and don't overextend your team by dipping into these more advanced forms of media before you are ready.
Begin with simpler content such as blogs, newsletters, and attractive social media content. Move up gradually to medium-complexity forms such as infographics once you have a clearly established audience that expresses interest in these items. Starting slower will get you and your team more familiar with the content creation chain and the editorial process.
Don't Obsess Over the Numbers
Metrics, whether on social media on within your own website domain or email client, are one of the most fundamental ways of judging growth for your brand. For a beginning marketer, however, they don't matter as much.
Your followers, subscribers, daily website visits, and more will all look discouragingly small for a while until you gain some momentum. Instead of letting your current figures frustrate you, work on an initial repertoire of content, such as 10 great blog posts for your website that you intend to draw traffic with over time. Once you have some substantial numbers that prove you aren't new to content marketing, such as 1,000 newsletter subscribers, you can take audience reactions and metrics into account for future content ideas.
Consider Outsourcing
Not many people say that content marketing is easy for beginners, and anyone who does is probably omitting some caveats. The content creation chain, from ideation and organization to publishing and marketing, consists of dozens of skills. A single person, or even a small team, can't be expected to handle all of these responsibilities to produce regular, quality content that gets traffic and engagement.
Many businesses stick to what they're best at and rely on outsourcing the labor involved in content marketing, either partially or completely. If your team is great at doing research and coming up with good articles, for example, but you don't have anyone with the design skills to create infographics, you'll save resources and time by working with a team of experts such as CopyPress. Outsourcing isn't a universal answer, but it can be a great final piece to the puzzle of an expanding content marketing campaign.
If you're a marketer discouraged with your content, remember not to take your failures too seriously. Start simple, have a goal-based plan built around your ideal customers, and hire experts to prop up weak points in your content production chain. Whatever your future plans for your business, remember that you are not struggling alone. All those who work with content marketing feel frustration and doubt over whether what they're doing really works, but it's the businesses that push through that end up riding their own personal tidal wave of traffic and engagement.
More from the author: