Have you ever shopped around for a perfect piece of furniture online? Let's say it's a coffee table. You shop for the perfect table for days, maybe weeks. Then, you find the one you want and put it in your shopping cart only to have second thoughts. Is it really the perfect coffee table? Can I do better? Maybe I should keep looking…. So you leave the website, and you leave the coffee table, perfect or not, sitting there in your digital shopping cart.
What happens next is part of the magic of the internet. Ads featuring that very same coffee table that you had second thoughts about pop up on your Facebook timeline, your Instagram feed, and in the sidebars of your favorite news sites. How does it know? You wonder… Why is the table following me around? You can't get it out of your mind and eventually, you return to the website where you found it and you pull the trigger on the purchase.
Well, that's how retargeting works.
What is Retargeting?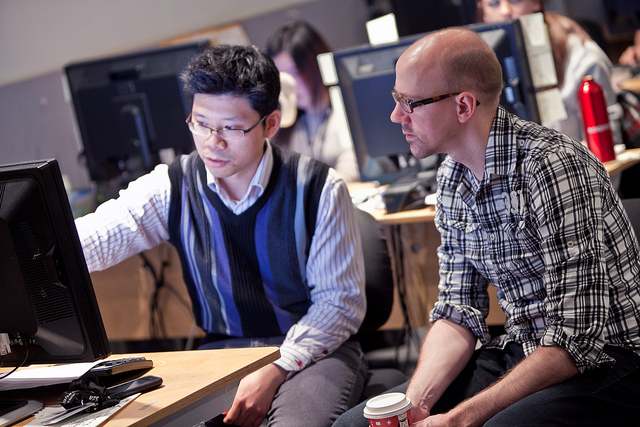 Image from Flickr by VFS Digital Design
Retargeting is the process by which an advertiser can keep track of people who visit a site, and display specific ads to them as they visit other sites online. Through the use of cookies installed on a customer's browser, retargeting ads can feature what the customer was looking at when they visited the site.  According to the ReTargeter Blog, retargeting converts shoppers into sales at a rate that is ten times higher than traditional advertising.
The implications for this are clear for marketing professionals and advertisers as well as business owners. Because advertising, in general, can be a big cost for a small business it is important to stretch your advertising dollars as far as possible, and using retargeting ads can help you to do just that. This may be why online retailers are putting more dollars than ever into retargeting campaigns to remind shoppers of the item they once seemed interested in buying, according to eMarketer.
However, poorly executed retargeting campaigns can simply annoy potential customers and alienate, rather than attract them. By pairing your retargeting campaign with appropriate content you can save both time and money, making your advertising campaign more effective in the long run.
Why Use Content?
A successful retargeting campaign should be based on the unique behavior of your user and give them a reason to like your brand. Offering useful content to potential customers can help to develop the type of leads that become conversions.
Using appropriate content in retargeting campaigns also allows you to reconnect with those visitors that did not convert during their first interaction with your website, as well as those visitors who did but may continue to be valued customers over time.
It is estimated that over 70% of online shoppers may abandon their shopping carts before completing their purchases on a website. Of these, only 8% ever return to complete their purchases on their own, but with retargeting that number increases to 26%. With this kind of significant impact on sales, it is easy to see why almost 50% of brands are moving their dollars away from traditional online advertising and into retargeting.
The only thing to figure out then is how to use content to make your retargeting campaign work as effectively and efficiently as possible.
How Do I Use Content Effectively?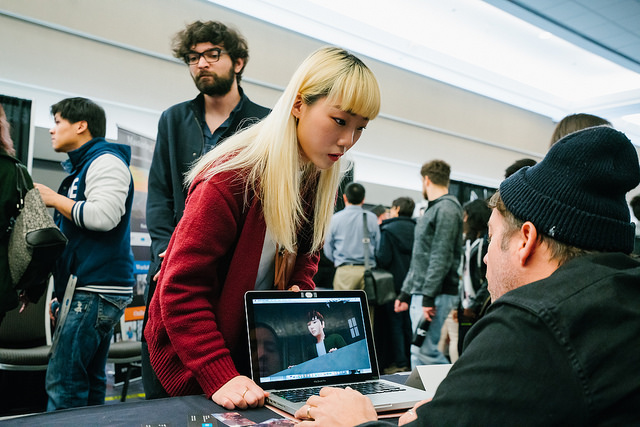 Image from Flickr by Vancouver Economic Commission
The first step to using content effectively to help build your retargeting campaign is by examining your user data. Look at data such as where on your site your users spend the majority of their time, and which blog posts or articles gain the most traffic. With detailed data, you can even look at users who convert and figure out what they were looking at when they made that decision, which may also prove to be useful information. By examining the content that your users are already viewing, you can create more high-funnel pieces targeted to specific groups of users and utilize them to your advantage.
For example, if your company offers corporate communication software, and you see that more users gravitate to a particular blog post about encryption features, you can then create a retargeting campaign highlighting the message encryption features of your software and target it at those users.
If you take this concept a step further, you can see how a marketer might be able to follow the behaviors of multiple users and separate them into target groups. Then, users checking out a blog post about mobile communication strategies for employees can be retargeted with one ad, while those who downloaded your e-book on successful leadership communication strategies can be targeted with a separate advertisement.
Whether you have a great deal of content or a more limited amount, the most important thing is that you have expert content that positions you at the top of your field. According to research by inPowered, high-quality content written by experts is the most effective at influencing high price-point purchases and is extremely effective at driving final purchase decisions. Content should educate users as well as persuade them to make purchases. This is the kind of content that the expert writers at Copypress can provide for you and your business.
What Do I Do Next?
The fact is, that while retargeting in and of itself can be quite effective at creating and promoting conversions, business owners and marketers would be better served by pairing a retargeting campaign with high-quality, expert content. That way, marketers can provide useful, educational information to users, while also identifying those who are more likely to convert so that advertisements can be more specifically targeted to those users based on their interests or needs.
Content can become the catalyst for conversions, while retargeting ads drive the point home for consumers. So contact CopyPress and learn about solutions for pairing expert content with your retargeting efforts to boost sales and grow your business.