Your online business presence needs to be a lighthouse in the churning sea of online information, attracting potential customers and clients. SEO (search engine optimization) makes that lighthouse brighter than others. The best way to be a dazzling, unmistakable online entity is through SEO-focused content marketing.
Because SEO and content marketing are both complex skills, hiring an expert for each might seem too pricey or challenging, but it really isn't. Below are the vital factors to remember and think about while you hunt for ideal writers.
Find A Price Suited to Your Workload
When hiring writers, the first thing to remember is what your business needs from them. Expert specialist copywriters have rates anywhere from $300 per hour or higher. These are freelancers specialize in a particularly valuable type of work, such as B2B (business-to-business) case studies. One good piece can earn the client tens of thousands of dollars.
Obviously, quality matters, but these types of specialists aren't economical if you're more interested in something of lower specialization but regular output, such as SEO-ranked blog content.
Look up writers, not solely based on their experience in your niche, but also by whether they have experience with the particular type of content you need. For occasional or single projects, such as a commercial script, white paper, e-book, it's better to look toward specialists.
If you need a stable relationship with a writer who can rewrite all of your product descriptions, however, someone more economical is fine. Just be sure to verify that they're good enough for the job.
Always Study The Samples
Samples are necessary to narrow down untested applicants. For example, if a writer responds to a job posting seeking an article writer for your video game enthusiast website, but only offers samples from a housekeeping blog, they might not be qualified.
Still, it doesn't hurt to ask why they're interested. Ideally, a freelancer would send a cover letter or other form of simple communication explaining why they're a good fit for your job.
When you find someone with past work that looks relevant, ask if they're experienced in writing SEO-focused content. If they confirm and show live examples, try to find those samples organically by typing in part of the titles.
Has the content actually ranked well enough to show up on the first page? Ask what sort of SEO tactics they've written. Also, even if research isn't a top priority, lean toward writers whose samples show research skills. Research implies thoroughness and it's an important skill in SEO.
Also, consider the range of samples provided. Does the applicant seem comfortable tackling divergent topics, formats, and style guides? If possible, look at all of their pieces on a single topic and see if they can make similar content feel just as unique.
Lastly, ask yourself, "Does their writing seem like a good fit for our audience?" If you keep all of these things in mind, instead of filtering entirely by rates, you'll save yourself a lot of frustration over unnecessarily narrow requirements.
You Get What You Pay For
In the early 2000s, SEO was a hot new trick that businesses could use to control search engines, such as Google, contorting results through keyword-stuffed web pages that misled the young algorithms.
Nowadays, it's the exact opposite scenario. Google is in full control, and its advanced algorithms are capable of detecting and discrediting websites that use shady, lazy SEO tactics. These same algorithms reward high-quality, relevant webpages with better rankings.
What does this mean for SEO copywriting rates? Since it's no longer possible to stuff keywords and get views by writing low-end content, the demand for skilled, experienced copywriters, particularly those with expertise in a particular niche, is higher than ever. The rates available to you for high-quality SEO content depend on your industry and the work involved per piece. Rest assured, if your goal is to hire or contract native-speaking masters of English language, advertising, and persuasion, it won't be at ten dollars an hour.
Will You Be Comfortable Scaling?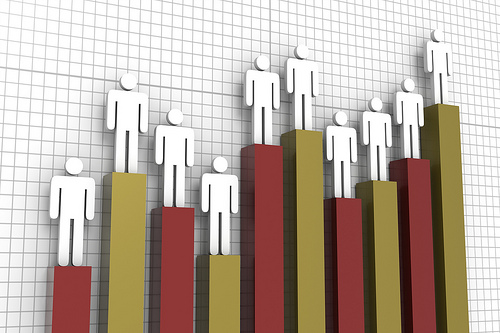 Image via Flickr by ccPixs.com
Let's say an outdoors equipment and survivalist business is making blog articles that convert sales. It's hired five writers at a rate of $50 per article to each make an article for a weekday, leading to a steady output of five weekly articles.
This is just enough writers at the highest rates they can afford for a set, seemingly final content creation output. Then, however, this company decides they want to scale up and make more because the content is doing well and it's mildly profitable.
This can soon turn into a mess, where asking for more work or lower rates upsets the current writers, and hiring new ones to work in addition to your current writers becomes a desperate hunt. There's little they can do. Scaling at the rate of $50 per article just isn't viable yet because their audience is too small. They should have thought about the future when hiring the initial writers.
It's only natural to scale up if your campaigns are working. Consider finding a smaller team of people at rates you're comfortable scaling up from. You can work your way up by adding more people gradually, without doubling your budget.
Experienced writers can get occasional priority pieces that pay more. New writers can be brought in at the lower starting rates that you established to help the team grow. This sort of ecosystem will be a lot more stable over time and can prepare your business to capitalize on a lucky viral hit.
Expert SEO writing is rarely cheap, but with a little research and forethought, even small businesses should be able to hire suitable professionals. One of the best ways to guarantee profitability is to contract a large group with experience in affordable copywriting output, such as CopyPress, who can assemble the perfect team of writers, editors, and other talent based on your requirements.
However you approach your SEO projects, be sure to study the market and level your expectations. Finding the talent best suited to the work is a crucial step that will help make your investment profitable.