In today's world of digital technology, social media has become not only a prominent venue for people to interact but also a major marketing tool for businesses. As a gathering place for enormous and diverse audiences, social media allows companies to extend their reach tremendously in a matter of minutes. But with great opportunities come great challenges. To capture the audience's attention, businesses struggle to break through volumes of content saturating social media.
Companies that realized the potential of promotion through social media have whole teams working on their social media strategies. They design content, infographics, images, and videos to be shared across various social media platforms. Some of the most effective campaigns are not only creative, they all contain a human element that makes campaigns relatable to their audiences. Here is a brief overview of some of the most successful and inspiring social media campaigns.
General Electric's "What's the Matter With Owen?" Campaign
Though its various appliances are very popular, GE can't boast about extravagant or luxury products. To most consumers, GE comes across as a boring manufacturer, even though this well-established conglomerate has been around since 1892. Yet, the company used this "boring" feature to its advantage by creatively presenting it as an attractive attribute. As a result, GE capitalized on the very aspect that was seen as negative. Here is what the company did.
Last year, to encourage job applications, GE released a series of videos featuring a programmer, Owen. In each video clip, Owen makes an attempt to tell friends and family about his new job at GE and tries to explain its significance for him and for the world. But all Owen's efforts are in vain because no one is interested.
By showing real-life scenarios, the campaign successfully reached and engaged its target audience. People could easily relate to the characters and situations and found the boring scenarios hilarious. Right after the campaign, the number of applicants at GE grew by 800 percent.
Chiquita Banana's Solar Eclipse
This Chiquita's campaign presents a case of profound creativity and the perfect timing.
In anticipation of the solar eclipse on August 21, 2017, Chiquita took advantage of the upcoming event and released its Banana Sun Announcement video. In a brilliant way, the company combined the grandness and significance of the eclipse with the silliness and simplicity of a banana. By coordinating the plot of the video with carefully crafted language, the marketing team took this idea to a totally new level of funny: "On the path of totality, you will see two distinct banana suns. The total eclipse occurs in between the two banana suns as a sort of lackluster intermission."
The campaign went viral, and the company gained thousands of new Twitter followers and tens of thousands of retweets. Chiquita also created a designated website and revealed a huge glowing banana on August 20 in NYC.
KFC's 11 Herbs and Spices
In September of 2017, KFC brand started following 11 people on Twitter ― the five original Spice Girls and six guys named Herb. For about a month, this fact went unnoticed until Mike Edgette, a social media manager for TallGrass Public Relations, put two and two together ― the often talked about KFC's secret recipe of 11 herbs and spices and 11 people on Twitter ― and made a single unassuming tweet about it.
From then on, as fans learned about KFC's smart move, the campaign went viral. To ride this publicity wave even further, KFC made a portrait of Edgette riding on Colonel Sander's back with a drumstick in his hand.
This KFC's campaign is a great example of the power of subtlety. It shows how a very small but deliberate act can lead to an explosion of activity around a brand. In a way, KFC planted a seed quietly and waited patiently for it to germinate.
Mr. Clean Superbowl Ad
According to the Digital Marketing Institute, the 2017 Mr. Clean Superbowl Ad was one of the top five best social media campaigns due to suspense created on Facebook and Twitter prior to its release. The campaign went viral within one minute after airing during the Superbowl. Mr. Clean implemented several strategies for its success; it generated excitement, put a new unexpected spin on the old product, and complemented the video with appealing language. This is how they did it.
Leading up to the game, Mr. Clean was posting daily videos-teasers to build a strong online presence and the audience's anticipation of the final product. The campaign enticed the audience with its romantic and sensual flair, portraying cleaning in a completely new way. A catchy phrase for sharing its YouTube link played an important role too: "If you thought my ad was sexy, wait till you see how well my products clean. Watch it again."
Heineken #OpenYourWorld
As a response to various national events, this 2017 purpose-driven campaign by Heineken touched on people's values. Unbeknown to them, it brought individuals with opposing views in the same room, had them work on a small project, and answer several questions about themselves in order to get to know each other. After the individuals learned about how much they had in common and developed sympathy for each other, their polar opposite views were revealed. Next, they had to discuss their differences over a bottle of beer.
The company's YouTube video generated over 14 million views. Heineken also experimented with a chatbot on Facebook for connecting people from various backgrounds.
Spotify's New Year's Resolution Campaign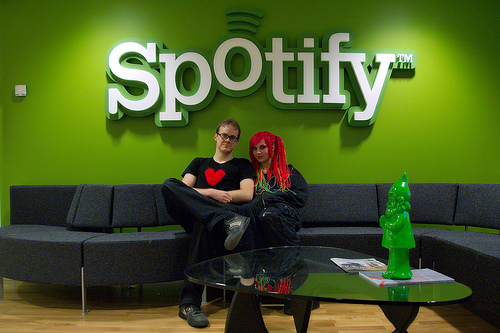 Image via Flickr by Jon Aslund
With this campaign, online-based Spotify connected with its audience offline.
For its 2018 New Year's Resolution campaign, Spotify extracted interesting and unusual data from its users' playlists and streaming habits. Out of these data, it created "stories-goals" and placed them on billboards all around the country. This created the local feel about the brand and the sense of physical connection among its digital community.
As you can see, the strategies for creating successful social media campaigns are widely diverse and distinct. While some companies make big and loud gestures, others take subtle actions. But what all great campaigns have in common is the relatability factor; each and every one of them is able to evoke strong emotions in its audience in response to a product or message. The best campaigns engage people's interests, create captivating stories, and cultivate a sense of community.