Whether you run a service-based company, a retail business, or a digital brand, social media is a smart avenue for growing your brand. Establishing a presence on social media gives you the chance to connect with your target audience, share branded content, forge important relationships, and much more. Not sure where to start, or need ideas for taking your strategy to the next level? Check out these eight tips for using social media to build brand awareness.
Choose the Right Channels for Your Brand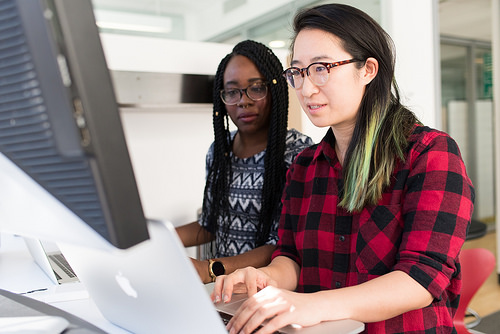 Image via Flickr by wocintechchat.com
When it comes to social media, the most important decision you'll have to make is which platforms to use. Start by reviewing the biggest platforms to find the right options for your brand:
Facebook: As the largest social platform, Facebook is essential for most brands seeking to grow their audiences, share high-quality content, and build a community of fans.
Twitter: Designed to encourage conversations and generate discussions, Twitter is great for connecting with customers, influencers, and other brands.
Instagram: With its focus on photo and video, Instagram is perfect for companies with strong visual brands and businesses that tell image-based stories.

Pinterest

: As a visual library of sorts,

Pinterest

is best for increasing brand awareness through images and using links to drive your audience to your high-quality content.
LinkedIn: Ideal for business-to-business (

B2B

) companies, this platform is ideal for sharing company news, discussing industry trends, and connecting with relevant influencers.
Although you'll want to be strategic about the social platforms you choose, your decision isn't necessarily set in stone. Remember that you can always monitor the platforms that don't make your first cut and add them into your social mix at a later date.
Create High-Quality Content
Whether you use one or five social media platforms, be sure to prioritize high-quality content over large volumes of content. Naturally, publishing an endless stream of posts that offer minimal value is likely to give your audience a negative view of your brand and might even drive potential customers away.
Instead, ensure that the posts you publish highlight quality content that adds value by answering your audience's questions, entertaining your followers, or sharing intriguing stories about your brand. Take the time to publish well-written posts in your brand voice, share relevant links to excellent articles, and create attention-getting visual assets.
Show Your Audience What Your Brand Is All About
Writing compelling posts is important for any social media platform. However, channels like Instagram, Pinterest, and Facebook also give you the opportunity to build brand awareness using visual, video, and interactive content.
Don't be afraid to get visual with your audience. After all, showing them what your brand is all about can make much more of an impact than telling can. An estimated 65 percent of people are visual learners, which means using images and videos can help you better reach nearly two-thirds of your audience. Online photo editors and graphics creators, such as Photoshop Express and Canva, make creating visual assets easy, even if your brand is on a budget.
Start Conversations
Social media should never be a platform for your brand to broadcast one-sided messages. To get the most out of Twitter, Facebook, and Instagram, focus less on making statements and more on starting conversations.
You'll quickly find that both your brand and your audience benefit from this inclusive approach. Your audience will appreciate the opportunity to be a valuable part of your community and will enjoy watching your company grow. At the same time, you'll get greater insight into your target market and build a community of dedicated fans.
Help Fans Find Your Brand
Social media platforms are great places for your brand to connect with current and potential customers alike. To increase the chances of new fans hearing about your brand and loyal customers joining your online community, make your brand easy to find.
On Instagram and Twitter, hashtags can help increase your visibility, especially if you establish a branded hashtag and research hashtags relevant to your brand and your industry. On Facebook, encourage fans to share your high-quality content to expand your reach. On Pinterest, use keywords to increase the chances of your content appearing in search results.
Make Key Connections With Influencers
While you'll certainly want to connect with customers and fans on any platform you choose, don't underestimate the impact that reaching out to influencers can have. Use tools like BuzzSumo to identify important influencers in your niche, or use LinkedIn to find key figures in your industry.
Once you've compiled a list of influencers, connect with them and start building relationships by commenting on their posts and sharing their content. After laying the foundation, ask them to share your content with their audiences or collaborate on a branded project to expand your reach and brand awareness even further.
Host Contests and Giveaways
Most brands will never truly go viral on social media, but with the right strategy, you can amplify your reach substantially. Hosting giveaways and running contests on Twitter, Instagram, and Facebook are two of the best ways to build brand awareness quickly and effectively.
To increase the chance of your contest achieving your goals, make sure you're giving away something your audience truly wants. Make the contest easy to enter, confirm that it follows the guidelines of the platform you choose, and encourage your audience to share it. Consider partnering with an influencer or a complementary brand to increase your reach.
Budget for Promotions and Campaigns
While all major social media platforms are free to use, you can get more out of them if you have a budget for promotions. Start small and spend a few dollars to promote a high-quality post that has already received great engagement.
If you have a larger budget, consider creating campaigns that target audience members in certain areas or demographic groups. Always make sure you're targeting your brand's ideal buyers to get the most out of your advertising budget and maximize your brand awareness efforts.
No matter how many platforms you choose, social media is the ideal place to build brand awareness. Use these tips to educate fans about your company, tell your story in a compelling way, grow your audience, and take your brand to new heights.