It might seem self-evident, but user experience (UX) is what users feel — what they experience when using a product or service. As the adage goes, there is never a second chance to make a first impression, especially if that first impression comes across as lackluster, dull, or worst of all, boring. Competition for attention in the digital world is increasing at a geometric rate, and unless you seize hold of users and shake them by the lapels in a new, inventive, and intriguing manner, you run the risk of getting lost in the cacophony, drowned in the great digital divide between the remarkable, the exceptional few, and everyone else.
What Makes a Good User Experience?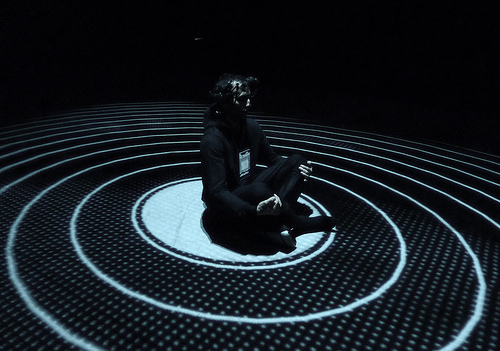 Image via Flickr by visiophone
Perhaps the most important and most easily overlooked aspect of UX revolves around the users themselves — who they are, what they want, what they like, and most importantly, what gets them excited. Bombarding users with products and services, assailing them with excessive industry jargon and impressive lists of statistics is one way to ensure a bad, forgettable experience.
Creating a dynamic, engaging, interactive conversation with users is the beginning of a well-rounded, user-focused experience that people are likely to talk about, that users will want to share with their colleagues, friends, and family.
Even if you have the most polished, gorgeously designed, well-tested website in history if you don't have any meaningful, relevant content, why would anyone visit. More importantly, why would they come back and share your site? Enter content marketing.
What Makes Content Marketing Relevant?
Content marketing can be an absolutely invaluable tool for grabbing and, perhaps most importantly, retaining the attention of users. The term is defined by the Content Marketing Institute as a strategic approach to digital marketing that highlights the creation and dissemination of "valuable, relevant, and consistent content," designed to attract, maintain, and grow a defined demographic with the ultimate aim of driving meaningful customer interactions. Although keywords abound, the focus of any content marketing strategy should be on providing relevant value to customers at regular intervals.
But what makes content relevant? Increasingly what makes content relevant, especially to the younger millennial audience, is authenticity. According to a consumer content survey of 2,000 people in the U.S., the U.K., and Australia, 86 percent of consumers, including 90 percent of millennials, consider authenticity paramount when deciding which brands to trust and like.
The message could not be more clear: be real with your users. Don't sugarcoat the truth or try to hide behind a false front. Above all, users value content shared by their friends and family, so creating authentic content that people are compelled to share is critical to any successful marketing campaign.
Interactive Content Marketing
Although there is vigorous debate about how often content should be published for an optimal user experience, there is a consensus that engaging, dynamic content is ultimately the key to attracting attention, gaining market share, and driving sales. While there is an unfortunate legacy tendency to think of content marketing simply as largely text-based blogs, podcasts, and books, there are a number of innovative, engaging, interactive approaches to content marketing, like interactive infographics and interactive videos, that users find inherently more dynamic than scrolling through static blocks of text.
The key to developing effective content marketing moving forward is interactive — people remember things best by doing, through interaction. In a study from NYU psychologist Jerome Bruner quoted in an HP presentation called The Power of Visual Communication, it's noted that people retain roughly 10 percent of what they hear, 20 percent of what they read, and a whopping 80 percent of what they see and do. Getting users to interact with content marketing, whether it is visually or textually based, is integral toward making sure they remember.
The Importance of Interactive Video
It's often said that our brains process visual information 60,000 times faster than text. While this statistic appears to be a fallacy based on an illusion of truth that has been repeated so many times it has the ring of verisimilitude, there can be no doubt that online video is accounting for an increasing percentage of internet traffic, making up almost 75 percent of all internet traffic accounting to the Internet Trends 2018 report from venture capitalist firm Kleiner Perkins.
What this means for deploying an effective user experience utilizing content marketing is clear — in order to remain relevant and continue to be successful, it's imperative to adopt engaging, interactive video-based manners of compelling storytelling that doesn't rely on users simply reading text.
Adding interactive elements to video content marketing, like constructing a branching narrative structure that lets users choose the path the story follows or letting users select from a menu of possible outcomes, is a good way to ensure increased engagement. Also, make sure users have clearly defined choices at the end on what content to watch next with bright, interactive buttons.
Increasing Visibility Via Social Sharing and Promotions
While great content creation is paramount to maintaining an effective user experience if no one knows about the content, what good does it do? Increasing the visibility of your engaging, interactive, dynamic content through promotions like native advertising, social promotions, and publisher connections are what connects the dots, allowing users to find, experience, and engage with brands they find authentic.
Engaging with and producing interactive content marketing for social media platforms is an effective means for reaching a wider, younger group of users who might only interact with apps, eschewing the traditional desktop or mobile browsing experience. With Snapchat users viewing more than 10 billion user stories a day, more than 110 million active Instagram users in the U.S., and more than 1.3 active users of Facebook Messenger, it is clear that there is an enormous audience ripe for engagement in app space.
But these audiences are not all the same. The video message that works on Snapchat isn't necessarily going to resonate with the audience on YouTube, nor will messages curated for either of those platforms necessarily work well on Facebook. Users expect a distinct experience on each platform. Make sure to keep this in mind and create and test multiple versions of your content marketing creative because as this Magistro report notes, millennials are far more likely to create multiple variations of digital ad creative to optimize for ROI.