Using Live Video to Captivate Your Audience
Live television broadcasting first introduced us to the power of using suspense to captivate an audience. It showed that people, who otherwise would never watch a car chase, are willing to dedicate hours to watching that type of content when the events are unfolding in real time. Sports fans will sit glued to the TV for 90 minutes of a soccer game that ends 0-0, but they won't spend five minutes watching a recorded recap of the same game.
Unlike recorded video, live video doesn't necessarily have to be exciting, funny, or scary for people to watch. Live video draws an audience just because of the unknown possibility that something interesting may happen.
Luckily for businesses, which may have limited use of live television for marketing, live video on social media has proven to be one of the most effective ways to reach your audience in today's very crowded digital space.
The Rise of Live Video on Social Media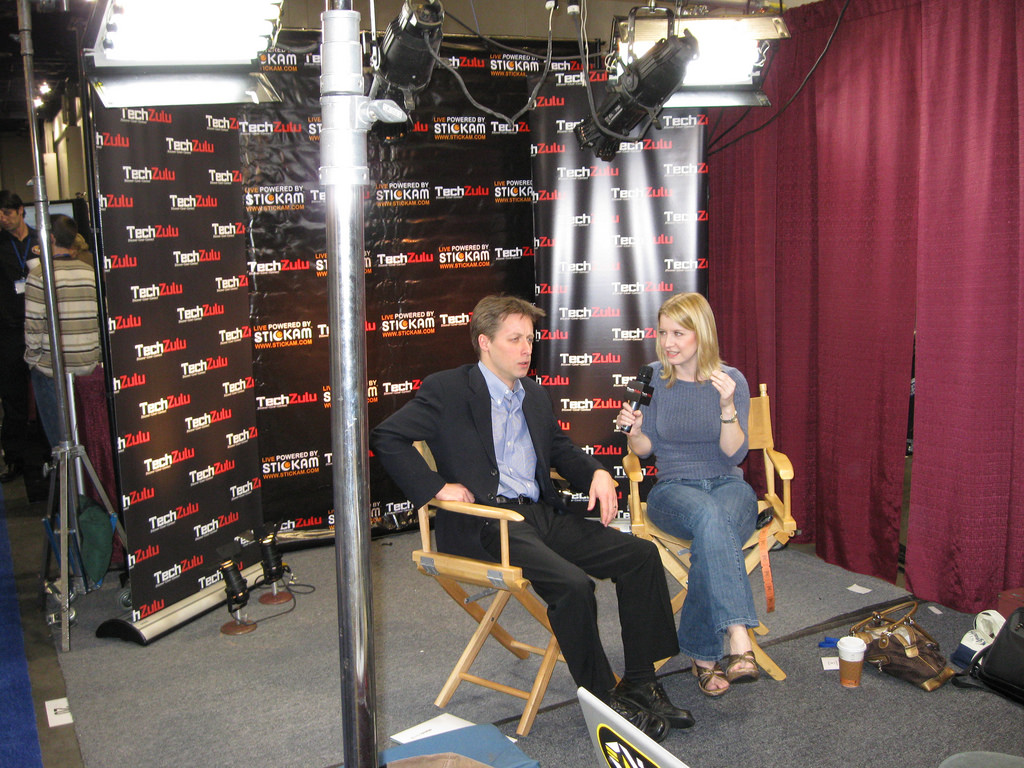 Image via Flickr by John Beagle
In February of 2016, Mark Zuckerberg fast-tracked the development of live video on Facebook after executives reported that 70 percent of live video trial users were college or high school-aged, a demographic that had been steadily moving away from their platform. The product was rolled out in just two months after 100 employees were directed to focus on nothing but the launch of Facebook Live.
Twenty percent of videos on Facebook were live only 16 months after the option was introduced. The social media giant found that users were spending triple the amount of time watching Facebook Live compared to a recorded video.
The success of live video was so strong that Facebook considered it as a new content type and began ranking it differently than normal videos. Live videos now appear higher in news feeds when actually live, as opposed to when they retire to recordings.
Since the release of Facebook Live in April 2016, Facebook has quickly pushed out multiple enhancements, including closed captioning and most recently, Facebook Spaces, a platform for broadcasting live video in virtual reality.
YouTube and Instagram have also added options for users to broadcast content live. Surprisingly, Snapchat has not added a live broadcasting option for their users yet, but does feature its own live content on the app.
Creating Live Video Content That Drives Results
As previously mentioned, simply choosing to use live video instead of recorded video is likely to increase the size of your audience and the average amount of time each user tunes in for. However, by following a few basic guidelines, you will fully optimize the strength of your live video content.
Broadcast Immersive Moments
For the most success with live video, share immersive moments with your followers. Broadcast from places they would like to be and bring them there with you virtually. Allow them to experience interesting moments alongside you.
If something piques your interest in real life, chances are, other people would also like to be seeing what you are seeing. Most of these opportunities for live broadcasting will be spontaneous, given the fact that authentic moments are hard to predict.
Hari Sreenivasan, a Senior Correspondent for PBS News, gave a good example of acting on these opportunities when he explained his first experience with Facebook Live. After leaving work one day, he passed by a very long line for a soup kitchen. Because his curiosity drove him to wonder about the cause of the line, he decided to begin a Facebook Live broadcast and ended up sharing a tour of the facility with his viewers.
Share Information Your Audience Cares About
Although live video is best used to share moments, it can also be useful as a vehicle to share information. After all, any live video can be used as evergreen video content later on, as well.
Experian demonstrated this strategy by hosting a live video conversation about the dark web. The target audience for their credit monitoring products likely includes people worried about being affected by the buying and selling of personal information on the dark web, so this topic effectively connected them with potential customers.
Establish Credibility
Earning business on the internet relies heavily on proving yourself or your brand to be trustworthy. Everything is moving at such a fast rate that users are becoming increasingly skeptical of "fake news." Live video is perfect for establishing trust with your audience. Inherently, live video is easier to take at face value because you know it has not been edited or altered.
The introduction of the Live With feature on Facebook Live allows you to invite one of your viewers to broadcast alongside you. Meaning, you can easily bring your customers, partners, or raving fans to a conversation with potential new customers.
Encourage Interaction
The key to successful social content marketing of any type relies on creating a conversation. Two-way communication has been proven much more effective than shouting your sales pitch into the crowd and hoping it reaches the right buyer. To reflect this, Facebook officially updated their news feed ranking in May of 2018 to favor video that inspired interaction and conversation.
Live video lends itself to interaction through the use of a comment stream and the more candid nature of live conversation. You can further encourage interaction by addressing your viewers by name and answering their comments in real time.
Promote Your Live Video
A big advantage of sharing live video content on Facebook is that, for now, Facebook will notify users when you go live. In a sea of content, a notification is huge for capturing the attention of your audience and is rarely offered for any content produced by businesses.
This isn't the only leg-up live video has on other forms of digital content. Unlike content such as a blog post, which you rarely promote until after its release, live video can be reasonably promoted three times: once it's scheduled, during the live session, and after the video has been recorded.
Not only does proper promotion of your live video provide the opportunity for additional content posts, it can also help your live content rank higher in the news feed. Facebook recently altered the news feed ranking to favor video content that people seek out and return to regularly, noting "The more people seek out your show, rather than just 'stumble upon it', the better a signal Facebook has that you are producing content people want to see."
Preparing Your Business for Live Video
The same allure of the unknown that makes live video attractive to viewers also makes it dangerous to broadcasters. Because there are so many elements you cannot control, it is important to minimize risk by preparing ahead of time for your live video.
It is crucial to remain genuine in live broadcasts, but that doesn't mean you have to go into them shooting from the hip. Anyone representing your brand on live video should be, at a minimum, following guidelines established by communication professionals.
Another easily avoided risk of live video is technical difficulty. Make sure you invest in high video production to ensure you don't damage the credibility of your brand with technical errors during the broadcast. With the right equipment, you can even broadcast live via drone.
Whether you are trying to push record sales or increase viewership of your event, live video is worth considering for your business's content marketing plan.