Reaching a business to business (B2B) market requires a distinct marketing approach with strategies and considerations that differ from those efforts for a business to consumer (B2C) market. Many businesses that focus primarily on the B2B market are not taking full advantage of the social media tools available. Indeed, social media can be an effective way to reach a B2B market.
Get Creative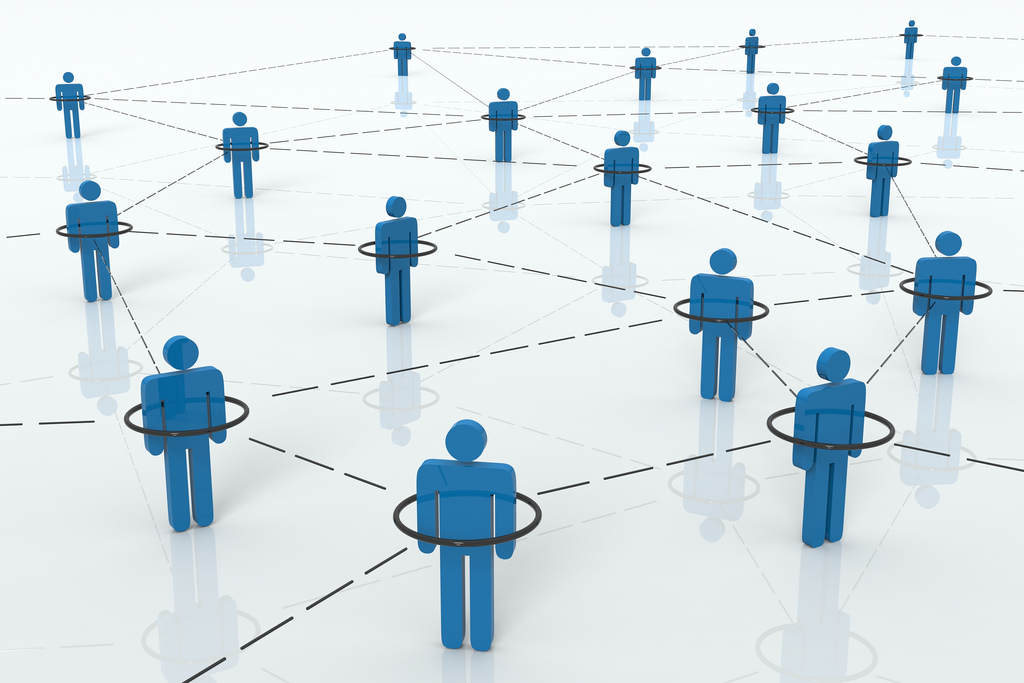 Image via Flickr by ccPixs.com
Even though your business is a B2B brand, you shouldn't think that you can forego creativity in your marketing campaign. Many B2B businesses are afraid to use creative marketing strategies for the fear that they may come across as unprofessional. Remember that the businesses you are targeting are people, too. Even the largest organizations are made up of individuals with personalities and buying power. In fact, they are the same consumers who are often targeted by B2C businesses when away from their business roles.
Many B2B businesses opt out of social media because they don't think they have a product or service that is interesting enough. You may need some creativity to turn a B2B product into something that is entertaining and demands engagement, but doing so can significantly increase brand awareness. Using images, posting engaging content, and taking advantage of videos can turn a B2B product into something that is both distinctive and interesting. Social media is a great platform to give potential customers a peek into the business with how-to videos, leadership interviews, and day-in-the-life videos.
Educate Your Audience
One of the largest troubles that B2B businesses will find with social media is the problem of connecting with their audiences. Education is more important to B2B social media marketing than some brands may realize. Social media consumers will not interact or engage with a business they do not understand. One of the most significant advantages of social media is the opportunity to educate your audience.
Social media offers brands the opportunity to educate B2B customers in a way that is interesting. Additionally, brands can back up this form of education with content marketing tied to social media. Content marketing has become one of the most successful forms of digital marketing, especially when used in connection with social media. By creating content that is engaging, informative, and interesting, you are likely to find that people are more interested in your brand than you may have thought.
Conduct a Competitive Analysis
Monitoring your competitors is important in B2B markets. When you work primarily with businesses, your customer base is limited. The buying cycle is longer, and the average purchase is much higher. Failing to monitor competitors in a B2B market can make it difficult to remain competitive. Social media gives you the ability to check up on your competitors. You can learn from their mistakes and take advantage of the marketing strategies that seem to be working for them.
Additionally, many social media tools available today can allow you to automate your competitive analysis. Facebook allows you to track posts, ads, and engagement levels of all competitors. Brands can use this information to analyze the type of social media content that best resonates with their target audiences. Finally, social media can be used to identify new competitors as they enter the B2B market.
Use Paid Advertising
Marketing to an audience that is not your target audience can result in wasted dollars. Business social media accounts allow you to run ads through the account, targeting the exact type of consumer who would be ideal for your business. You can target customers based on their locations, ages, hobbies, and job titles.
Paid advertising can be especially effective for B2B brands. Social media generates interest. Paid advertising encourages action. When considering the normal buying cycle of a B2B customer, both elements are extremely important and necessary.
Personalize the Brand
One of the most compelling reasons that B2B businesses fail at social media is that they fail to personalize the brand and connect with their followers. A consumer's experience between following a brand on social media and visiting a brand's website should be different. Your website provides consumers with necessary information such as the brand name, product, and ordering process.
Social media should be personalized. Developing a social personality is the best way to connect with your audience. Don't be afraid to use a little humor when appropriate. Take advantage of videos and images to help the local community get to know the faces behind the brand. Not only does this effort personalize the experience for them, but it also encourages them to remember the brand longer. Since B2B purchases tend to take longer in the sales cycle, it is important to create a lasting impression.
Target Business-Specific Platforms
While social media sites such as Facebook and Instagram have a reputation for being more social, LinkedIn is often known as the social platform for business professionals. LinkedIn allows you to connect with the business professionals who are most likely to benefit from your product or service. Additionally, users are more likely to engage with brands on LinkedIn when compared to other social media platforms.
B2B brands can effectively use LinkedIn as a business resource in a few ways. Publishing content can establish you as an authority in your industry. Growing your following can connect you with business professionals who could benefit from your product or service. Joining industry-specific groups can also offer valuable networking opportunities.
Take a Comprehensive Approach
LinkedIn is not the only useful social media platform for B2B businesses. Although LinkedIn is the most commonly used, other platforms also have advantages. While LinkedIn may generate the most leads, it's important to consider the other stages of the buying cycle.
Facebook is great for increasing brand awareness. Instagram does a wonderful job of providing images during the consideration phase. Twitter keeps you connected to your community. Pinterest can solve problems for people while also generating additional brand awareness. A successful B2B campaign will generally take advantage of multiple social media platforms.
Social media is not reserved for B2C businesses. Although it may take a little creative effort and carefully planned content for a B2B business to attract attention, social media can be a valuable tool that sets a business apart from its competitors.