What Does Digital Marketing Entail?
Digital marketing is a complex concept that may be challenging to grasp at first glance. Gartner, a leading research and advisory company, defines digital marketing as an integration of marketing tactics used across multiple mediums. It is a significant part of effective campaigns. To reach audiences on the web, you have a range of means that include search engine optimization, social media marketing, and marketing automation.
Like traditional marketing, the ultimate purpose is to engage prospective clients and improve brand visibility. However, the digital landscape offers a vast number of platforms to achieve campaign objectives. With the right team and strategies, marketers can excel among competitors. Brands can improve site traffic, grow online audiences, and establish an identity as a trusted resource by effectively navigating the world of digital marketing.
Where to Begin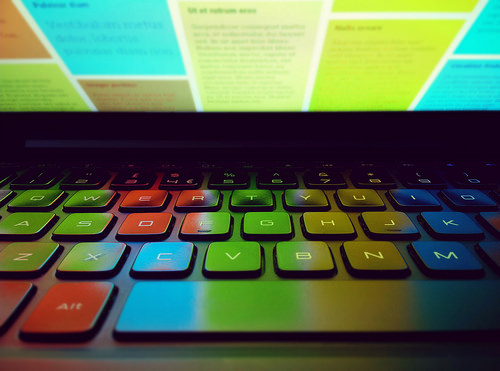 Image via Flickr by sagesolar
Developing a skilled team of digital marketers is the most important part of the process. Companies can leverage team strengths to produce quantifiable results. For example, a team member with strong organization skills can be designated to plan campaign activities, coordinate schedules, and enforce timelines. This person can automate email distribution or social media messages, while others on the team focus on content development.
Those with a knack for measuring results can gather insights using analytics tools and recommend improvements. This contributor might keep an eye out for trends that help or hinder campaign results, while another develops reports to communicate this information. Ultimately, digital campaigns give collaborative teams a chance to innovate, ideate, implement, and measure marketing activities across multiple mediums.
Establishing Clear Digital Marketing Goals
A major part of digital marketing involves setting marks, defining goals, and clarifying desired outcomes. Much of digital marketing is time sensitive as thousands of messages are distributed on the web each hour, minute, and second. Success in digital marketing means understanding what brands are hoping to accomplish and creating unique solutions that produce quantified results. Businesses must hone in on campaign objectives and decide the best path to reaching their target.
Goals might be defined as numeric values as opposed to general ideas. For example, marketers might envision a digital marketing campaign that improves searchability by 10 percent. They can set a goal to grow the number of subscribers or opened emails resulting from email marketing. Defining and redefining these goals will allow teams to continuously identify opportunities to engage audiences and maximize return on investment (ROI). Teams can plan for and anticipate these ongoing adaptations designed to improve effectiveness.
Selecting the Appropriate Platform
As digital marketing can consist of many diverse mediums, teams must be certain to select the best tactics. This can also help maximize ROI. Each marketing channel offers a unique way to reach and engage audiences. Brands can improve campaigns by exploring each platform to understand key demographics, formatting, technical specifications, and trends. Avoid wasting time and money by distributing content to the right audience in the most effective way. Avoid sending complex, technical, jargon-filled content to audiences that have an interest in entertainment topics. Develop customized messages delivered on time and to the appropriate audience.
According to Pew Research Center, 73 percent of American adults use YouTube and 68 percent use Facebook. LinkedIn, Snapchat, and Twitter users are mostly in their mid to late twenties. Reportedly, Instagram users are the elders of social media. Some platforms offer a more social experience and others are more professional. It may be appropriate to post informal or comedic messages on one platform as opposed to another. It is important to understand the audiences and their unique interests to reach the end goal. These trends are useful in allowing marketers to decide what message best meets the needs of each group. They can then determine the best path to present products and services for each audience.
Content Matters
After exploring digital marketing alternatives and practices, brands must take a close look at content to make sure they are sending the right message. Content should be tailored to audiences. Business related content should maintain a clear and professional tone. Entertaining content might be modified to utilize more informal terms and lingo. Technical or medical related content should be exact and precise.
Teams are more likely to improve results as they leverage insights and utilize content to start a virtual conversation. Brands can make a positive impression on audiences by showing they have a true interest in presenting content, information, and solutions they find interesting. There are billions of new messages distributed on the web each day. Brands can maintain a competitive advantage by producing high quality content that captures the reader's attention.
Digital Marketing is a Necessity
The definition of digital marketing can vary greatly as marketers determine the best campaign activities based on the brand's unique vision. It involves the use of multiple channels to present information, products, or services to audiences. These channels might include display ads, landing pages, social media messages, email campaigns, and search engine optimization. Brands can use each platform to truly engage customers and improve brand visibility.
Huffington Post writer Roger Bryan says one thing is for sure – digital marketing is a necessity. Thriving brands find a way to utilize emerging technologies to improve the bottom line. Companies can remain competitive, retain customers, and build revenues by planning strategic digital campaigns.
Intuitive Design
Digital marketing also entails selecting the appropriate platforms to reach audiences. They must produce high quality content that leaves a lasting impression and establishes solid teams. Teams must also determine clear goals at the start of the campaign. These should be numeric values that allow leaders or clients to measure results. Set targets that can be quantified and choose actionable items with room for growth and change.
Collaborative Teams Produce Results
Marketing teams can utilize strengths to contribute to goals, support one another, and encourage accountability. Managers can delegate teams and communicate responsibilities based on individual talents. Together, the team can determine the proper channels, messaging, and timelines. By analyzing teams, resources, and trends for continuous change, digital marketing can get easier with time.
More from the author: