Whether you have a blog, marketing content, or a whole social media strategy to stay on top of, organization is the key to making sure you stay focused on your goals and make sure your content stays on track toward your marketing goals. In the days of print media, editorial calendars were used to stay on top of printing schedules, track articles and stories, and to make sure publications remain on track and trend for their readers.
Editorial calendars have now evolved into tools to coordinate publishing efforts across numerous platforms including:
Editorial content is designed to keep you on track with your content strategy and to manage your daily content to-do lists for such things as:
Blogs
Newsletters
Websites
Social media
How an Editorial Calendar Can Benefit Your Company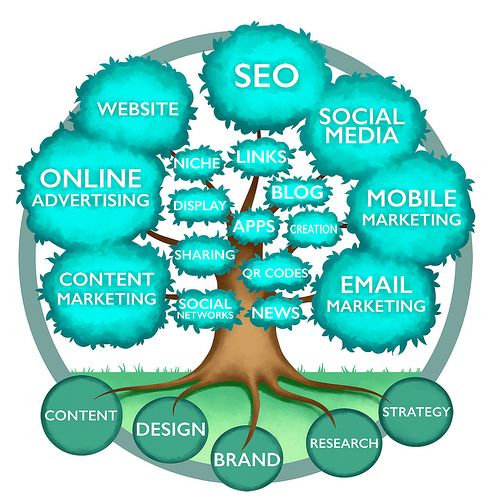 Image via Flickr by BigOakFlickr
Any company that needs organization for their content can benefit from an editorial calendar. Some of the benefits you can expect from utilizing an editorial calendar for your marketing content include:
Consistency with your content and posts.
Incorporating all the appropriate keywords across your content
Staying on track with trends, holidays, and other seasonal occurrences
Helping you to map out your strategy in advance to ensure nothing is missed
What You Will Need to Start Your Content Marketing Calendar
There are many ways to approach forming your marketing calendar. You can use calendar software, spreadsheet software, or even good, old-fashioned paper. Most content marketers are moving towards the use of digital software not only so it can be seen and updated by numerous people even if they are hundreds of miles away, but also because it can reduce the time it takes to design the calendar and helps you to ensure that everything is included.
What Should be Included in Your Marketing Calendar?
Your editorial calendar can only be valuable if it is designed to accomplish the goals it is supposed to. This design means including the vital elements to make sure it functions correctly. Your calendar should include:
A place for all of your ideas and key topics
The ability to assign the various tasks needed such as writer, editor, and quality assurance
A schedule for publishing designed to maintain a consistent message and presence
The ability to make in-process changes both quickly and easily
The ability to create a visual marketing strategy that everyone can understand
Ways to promote communication and facilitation between the members of the content team
The Benefits of Using Editorial Calendar Software
While many marketers may start with spreadsheet software to create their marketing calendar due to its lower cost and broader availability, it can come with drawbacks such as the inability to be changed easily and the time it takes to set up and manage. Available editorial calendar software has solved these dilemmas and made the process easy and user-friendly. Some of the benefits you can expect from choosing a software program include:
You Can View Everything in One Place
The value of having everything easily visible and accessible in one place is astronomical. Both administrators and team members should be able to access the content information and real-time changes to stay on track and save the significant amounts of time that come with conferring with each other, managing changes, and tracking information down. Many of the available software will allow you to view, make changes, and schedule meetings.
The Convenience of Drag and Drop
With spreadsheet software, you will find yourself spending a lot of time cutting and pasting, or retyping essential information. Many software options allow simple drag and drop technology to move ideas, posts, or messages. This feature can help reduce the time and eliminate possible errors from re-entering information.
The Ability to Collaborate in One Place
When you use spreadsheets to create your marketing calendar, you will have to store your calendar and communication in separate locations. This separation means higher risks of lost content and messages and the need to operate two software programs. With editorial software, you can perform all of the communication and scheduling of your content in one place.
Integration With Other Tools and Programs
Editorial calendar software can integrate with other programs and tools such as Google Docs and WordPress. This integration can help you to create seamless transitions without the need to retype or re-enter any information.
Storage of Drafts and Ideas
Sometimes you may have unfinished ideas, content, or other data that but you want to retain for a later date. Calendar software can help you store these ideas by simply clicking them and dragging them into a draft bin.
How to Get Started With an Editorial Calendar Strategy
Now that you know the benefits that an editorial calendar can provide, it is essential to focus on how you need to implement it so that it is successful at achieving your goals. To get your strategy started, you will need to:
Understand Your Personas
When creating your buyer personas, you will not only need to understand who you are selling to but also their wants, needs, and motivations behind their purchasing decisions. These buyer personas will need to be fully developed so you can make sure that you create the right content that will speak to them.
Inventory Your Current Team
You will need to take an inventory or your current marketing team. How can they contribute? What areas would they be most effective? Ate there any deficiencies that need to be addressed? You can start by creating a list of roles that will be assigned in your editorial calendar so that you can determine the areas you will need to staff. Your editorial calendar will require:
Writers
Designers
Social Media Managers
Project Managers
SEO Specialists
Content Strategists
Develop Your Channel Strategy
You will need to determine which channels to deliver your content that will benefit your strategy by most effectively addressing your target audience. Some channels you may want to include in your strategy include:
Blogs
Social Media Networks
Email Marketing
Video Platforms
Landing Pages
Webinar
Find Your Content Core
An editorial calendar is an effective tool to keep your content organized, your strategy on point, and to help make sure your marketing dollars continue to work for you. Help get your content on track and easily accessible for your whole team by creating an editorial calendar to establish your publishing schedule.