Ephemeral content is currently one of the biggest content marketing buzzwords. In a world where most marketing efforts are focused on creating content that can generate engagement for a long time, ephemeral content stands out with its short-lived nature. It is the antagonist of evergreen content.
This revolutionary form of content was first introduced to the masses by Snapchat, and it has quickly become a massive hit among internet and mobile users, especially millennials and Generation Z. Find out what ephemeral content is and how it can be a valuable addition to your content marketing strategy.
What Is Ephemeral Content?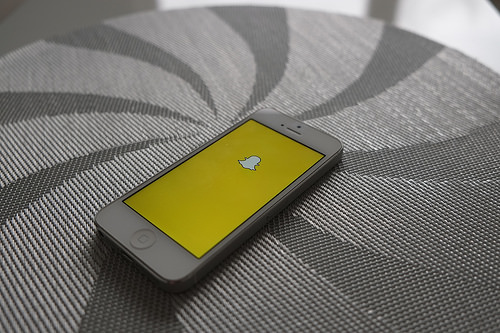 Image via Flickr by AdamPrzezdziek
Ephemeral content refers to content that is short and sweet, and only available for a short time. It can take many different forms, including photos, live streaming videos, product demonstrations, narrative tales, unlinked observations, and jokes. Currently, this type of content can be shared on three platforms: Snapchat, Instagram, and Facebook. On Snapchat, posts only last 24 hours and then disappear forever. Users can send content to individuals or groups, or they can post on publicly available "stories."
Why Is Ephemeral Content So Popular?
According to Statista, Snapchat had about 188 million daily active users, and Instagram Stories had approximately 400 million daily active users in the second quarter of 2018.
One of the reasons why ephemeral content is rapidly gaining popularity is because it encourages the creation of content. Snapchat's default open is specially designed for this purpose. When you tap on the Snapchat logo, you will be met with a camera instead of updates from friends or a feed of information. You will immediately be nudged to create content, join a community, or add value to other users and the network.
Also, people are more likely to post ephemeral content because of the lack of pressure that comes with doing so. When you post content on Facebook, it will be visible to your relatives, friends, and colleagues. This can change the way you post. For instance, if you know that your boss may stumble upon something that he or she should not, you may be incredibly selective with your content. Sharing ephemeral content is quite the opposite. Since it only lasts 24 hours, it limits the amount of damage an ill-thought-out post can do.
Ephemeral platforms are vertical video-friendly, so they can be set up to facilitate informal interaction. They are authentic, human, and spontaneous, so users can expect to get very real content. In addition, they are fun to use. Snapchat and Instagram have built-in filters, pop culture tie-ins, and voice modifiers to provide a more enjoyable experience.
Reasons to Adopt Ephemeral Content Marketing
Fear of Missing Out (FOMO)
The ability of ephemeral content to trigger FOMO is probably its main strength. Due to its novel and short-lived nature, this type of content instills the fear of losing out in users, making them more inclined to act quickly and tune in regularly. This makes ephemeral content an effective tool for stimulating impulse buying and populating remarketing.
However, in order to make short-lived content work, businesses and marketers have to be able to create engaging content on a constant basis. Then again, this may be easier than you think because the content does not have to be polished or perfect. The more raw and real your ephemeral content is, the more likely your followers will be converted to loyal leads.
Authenticity
Today's consumers are constantly bombarded with well-polished content that is specifically created to convince them to buy products or services. You can stand out in the world of marketing by sharing raw images and clips that represent your brand in a different light. Since it is more informal and spontaneous than other kinds of content, ephemeral content can make your brand look more authentic. Upon seeing the authenticity and human side of your brand, your followers will gain a greater sense of excitement and trust for your business, which will eventually lead to increased loyalty and involvement.
High Engagement
Ephemeral content is not only fun and easy to share; it can also boost engagement. Snapchat offers a service that enables users to create geo-filters that businesses can leverage to promote a location and time-sensitive event. Any user who is within a certain location at a given time can place a filter over his or her snaps and therefore promote the event through crowdsourcing.
Mobile Sharing
Another reason why you should incorporate ephemeral content into your marketing strategy is that it can help you reach mobile users. This kind of content is mostly created and shared on smartphones and other mobile devices. Since these devices are seldom far from their owners, it will be easier for your intended audience to consume your content.
Also, you do not need to have fancy camera equipment and video editing software to implement ephemeral content marketing. You can provide access to your stories by sending a Snapcode or QR code to your followers, and they can find your profile by simply scanning the code with the camera on their phones.
Checklist for an Effective Ephemeral Content Marketing Campaign
Sign up for an ephemeral content service and obtain a Snapcode or QR code so that users will be able to access your account quickly.
Determine whether images or videos are more appropriate for your business. Still pictures usually work better with tangible products, while videos may be a better option for services. This does not mean that you should only use one or the other, but it is important to know which medium is most suitable for promoting your brand.
Post content regularly to generate constant engagement. Besides posting on a regular basis, you should also experiment with different techniques to find out if certain types of content are more engaging than others.
Have fun with ephemeral content. It is an authentic way to interact with your followers, so try to keep it informal and interesting.
As a form of content, ephemeral content comes and goes very quickly, but as a marketing method, it looks like it is here to stay. If your target audience includes active and fast-paced people, you have a lot to gain from adopting ephemeral content marketing.