Google mobile friendly describes websites and content whose design satisfies Google's criteria for easy mobile browsing and navigation. Making your campaigns Google mobile friendly has become even more crucial as the world's leading search engine has imposed stricter ranking penalties for sites that do not comply.
The History of Google Mobile Friendly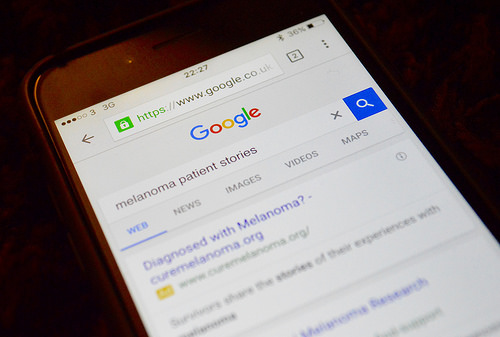 Image via Flickr by patientpowerful
Web developers became concerned about Google mobile friendly in February 2015, when Google issued a statement it would extend the use of mobile-friendliness as a ranking factor on April 21.  The update impacted search rankings on mobile devices. Google's changes applied to individual pages, rather than the entire website, and affected search results in all languages.
Google rationalized the move, stating "When it comes to search on mobile devices, users should get the most relevant and timely results, no matter if the information lives on mobile-friendly web pages or apps."
On March 26, 2018, Google went even further, announcing it would index mobile websites first, before desktop versions. This shift is in line with Google's objective to help the largest number of users possible. It makes sense at a time when Americans performed more than twice as many searches on their mobile devices than their desktops.
What Makes a Website's Content Google Mobile Friendly?
Deciding you want to make your online content Google mobile friendly is an easy choice in light of Google's ongoing efforts to promote mobile websites over desktop ones. However, many marketers aren't sure what satisfies Google's mobile-friendly criteria. Understanding the best mobile-friendly features can help you overhaul your own content.
Mobile users don't want to spend time browsing around your site. They have a clear objective of what they want to accomplish before they click on your URL. Perhaps they want to find your address or phone number, purchase a product, book a service, or read your latest blog post. Whatever your mobile visitors want to do, you should help them achieve this goal as quickly as possible. Analyze your mobile website statistics to determine how people use your site and make sure it's streamlined to make performing these activities easy.
Google mobile-friendly content doesn't use software that isn't typically found on phones, like Flash. Google mobile-friendly content has text large enough for mobile users to read without zooming in, as mobile devices have much smaller screens than laptops and desktop PCs. Links are also placed far enough apart so mobile users can easily click on the one they want. Google mobile-friendly websites automatically adjust their look so mobile users do not have to zoom or rotate their screens.
Speed has always been an important SEO factor, but recent changes to Google's algorithm makes the speed of your mobile site more important.
"Businesses with slow mobile sites may see a decrease in mobile organic rankings on Google," Tony Palazzo, vice president of operations and marketing of Logical Position, told Sammi Caramela of Business News Daily. "Speed has always been a factor of ranking, but previously it was based on your desktop version of your site; now it's going to be looking at your mobile site load speed."
Text traditionally loads faster than graphic content, but isn't as mobile friendly. Marketers must remember this and optimize any images and videos they use for fast mobile loading.
How Does Google Mobile Friendly Impact Your Online Efforts?
Google's ranking changes effectively reward marketers who adopt Google mobile-friendly design conventions and penalize those who don't. Studies show websites that didn't convert to mobile-friendly platforms before the 2015 changes received traffic reduction penalties of at least 50 percent after Google reduced their SEO rankings. Google's changes essentially force you to adapt your website and make it more mobile-friendly to receive the search engine exposure you need to attract new customers and increase awareness of your brand. If you don't, your decreased online visibility will cause you to lose customers to your competitors.
A mobile-friendly website doesn't just take a different approach to design. As large slabs of text are more difficult to read on a mobile screen, marketers creating content for mobile audiences rely less on text and more on visuals.
Infographics and interactive media, including interactive infographics and videos, can make websites more Google mobile friendly and attract mobile users who don't want to read a lot of text. Images and videos must be optimized to load quickly for good SEO rankings. Text can also be reduced by summarizing information into bullet points, charts, and graphs. This kind of content is easily scannable, even on a small mobile screen.
Mobile readers don't typically focus on any one specific area of the screen, as desktop users do. So people creating content for mobile consumption should make sure all their content is optimized for impact. Headlines and summaries will help mobile readers who scan content, rather than reading it word-for-word, get value. Keep headlines short, at around five or six words, and keep paragraphs at five lines or less. Every 300 to 400 words, add an image to break up daunting text blocks.
Test Whether Your Online Content is Google Mobile Friendly
Google makes it easy for marketers to determine whether their efforts have made their online content mobile friendly. Simply type "Google mobile friendly website" into the Google search bar to take the Google mobile friendly test. At the top of the search results you'll see the question "Is your web page mobile friendly?" and a search bar for your URL. Enter your URL and click the blue "Run test" button. Google will analyze your content and tell you whether the design is mobile friendly or not. If your site doesn't pass Google's test, it will identify areas for improvement and provide additional resources to help you make the changes.
Remember though that Google's test can only analyze your content's look. You should ask objective parties to view your content on their mobile devices and offer feedback on its readability and appeal.
Google and its video-sharing site YouTube account for more than 90 percent of online searches, ignoring Google mobile friendly strategies would be at your peril. As Google imposes even stricter penalties on websites that don't satisfy the mobile-friendly design criteria, compliance is the best way to improve your ranking on the world's most popular online search engine.