Why Search Engines Are the Core of Content Marketing
Content marketing relies heavily on the use of search engines to achieve its goals. Without sites like Google, your content could easily fall flat. However, search engines are reliant upon content creators as well, to provide their own customers with the online experience they're after. Here are a few of the key reasons search engines and content marketing are so inextricably intertwined in the current online landscape.
Search Engines Are Established at the Heart of the Internet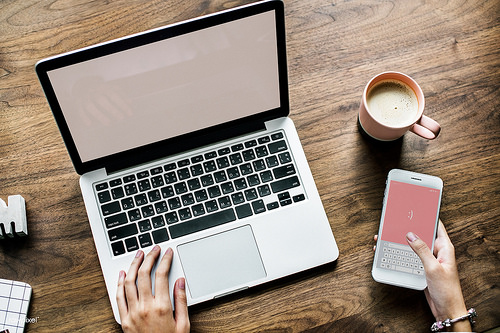 Image via Flickr by rawpixel.com
Search engines have been crucial to online navigation since the early 1990s, when content on the web was only a shadow of what you'll find today. From the Archie Query, launched in 1990, to Google's burgeoning domination in the 2000s, search has always been a crucial service for those who use the internet. If you're wondering why search engines are at the core of content marketing, just take a moment to imagine what the internet would be without them.
Without search engines in place to direct you to the content you're looking for, you would be left to search haphazardly through what seemed to be the most relevant web pages that you could remember or find in your bookmarks. Search engines make it possible to expand your experience beyond the corners of the web that you know about, to sites that you've never discovered before. Similarly, search engine marketing puts you on the map for anyone who may seek your services.
Most of Your Traffic Comes From Search
While there's undeniable value to avenues like social media marketing, the majority of website traffic still comes from search engines. You simply can't afford to overlook this critical aspect of your marketing strategy. When consumers are looking for something specific, they don't turn to Facebook to type in a query — they go to Google.
Ranking high on the search engine results page (SERP) will get your business in front of the potential customer in his or her moment of need. Social media marketing can get your brand in front of consumers while they're idly scrolling through posts, but you're less likely to hit them at a key moment of interest there.
Customers Want Quick Answers
Today's internet users want quick answers to all their questions. Whether they're wondering about that strange-looking rash or looking for a better cleaning product, they're likely to turn to the internet to learn more. Your ranking on the SERP plays a big role in what happens next.
If you've scored a spot on the first page with strong content marketing and SEO tactics, you have a good chance at earning a click. Roughly 71 percent of search traffic clicks go to sites that appear on the first page of Google's search results. Some studies even put this number as high as 92 percent.
When you're considering your page rank, it's important to remember how keywords come into play. While your site may be the first result for a search on "dog treats," this doesn't mean that it will enjoy the same ranking for "what dog treats should I buy." The results change again if the customer searches for "healthy dog treats." Knowing your market well is key to getting solid rankings for the right search terms, but whatever those terms are, you can't deny that search is important.
Shoppers Search On-the-Go
Consumers are no longer conducting all or even most of their searches from a home computer. Mobile searches account for over half of all search engine traffic. Despite the convenience of smartphone apps for things like social media, consumers are still using their phones to head back to the internet and look up information on their preferred search engines. This helps underscore why search engines are the core of content marketing.
With solid content marketing, you can keep your products and services front and center when the customer may be just steps from your door. By marketing to mobile searchers, you can make an impression in the consumer's key moment of need. Mobile search traffic is highest for the food and beverage industry, highlighting the prime opportunity in showcasing your best dishes while the searcher is hungry. Smart content marketing will get you in front of the right eyes at that critical moment, when other forms of marketing may not.
Organic Searches Dominate the Landscape
While you can certainly pay for better search engine rankings, it's organic search that truly matters in this landscape. Content marketing is crucial for generating search engine traffic because many customers are aware that paid results get prime placement. They will often scroll right past these ads to get to the content that earned its place the old-fashioned way.
Organic search accounts for nearly 95 percent of all traffic in the shopping category. Content marketing and smart SEO are what will get you where you need to be in order to achieve meaningful success in this online landscape, where carefully crafted content truly does count.
Content Connects the Pieces
It's easy to see that search engines are the core of content marketing, because it's sites like Google that ultimately deliver those coveted rewards for all your hard work. However, it's important to realize that the content itself is what ties everything together. Without valuable, meaningful content, internet users would no longer have a reason to turn to search engines with the same level of interest and trust that they currently do. Search dominates because searchers are rewarded for using this medium to find what they're after.
When you produce valuable content, you keep the cycle moving favorably in your direction. Putting worthwhile information on the internet for your customers to find will increase their trust not only in your site, but in the search engine that brought them to you as well.
If you're interested in establishing yourself among key search engines, crafting the right pieces around carefully selected keywords is the key. Take advantage of the longstanding importance of search engines and get your products and services prime placement on sites like Google, where your marketing strategies matter most.
More from the author: